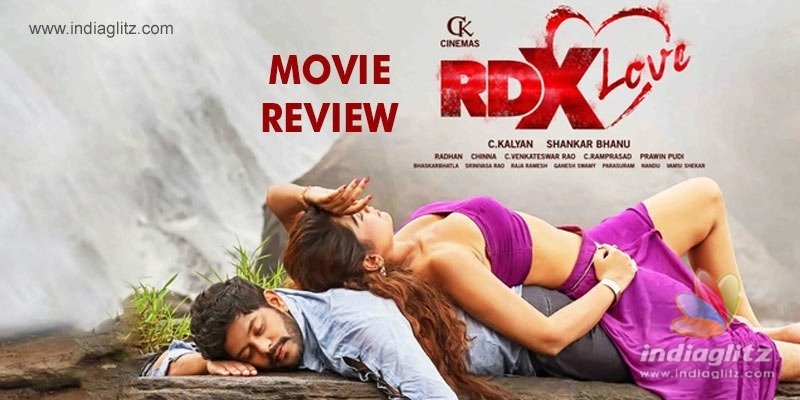 'RDX Love', starring Payal Rajput of 'Rx 100' fame in the most important character, hit the screens this Friday.  Here is our review of the latest box-office release.
Story:
Alivelu (Payal Rajput) is a soul with several causes.  She distributes condoms to sex-crazy youths who sleep with commercial sex workers.  Yes, this is exactly what she does in the first half.  But she is no joker.  Alivelu wants to meet the Chief Minister (Nagineedu) himself.  But the CM could be a joker, mind you.  
At the beginning of the film, we are introduced to the plight of the people of a village.  They are down in the dumps and have decided to immolate themselves if they don't get justice.
Siddu (Tejus Kancherla) is Alivelu's loyal boyfriend.  In comes a politically influential media baron (played by Aditya Menon) and the plot takes off from this point.  
The rest of the film is about why Alivelu wants to meet the CM, what role the media baron has in her life and how Siddu is related to all this.  
Analysis:
'RDX Love' is a film where the heroine distributes condom packets to youths, asks random persons walking on the roads whether they ever had sex with strangers and calls it activism with all seriousness.  She actually goes to a village where women haven't been conceiving for years now.  That's because their husbands are disinterested in sex.  The heroine now unleashes the ghastly activist in her and gives the sex-starved women Kama Sutra-inspired romantic tips on how to seduce their boring husbands.  This film is not just absurd but shockingly absurd.
One of her campaigns has Alivelu go to a village and tell every man there to give up gutka so that their girlfriends/wives will feel like kissing them.  Not at all making this up.  This is the level of this inane showreel's ridiculousness.  The background music in such scenes is as serious as what we see in Koratala Siva's movies.  The director wants to titillate the audience but, at the same time, he doesn't want his actors to realize that they are doing a gutter-level film.  
It's as if we have to perceive Alivelu as the Lady Srimanthudu, helping villages overcome the crises of sex, pregnancy and romance!
The moment a middle-aged man is spotted sobbing about 'oori samasyalu' in our movies, I start getting shivers down the spine.  From 'Srimanthudu' to 'Maharshi' and the recent 'Kousalya Krishnamurthy', lazy narration style has been woven around the problems villagers face.  'RDX Love' is no different but here the only respite is that the middle-aged man is not played by Rajendra Prasad.  But even here your luck is limited because Tulasi is there.  
This film uses every damn cause to parade second-rate comedy and to showcase how much every character in the movie has a crush on Payal Rajput.  The heroine has to expose an unethical doctor and you know what she does?  She and her four female friends ask the hero to lie to him that he has impregnated them.  The hero feigns reluctance at first but says OK to their plan.  The nurse at the hospital lusts for him after knowing that he has impregnated five women at one go!  To do a sting operation on an illegitimate doctor, a cheap 'comedy' scene is shoved down the audience's throats.  
Vidyullekha Raman plays a nonsensical character and it's difficult to recall what she was doing.  Nagineedu plays a Chief Minister who behaves like a clueless buffoon.  Anybody from an ordinary activist to a media baron can threaten him but he doesn't know how to deal with them!  Mumaith Khan is a cop and she pulls off her role a bit well.  Aditya Menon stands out with his performance and he is the film's only plus.
Tejus Kancherla is seen as a rich brat whose only aim in life is to disturb his friends while they are making love to prostitutes.  He actually says that he will never let them have sex peacefully until the day he meets his soulmate.  Soon after he says this, Payal is introduced.  How the hell do our filmmakers get such mind-numbing ideas?!
Payal, whose performance in 'RX 100' was spot-on, has been wasted.  She is a good talent and shouldn't do headless movies.  Her performance in the film's serious scenes in the second half is okayish.  
The songs are forgettable but the cinematography is fairly decent.  
Verdict:
The director packs 'RDX Love' with silly moments in the name of making a socially-responsible movie.  If the scenes are cheap, the story is predictable.  Outdated dialogues are too many.
Rating: 1 / 5.0
Showcase your talent to millions!!
Write about topics that interest you - anything from movies to cricket, gadgets to startups.
SUBMIT ARTICLE