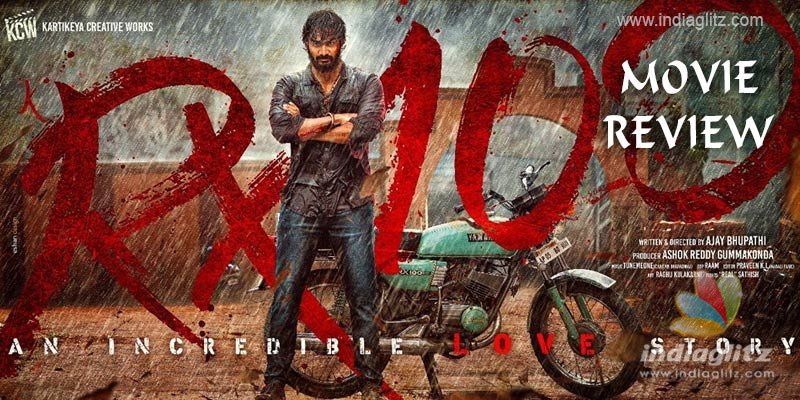 'RX100', starring Kartikeya and Payal Rajput, hit the screens today.  Here is our review of the rustic, self-proclaimed "incredible love story."
Story:
Shiva (Kartikeya) is drawn towards Indhu (Payal Rajput), the daughter of  Vishwanatham (Rao Ramesh), for whom he and his guardian Daddy (Ramki) work as musclemen.
Obviously, Shiva's inferior social status is sure to be a problem in his love affair with Indhu, who is soon forced to get married to an NRI.
All hell breaks loose.  Shiva is devastated when Indhu flies to America, leaving him with agonizing memories.
Three years later, he is still in a depressed state of mind.  He has lost control of himself and is on a rampage, going after Vishwanatham's men and property.  His tragedy is not complete before he comes to known of a shocking truth.  How does he deal with it?  How does the love story end?  That's the last 45 minutes for you.
Analysis:
It's a good thing, most of the times, when a tale comes with an unexpected twist.  And in terms of shock value, 'RX100' definitely scrapes through.  When the twist is delivered, it hits the audience like a bombshell.  It's as if you are watching a true-blue Kollywood entertainer where at least one character is frighteningly depraved.
Like 'Arjun Reddy', this one too plays out like the male lead's biopic.  His story and emotions are narrated with leisure.  His state of mind over a period of three years makes for a sad and sympathetic tale.
Nuance finds its way into the story a bit later.  Indhu first sees a shirtless Shiva when he is in his elements.  Much later, he dances in the same way and this time, she catches him in a state of disquietude.  Daddy (Shiva's doting, soft-natured guardian) tells him that only a few lovers reach a stage where they can forget the world because they are too immersed in love.  As fate would have it, Shiva goes about forgetting the world and himself, albeit as a tragedy.  In one scene, Vishwanatham shows his vexation with any evidence that might be there to prove the Shiva-Indhu love affair.  And when Shiva says that his Yamaha bike is the only witness to their love, the destructive and insecure Vishwanatham burns it down to ashes.
When Shiva has to be violently taught a lesson by Vishwanatham, there is no cinematic escapism.  What follows is a raw, mind-numbing bout of one-sided violence.  And there comes a point when Vishwanatham can't be too overpowering, for he has his own worries.  He is vulnerable and what if Shiva goes rogue?
The romance track is not normal.  Indhu is massively sex-loving and she even tempts her man to turn a smoker (in the next scene, Shiva is seen enjoying a puff as if it's a tribute to his lover).  The way she woos the hero, it's as if she has been possessed by a Puri Jagannadh hero.  And the way the hero breaks into a dance when smitten by love for the first time, it's as if he is also feminine deep inside (notice carefully some of the dance moves).
There is a political backdrop and rivals in the village see prestige in Mahatma Gandhi's statue facing their side.
Everything said, 'RX100' is slow-paced and its bright spots are far between (if not few).  The first act of the movie is like a clone of 'Naa Peru Surya'.  The angsty Shiva's violent streak is told without much care.  The Daddy-Shiva track reeks of an old school narration style.  But for Rao Ramesh, the Daddy-Vishwanatham track would have been a lost case.  In a scene, a character tells a grandma that she should give up Anjali Devi-era dialogues.  But some of the dialogues in the movie belong to much the same era.
After a point, the sound of the hero's Yamaha becomes banal.  The first half is stuffed with too many songs.  Kartikeya runs so much in the movie that someone should think of giving him a Nandi in Too Much of Running category.
The casting is apt, barring a few banalities from Kartikeya.  The background music could have been better, so also the cinematography that is hardly ominous.
Verdict:
A raw and rustic story that comes with a twist.  The narration is slow but the impact could be there if you are a votary of unconventional stories.
Rating: 2.75 / 5.0
Showcase your talent to millions!!
Write about topics that interest you - anything from movies to cricket, gadgets to startups.
SUBMIT ARTICLE
More
Telugu Movie Reviews
Swathimuthyam
Ponniyin Selvan 1
Nene Vasthunna
Babli Bouncer
Dongalunnaru Jaagratha
Krishna Vrinda Vihari