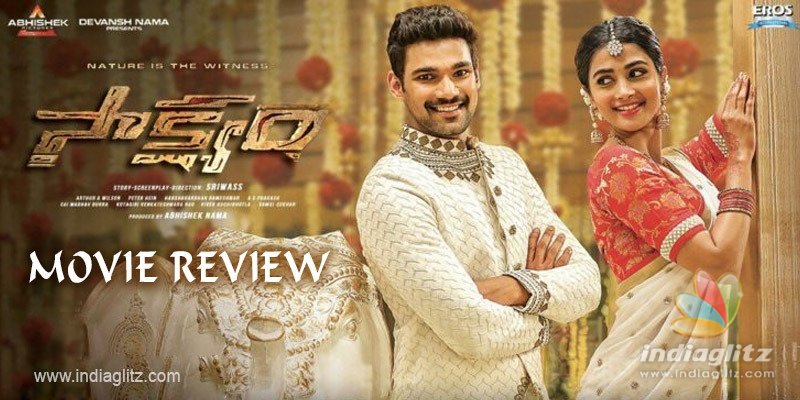 'Saakshyam', starring Bellamkonda Sai Srinivas in the leading role, hit the screens this Friday.  Here is our review of the supernatural thriller.
Story:
Vishwa (Bellamkonda Sai Srinivas) is the adventurous son of a billionaire-couple (played by Jayaprakash and Pavithra), who are his foster parents.  This US-based guy falls in love with Soundarya Lahari (Pooja Hegde), a learned Indian girl who gives spiritual 'pravachans' in temples (yes, you read it right).  
Somewhere in Andhra Pradesh in India, inhuman Munu Swamy (Jagapathi Babu) and his ruthless brothers are embodiments of cruelty and sadism.  They are land grabbers, revel in enslaving children, commit murders dime a dozen and worse.  
Pushed by circumstances (or destiny), Vishwa comes to India to woo Soundarya Lahari, only to find himself eliminating Munu Swamy's brothers, one after one, without having to plan their murders.   
The killings are facilitated by the five elements of Nature - Air, Water, Fire, Earth & Space.  
Analysis:
Sriwass builds an excellent prologue that is high on emotions, fear factor and even symbolism.  Staging a wild massacre, the introductory scenes set the tone for the violence-ridden movie.  We expect a hair-raising supernatural thriller.  But do we get that?  
The biggest problem with 'Saakshyam' is that the story-teller sets out with the assumption that the very concept of 'Pancha Boothalu' getting things done through the hero is enough to create the needed impact.  But what about heroism?  There are only Saakshyam-ism and Karma-ism on display.  It's not like the hero is a robot (not totally, at least).  The least that was expected of him is a slew of punch lines.  He mouths only two in the entire movie.   One of them comes in the climax and it has two English words ('Relations' and 'Disturb') out of exactly five words!  This is not how punch lines were written in the (united) Andhra Pradesh this review writer grew up in.  
Between them, the first 15 minutes and a clairvoyant character named Valmiki (lyricist Ananth Sriram) tell the entire story even before the hero can have two duets worth their salt.  Should the pre-titles episode have been the film's flashback?  It mightn't have helped either, as most critics and audience would anyways have said the story is predictable.  It's better off being the prologue.  But then, it needed Vijayendra Prasad-type abilities to excite the audience even after making it clear why the hero needs to bay for the villains' blood.
The first time Vishwa and Munu Swamy meet should have been scintillating.  For God's sake, this film is a supernatural thriller where the hero is a God-chosen entity.  Compare the scene in the movie to how the brilliant 'Magadheera' heralds the hero-villain clash.  Ram Charan's character doesn't know that he should hate the villain (much as in 'Saakshyam').  But when he spots the antagonist in an eatery, he humiliates him by referring to his joker-like looks.  (In this Rajamouli gem, too, incidentally, 'Pancha Boothalu' make a guest appearance)
The climax would have been far more endearing (VFX and the backdrop are fine) had the hero discovered what he needed to.  The final fight would have been way too different, with the tempo reaching its zenith.
The whole thread involving Kabir Duhan Singh (the businessman who conspires with Munu Swamy against the hero's foster parents) smacks of old-school thought.  It should have been avoided.  
When you meet a stranger and things in your life start happening just the way he imagines them in advance, you are expected to go to that person and ask him who he is and how he is able to see your future.  In 'Saakshyam', our hero never thinks of doing it.
The various backdrops (from Kashi to Dubai, from Bellary to the US) make for a visually-rich watch.  
What about the fights?  They are larger-than-life, involve a range of backdrops, are intense, and backed by supernatural powers.  The action choreographer and other technicians pull off massy fights, helped by a gripping and novel background music.  
Pooja Hegde is largely wasted in an over-glamorous role.  Her intro scene comes so undone that she is seen delivering a 'Pravachanam' with a semi-sarcastic expression on her face!  This caricature of a scene comes, ironically, after doses of Indian culture-hailing.  Elements involving the likes of Raghu Babu, Krishna Bhagawan (as a Pranic healer), Brahmaji and Jhansi rob the film of its feel, much as the mind-blowingly glossy and intrusive duets sit ill at ease with the overall mood of the story.  Rao Ramesh makes an impact in the role of a sincere man.
Bellamkonda is more confident than ever in the movie. He has a solid presence in action episodes.  Jagapathi Babu is a worthy villain and his performance in the initial scenes is a treat.  Ravi Kishan, Ashutosh Rana and others an okayish job.
Harshavardhan Rameshwar's songs are a mixed package but the BGM is highly impressive.  Arthur A Wilson's cinematography is a big plus.  
Verdict:
'Saakshyam' comes with a strong enough storyline which reveals its cards too early on.  Just because it's a supernatural thriller, heroism needn't have been given a stepmotherly treatment.  Nice action episodes and technical richness are a huge plus.
Rating: 2.5 / 5.0
Showcase your talent to millions!!
Write about topics that interest you - anything from movies to cricket, gadgets to startups.
SUBMIT ARTICLE
More
Telugu Movie Reviews
Rangamarthanda
Das Ka Dhamki
Kabzaa
Phalana Abbayi Phalana Ammayi
CSI Sanatan
Anger Tales