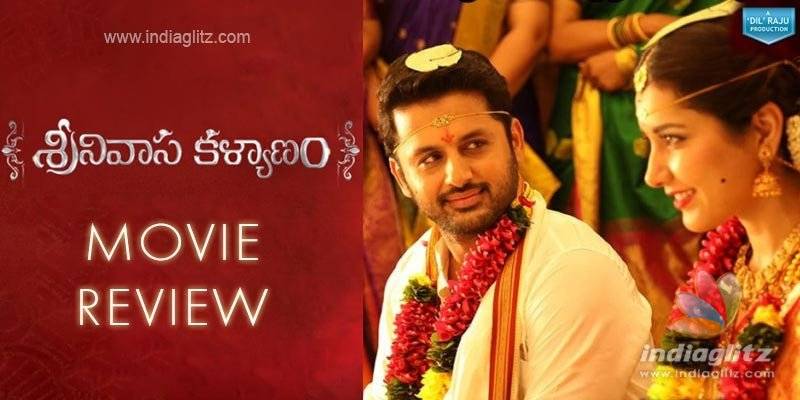 'Srinivasa Kalyanam', starring Nithiin and Raashi Khanna in leading roles, hit the screen this Thursday.  Here is our review of the family drama.
Story:
Vasu (Nithiin) is a Paddatthi Rao.  He values any custom as long as they are related to the wedding occasion.  It's because he was influenced by his grandma (Jayasudha) to breathe wedding, sleep wedding, eat wedding, walk wedding since childhood, 'Aparichitudu'-style.  
Love with Sri (Raashi Khanna), the daughter of a rich businessman (Prakash Raj), happens in no time.  
But there is a problem.  Prakash Raj's character doesn't believe in wasting time over elaborate marriage rituals.  But Paddatthi Rao and his grandma are prophets of perfect wedding.
The hero and his would-be uncle enter into a secret deal by which it's decided that the latter agrees to take part in a 5-day wedding.  The rest of the film is about how Paddatthi Rao and family change the rich businessman through their Traditional Marriage Celebration Scheme.
Analysis:
Had the director of this movie (Satish Vegesna) made 'Goodachari', its hero wouldn't have aimed to join the RAW.  He would have been someone who believes in celebrating Navratri elaborately, traditionally, religiously and methodically.  He comes to know of Rana (Jagapathi Babu) and his terrorist activities.  This hero then invites him over to Navratri and makes him participate in the festival, makes him listen to all his Pravachanams.  On the final day of the festival, this terrorist transforms completely into a happy-go-lucky, celebration-loving guy, expressing gratitude for the hero, his sermons and his joint family. 
In 'Srinivasa Kalyanam', wedding is not an event.  It's the only event.  So, the hero has to believe that it's THE event.  And the opposite guy has to believe that it's just AN event.  This is the flimsy ground on which someone dared to build an entire story!  
Jayasudha is a storehouse of marriage-related knowledge.  If you tell her you don't believe in doing every wedding ritual elaborately, she will face an existential dilemma.  All hell breaks loose for the hero, too, for whom wedding is an elixir!  They have always been like this.  
From the practice of WhatsApping wedding cards to the fad of destination weddings, everything is pooh-poohed in the film in a banal manner.  Anytime, anywhere, Paddathi Rao (the hero, in case you forget) will break into banalities about the importance of perfect wedding!  (Note: Readers are challenged to count the infinite number of times the words 'Pelli' and 'Paddathi' are used by every conceivable character in the movie).  
Right from the first scene, Raashi Khanna seems to be conveying 'I want to get married very soon to a family man'.  In the very first scene, she gives a Pravachanam which thoroughly impresses our Pravachanam-crazy hero: 'Love is a personal decision, but marriage is a family decision'.  She comes to know what the hero thinks about marriage and voila, she smiles for the zillionth time.  The hero likes the fact that she does Yoga every day (doing Yoga every day gives you the physical strength to participate in elaborate wedding rituals, by the way).
Isn't the film about relations?  No, it's about the starting point of all relations: Wedding.  Every lecture, every point of view, every character exists to showcase wedding as a lifetime event that dissolves all problems, all pollutions, all hatred, all differences, all ills, all...   
All the while, Nandita Swetha's character keeps pining for Nithiin's character.  She feels cheated and seems to be on the verge of explosion.  But, every audience worth his or her salt knows that a Telugu cinema hero can solve any problem with a one-and-a-half minute lecture. And this film is a Pravachanam-driven film.  So, no worries.  
It would have made some sense to evoke laughter through the character of the event manager (who too is destined to learn moral lessons from Paddathi Rao's family), played by Ajay.  
To put it mildly, except for Jayasudha and to an extent Prakash Raj, no major character was found making an impact as an actor.  Nithiin's diction and dialogue-delivery are out of place in the heavy-duty climax, where he says Sanskrit mantras like a Telugu teacher trying to speak in posh English.  Raashi Khanna is stuck with her smiling face.  Praveen, Rajendra Prasad, Naresh, Sitara, Poonam Kaur, Vidyullekha Raman and others are forgettable.
Mickey J Meyer's music and BGM pass muster.  Sameer Reddy's visuals are OK.  
Verdict:
You may think that 'Srinivasa Kalyanam' is about how to handle relationships or the importance of marriage life.  No, it's about wedding as an event.  This is a monolithic, over-cooked showreel of simplistic scenes. The film says we should think from the other person's point of view.  Wish the director thought from the audience's point of view.
Rating: 2.25 / 5.0
Showcase your talent to millions!!
Write about topics that interest you - anything from movies to cricket, gadgets to startups.
SUBMIT ARTICLE
More
Telugu Movie Reviews
Sapta Sagaralu Dhaati
Changure Bangaru Raja
Mark Antony
Jawan
Miss Shetty Mr Polishetty
Kushi