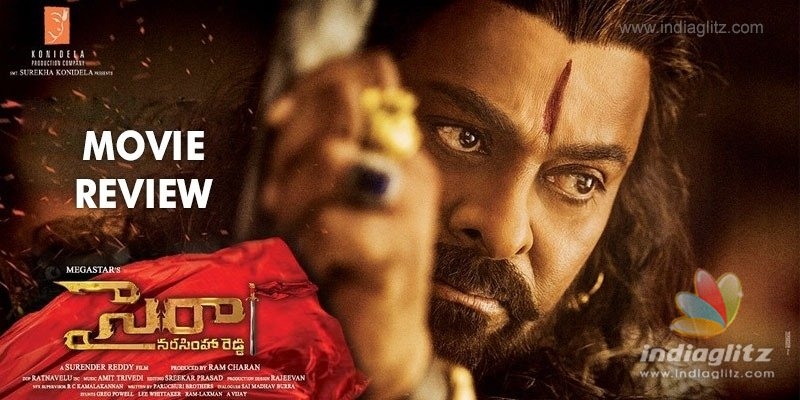 'Sye Raa', starring Megastar Chiranjeevi in the lead, hit the screens this Wednesday ahead of the Dasara festival season.  Here we present its review.  
Story:
The film is set in the 1840s.  The British East Indian Company resorts to extortionate taxes and brutalities in its quest for power in Andhra Pradesh's Rayalaseema.  
Narasimha Reddy (Chiranjeevi) is one of the poligars, who doesn't accept the clout of the White Man.  Brimming with patriotism, he is so unlike his fellow poligars, some of whom come with compromised ethics.
When Reddy decides to stand by his oppressed people against the British, he is faced with enormous challenges from the enemy as well as the foe in the garb of a friend.  How the Messiah of the masses terrifies the colonizing power and becomes an inspiration for generations is the crux of the second half.
Analysis:
'Sye Raa' is essentially based on folklore, not-so-detailed official gazettes and lots of received wisdom on Narasimha Reddy.  The writing department (read Paruchuri Brothers and director Surender Reddy) weave a lot of fiction around the available sources in narrating the incredible saga of India's "first" freedom fighter.  
At one level, this film is heavily fashioned as a template-driven entertainer.  It's also unabashedly old-fashioned, content with its mass-masala tropes.  Whether or not you like the movie (and how much you like it) depends on whether you are comfortable with the dated style of narration.  Also, how much of the movie is convenient fictionalizing and how much of it is history needs to be determined.  
The film revels in making it all look like a zamindar-versus-rebel story.  The British officials are like those evil landlords who impose unreasonably high taxes on poor peasants (seen in so many films in the 1980s and 1990s).  They resort to land-grabbing, rape women and humiliate old people - like the archetypal villain in those pro-Communist movies like 'Osey Ramulamma'.  And there comes the fearless saviour, who can inspire his people to wage a rebellion in two shakes of a lamb's tail.
The entire first half goes into establishing the British-peasants chasm and how Narasimha Reddy keeps rising to the occasion in sending a strong message to the colonizer.  These portions smell of factionist movie-type storytelling.  In one unintentionally bizarre scene, a British officer actually screams that he will very much be in Koilkuntla, ready to face the raging Reddy.  So glad to know that Britishers used to talk like a Rami Reddy, a Kota Srinivasa Rao so that someone can make a commercial patriotic film in 2019!  
That scene where a British officer kills his horse because it got scared of the hero, had me laughing slightly.  This is nothing but a varied version of the 'Indra' scene where Mukesh Rishi's character eliminates a kid who got saved by Chiranjeevi's character.  
Frankly, dialogue-writer Sai Madhav Burra's immense talent should have been tapped into.  What we get is rather plain dialogue-writing, powered by the stupendous baritone of the inimitable and peerless Chiranjeevi.  Burra was outstanding in 'Gautamiputra Satakarni', but the same can't be said here.  Whatever works is because of Chiru's acting and dialogue-delivery.
The love stories are narrated fairly well.  Nayanthara convinces as the meek and innocent Siddamma, while Tamannaah Bhatia's character arc stands out.  As Lakshmi, a lonely and heart-broken danseuse who spreads the message of revolution, Tamannaah gets to enact a range of emotions.  
It's bold of Chiranjeevi to allow his character to die in a rather heart-rending manner.  More than Narasimha Reddy's death, it's the way he gets killed that really needed guts to be depicted as it is.  
How are the battle episodes?  
The Nossam Forte episode is impressive, complete with smart elevations (in a film that is replete with Rayalaseema-elevating moments). The much-touted Georgia episode (which was allegedly made at Rs 75 Cr) is okayish, perked up by Megastar's powerful eyes and body language.  Due credit to Lee Whittaker, Greg Powell and Ram-Lakshman duo - the action department.  
The Jagapathi Babu-Chiru track takes the cake in the second half.  Jagapathi is subtle.  From Ravi Kishan's mean character to Kichcha Sudeep's intriguing one, there is enough space for fort intrigues and intra-party turmoil.  From Vijay Sethupathi's understated heroism to Rohini's melodrama, you have them all.  Mukesh Rishi plays a secular-minded Muslim king in a film that is replete with characters who marvel at Hindu culture and imagery.  
Amitabh Bachchan makes his presence felt with his royal screen presence.  Brahmaji, Raghu Babu, Prudhvi and others are convincing.  Anushka's cameo and Pawan Kalyan's voice-over help.  
Rathnavelu's cinematography, Rajeevan's production design and costumes are remarkable, in that order.  In terms of rich visuals, 'Sye Raa' will go down as one of the best cinematic marvels to come out from south India.  Kamalkannan's VFX supervision deserves kudos, the frames are neat and tastefully done.  One wishes Julius Packiam's background score was not that loud.  Amit Trivedi's songs pass muster.
Verdict:
'Sye Raa' is outstanding when it comes to Chiranjeevi's impeccable timing and lavish production values.  Technically superb, it has its share of spectacular writing moments as well.  However, the ambitious and expensive film should have been far more imaginative in telling a template-driven story.  It smells of familiar and time-tested ideas, which are in dozens.
Rating: 3.25 / 5.0
Showcase your talent to millions!!
Write about topics that interest you - anything from movies to cricket, gadgets to startups.
SUBMIT ARTICLE
More
Telugu Movie Reviews
Peddha Kapu 1
Skanda
Chandramukhi 2
Sapta Sagaralu Dhaati
Changure Bangaru Raja
Mark Antony