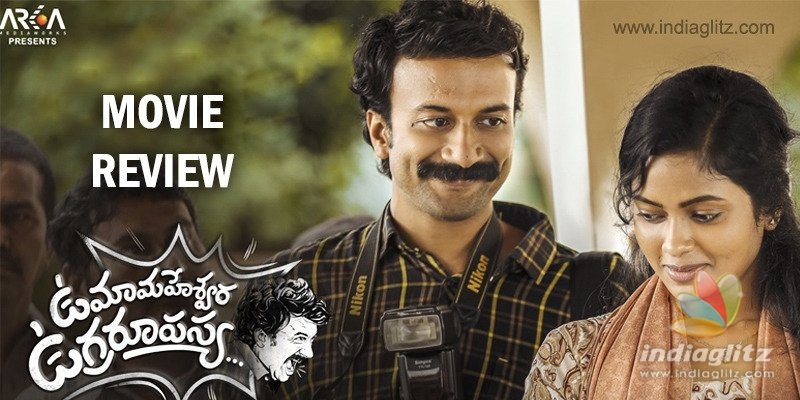 'Uma Maheshwara Ugra Roopasya' is currently streaming on Netflix.  This remake stars Satyadev Kancharana in the lead.  Here is our review of the film.
Story:
Uma Maheshwara aka Mahesh (Satyadev Kancharana) is a kind-hearted, gentle photographer in Araku.  He has for emotional support his father (played by Malayalam actor K Raghavan), Babji (VK Naresh as a traditional bone-setter), and his girlfriend Swathi (Hari Chandana).
Mahesh accidentally gets into trouble with an ill-tempered man and gets insulted in public.  This is when he vows to pay back the assaulter in the same coin.  But then, he is unable to do so for a reason.  The second half is about what happens in Mahesh's life and what he eventually does.  
Analysis:
A remake of the Malayalam film 'Maheshinte Prathikaaram' (2016), this film is directed by Venkatesh Maha of 'Care Of Kancharapalem' fame.  Much as it has been described as a "sweet revenge" drama, it is just a plain film with only a few really meritorious elements (such as Satyadev's terrific performance in serious scenes and Bijibal's outstanding BGM).
What is so "sweet" about the film's revenge?  Two small-time fights between two insignificant men in a scenic village?  There is nothing in the film that deserves be decorated with a grave term like "revenge" in the first place.  By the time "revenge" is mounted, the film convinces the audience that the lead man's priorities are different.  It takes just a one-line sermon from a dear one for him to recoup his inner strength.  Is it the comedy that is sweet?  The humour, much as it is mellowed, becomes vapid in the second half.  While Satyadev's able acting in the film's many serious scenes deserves applause, he is found wanting in the comedy scenes.
The poor Mahesh has to grapple with the pain of public humiliation and love failure at once, but the narration is almost indifferent to his unique, unenvious situation.  He somehow looks normal and doesn't really grapple with anything - much like the protagonist in 'Care Of Kancharapelam', the film with a series of tragedies.  
If you want to show your protagonist getting insulted by a random bad-tempered person, why do you need to show someone else's tussle?  It all starts out with two men fighting for supervisory rights in the presence of a mediator (TNR), who himself angers them.  And then, Babji (Naresh) gets to know about the incident.  And then, an unrelated character enters the screen and piques him.  It all looks pointless.  The episode could have started with the most recent ill-tempered person and it would have made no difference.  
The second half becomes sluggish considerably.  At 135 minutes, 'UMUR' is too lengthy and could have done away with at least 15 minutes.
Bijibal's music is remarkable, especially the songs 'Ningi Chutte' and 'Nuvvemo'.  Appu Prabhakar's cinematography captures the local setting well.  Naresh and Suhaas give realistic performances, so also both Hari Chandana and Roopa Koduvayur.  Ravindra Vijay and others fit the bill.
Verdict:
If you are a fan of Malayalam movies, this faithful remake is for you.  Satyadev is superb.  The technical departments show effective results.  In terms of story-telling, the film is found wanting - more so in the second half.  The film badly needs some trimming.
Rating: 2.75 / 5.0
Showcase your talent to millions!!
Write about topics that interest you - anything from movies to cricket, gadgets to startups.
SUBMIT ARTICLE
More
Tamil Movie Reviews
Por Thozhil
Kazhuvethi Moorkkan
Farhana
Good Night
Ponniyin Selvan Part-2
Deiva Machan