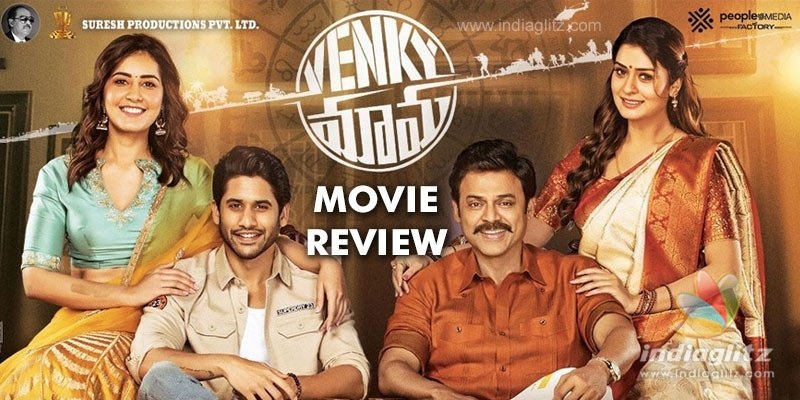 'Venky Mama', starring Venkatesh and Naga Chaitanya, hit the screens this Friday.  Here is our review of the family entertainer.
Story:
Venkataratnam Naidu (Venkatesh) becomes the guardian of his nephew Karthik (Naga Chaithanya) when the latter's parents get killed in an accident.  Venky's father Ram Narayana (Nassar) believes that Karthik's horoscope is problematic, which is why his parents died before he turned one.
More than two decades later, fate has dangerous plans for Naidu and Karthik, who is now in love with the daughter (Raashi Khanna as Harika) of a ruthless politician (played by Rao Ramesh).  
As destiny would have it, love triumphs over fatalism against the backdrop of Kashmir.
Analysis:
Originally conceived as an out-and-out village-based entertainer, 'Venky Mama' would have begun and ended in the same village had it not been for Uri surgical strikes and/or Balakot airstrikes.  Director Bobby, who has co-written the story and screenplay, beefs up the subject with a dose of the proxy war waged by Pakistan against India, attempting to churn drama in terms of the Indian Army's revenge.  While Rao Ramesh's character would have been the film's sole villain in a pre-Balakot India, the faceless Pak-backed jihadi enters the scene out of the blue in the story, largely without heft.  
The Army backdrop wouldn't have looked forced had the story-telling been smart.  For example, Naga Chaitanya's character talks about becoming a soldier all of a sudden.  As a result, the emotions that his life as a soldier should have evoked go missing in retrospect.  When you are showing a happy-go-lucky village lad as a challenger in the enemy territory, you have to invest in his character right from word go.  You have to portray him as a hero in his village, not as a mere brat inconveniencing a school teacher.  
Much of the story is narrated in flashbacks, with Venky's character, visibly pained, determined to meet his nephew in Kashmir against all odds.  Director Bobby scores full marks in the way he pulls off this style of narration, helped immensely by Venky's nuanced performance.  The staging of the story in the first half is largely adequate.  The unseen Alludu and the horoscope element prove to be a heady cocktail, spawning a range of emotions.  If you are the kind who gets a high watching a Venkatesh bursting forth onto the scene to save a Naga Chaitanya from villains even as a Raashi Khanna claps and whistles, 'Venky Mama' is for you.  
For all its potential strengths, the film seems to go haywire even when the going should have been a cakewalk.  For example, the Venkatesh-Payal Rajput and Venkatesh-Raashi Khanna comedy tracks not only overstay their welcome but also pop up not-so-healthy humour (the comedy of misunderstanding is too much).  It doesn't help that Hyper Adhi, Vidyullekha Raman, Raghu Karamanchi and Chammak Chandra are not given strongly comical lines, burdening Venky way too much with the task of tickling the funny bone.  
Naga Chaitanya makes do with playing second fiddle to Venkatesh, content as he is with some comedy for most of the film.  His performance is appealing, but it's Venky who steals the show with his subtle acting.  Somehow, Payal and Raashi come with too much make-up and overdone costumes.  Prakash Raj is brief but effective, whereas Nasser is at his usual best.  Rao Ramesh is menacing and worthy.  Aditya Menen, Kishore and others deliver a good job.
Thaman's background music is nimble in the Kashmir scenes.  It's boisterous and apt in the village scenes.  Prasad Murella's cinematography is a huge asset.
Verdict:
'Venky Mama' slaps together some comedy scenes in the first half, relegating the emotional part of the story to the second half.  A hurried climax mars the experience.  It drives its theme home.  In doing so, however, it commits some mistakes.
Rating: 2.75 / 5.0
Showcase your talent to millions!!
Write about topics that interest you - anything from movies to cricket, gadgets to startups.
SUBMIT ARTICLE
More
Telugu Movie Reviews
Butta Bomma
Rebels of Thupakulagudem
Michael
Writer Padmabhushan
Hunt
Driver Jamuna