'As a member, I have the rights to question Nadigar Sangam'- Vishal's reply to Simbu
Thursday, October 8, 2015 • Tamil Comments
Ten days ahead of the much debated Nadigar Sangam Elections, the Pandavar Ani has started another series of trips to various cities in Tamil Nadu and meet the film and theater actors who are the members of the Nadigar Sangam.
Today in Salem, the team members, election candidates and supporters of Pandavar Ani addressed the media persons in which Vishal gave detailed reply to allegations made by Radhika Sarathkumar and Silambarasan when the met the Press in Chennai on Wednesday. He also gave his reply to the calls for compromise from Kollywood film related organizations like the Producers Council, Directors Union and FEFSI, to end the Nadigar Sangam battle.
Vishal said that the press meet was attended only by the Nadigar Sangam Members and fan club members were not invited as an apparent dig on allegations that fan club members of Simbhu was present at the latter's press briefing in Chennai.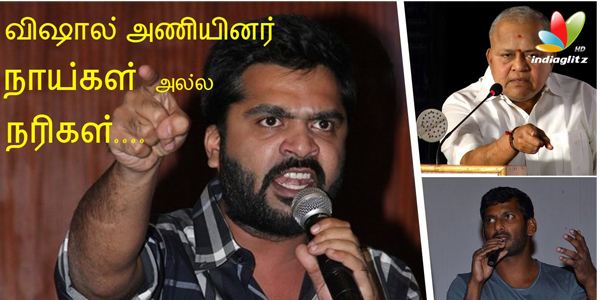 "We are only members with card. No one is fans of actors here. We don't have to gather fans to show more number of people. On behalf of Pandavar Ani, I want to reiterate again. There is no question of compromise. On Oct 18 fair elections will take place. All members should come and vote as per their conscience. That's what has been our request ever since we started our campaing. During our canvassing we avoided asking people to vote for us. We just asked people to come and register their vote. We will not revoke our nomination. Elections will happen. We are determined in that.
The Directors Union and the Producers Council they tried to make compromise. I respect that. At the same time we have to take our sentiments into account while taking a decision. Election should take place for all bodies. That is the rule. Election is conducted in Producers council once in two years. Every election should happen. Good administrators should be elected. That body will function properly for the next term. On the same lines, for the next three years Nadigar Sangam should function in a fair manner. Based on this goal our team wants to go ahead.
People ask whether Karthi and Vishal will come and stand when we face a problem. They ask whether we know how to manage the Sangam. I want to tell one thing. There is a first for everything. We are also Film Producers. We have our own production companies. How we are going to conduct is not important. We are coming for the need of honoring all members and their demands should be honored. Something good should happen to them. We decided to contest elections when it became clear that good can be done only after assuming power. We have been raising questions for three years. I have sent 45 letters as correspondence in three years. We have documented those letters. No answer for any question asked in three years. The issue was dragging. Then it came to a point. They (incumbent office bearers of the Sangam) asked us to meet the election and do what we expect them to do. Then only we decided to contest the election.
It is not wrong to contest election. It is democracy. No wrong in that. So we have decided. We are not going in for compromise. "

Vishal also replied to allegations that the main motive of the Pandavar Ani is to split the Nadigar Sangam and disunite the acting fraternity.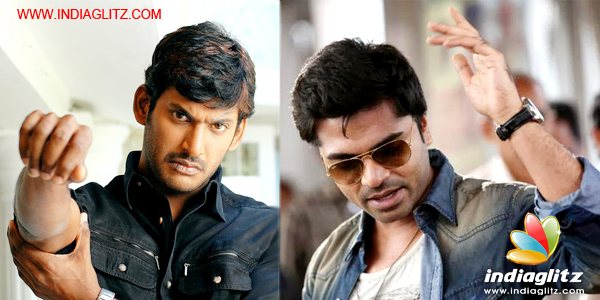 He said, ". When election is conducted there has to be more than one team. There will be independent candidates. It is not to split the Sangam. Every association will have elections. Why only in Nadigar Sangam the question of unity is being raised? This is not to split the unity. It is an effort to strengthen it more. This family and all families should come together and act together. We want our (members) building to be built in that 19 ground land owned by Nadigar Sangam. It is not my personal wish. It's the wish of all members. That demand has to be fulfilled. We are working towards that aim. There is no question of creating a rift in the Sangam or between actors.
When a reporter pointed to Radhika's allegation that Vishal is trying to settle scores with Sarathkumar for his personal vengeance, Karunaas, member and the Vice President candidate of Pandavar Ani intervened and asked "Are we (other members of Pandavar Ani) fools to fall prey to anyone's personal agenda?."

On Silamabarasan's poser to Vishal what rights he had to question the functioning of Nadigar Sangam, Vishal gave a online reply saying "I am a actor I have a membership with Nadigar Sangam. so I can raise questions about its functioning."
On the question of Superstar Rajinikanth and Kamal Haasan not interfering in the ongoing tussle in Nadigar Sangam, Vishal said "Kamal sir has announced his support to us. Khushbu mam has openly supported us. That does not mean Rajini sir should support us. We just want everyone to come and vote. Election is going to be conducted after many years.
Related News
Actress Photos
Manjusha
Mehreen Pirzada
Kajal Agarwal
Sanjjanaa