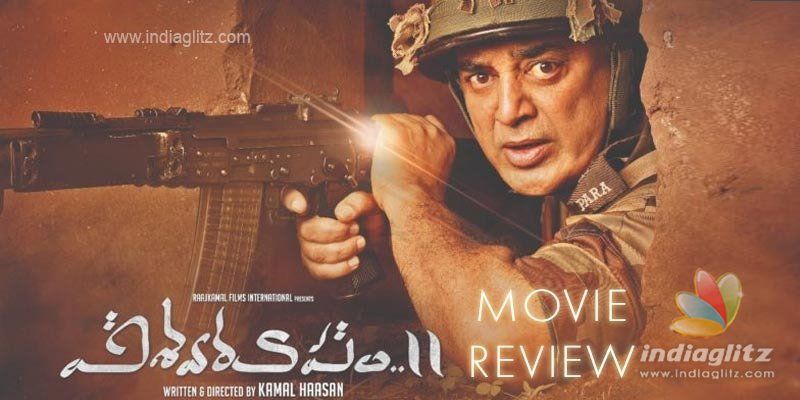 'Vishwaroopam-2', starring Kamal Haasan in the lead role, hit the screens this Friday.  Here is our review of the geopolitical thriller.
Story:
The story begins post the events of the first part (released in 2013). Wisam Ahmed Kashmiri (Kamal Haasan) along with his wife Nirupama (Pooja Kumar), assistant Ashmitha (Andrea Jeremiah) and others flies to the UK on a new mission and on the way he reminiscences about his past.  
The screenplay then intercuts to the events that happened in Afghanistan and also the hero's past and the answer to the question as to who he really is,  emerges.  The rest of the screenplay deals with how his old nemesis Omar (Rahul Bose) poses a grave threat to him, his family and world peace and whether the hero can outwit him or not.
Analysis:
Kamal Haasan's films work also at the level of art and politics.  And this product is no different.  Where most filmmakers are in-your-face and loud about conveying a social or political point, writer-director Kamal believes in doing it with calmness.  He is subtle, uses symbolism, deploys biting sarcasm.  'Ee roju kosam repatini thakattu pettadame kada suparipalana ante', Kamal says in a scene, pooh-poohing the short-termism of governments.  
Nothing is spoon fed in 'Vishwaroopam 2'.  A raw agent is invisible to the world and he is literally that to his mother as well.   Kamal's style of elevating heroism as a director is underrated.  In this film, you find characters around him doing it with lines like 'Order cheste vintadu; buddhi chepte, no chance!'.  Whenever Kamal says 'I am a soldier', it has a powerful ring to it.  
When such a gutsy, haltingly mass-masala hero shows his vulnerability (read the scene where a severely bruised Kamal is taken to a medical camp for treatment), you are moved.  As his entire past flashes in front of his eyes, Wisam evokes our sympathy.  
Innumerable words have already been written about Kamal Haasan's exemplary acting but here you get to see yet another shade which is more on the subtle side.  There is a moment of sadness with his mother (Waheeda Raman) and one of deep sorrow with Andrea and the way he expresses them with just a lump in his throat and a cracking voice on the phone is again a master class.  Other heroes need low angles and jazzy edits to execute a mass scene but the Universal Star does it laid back on a chair when he confronts the "Delhi Man" (Anand Mahadevan as Eeswara Sastry).  
Andrea as the firebrand raw agent has given her all to her role and comes out in flying colors, be it her playful taunts on Pooja Kumar or switching into business mode the moment her boss needs her. Pooja Kumar serves as the voice of the audience and she does it with a natural innocence which is a big plus for the screenplay and she also gets greater importance as the proceedings heat up.  Rahul Bose is more chilling than when we first saw him and beyond all the hideous makeup, he even shows his errant human side in the climax.  Shekar Kapur, Anant Mahadevan and the rest of the cast all fit the bill.  But with some, there are issues with the choice of dubbing artistes.  
But, as they say, sometimes parts are great but the whole is not wholesome.  'Vishwaroopam-2' has a weak climax which is popcorn-type, taking a huge leap of faith.  Superhuman guts and all make a splash and you find everything unsettling in the last 10 minutes or so.  
The pacing lags at more than a few places and the CG is almost dated (literally as it's five years old, you see).  
When Kamal is around, tendentious doses of opinions are not away.  Also, because of the not-so-straightforward manner in which politics is conveyed by his films, a majority of the audiences don't get the inner meaning.  And they can't decide whether Kamal is right or wrong!  It happened with 'Hey Ram', too, which was far more layered and complex than the 'Vishwaroopam' franchise.  You may say 'Hey Ram' is an objective film but deep down, there is so much of bias out there.  
The throwbacks to the first edition in 'Vishwaroopam-2' are jarring.  Kamal works with the assumption that the audiences remember the 2013 film as much as they remembered 'Baahubali-The Beginning' while watching 'Baahubali-2'.  
There is this sense that the hero will somehow win the war after a bout of emotionalism.  So, before major problems are resolved by the hero and his gang of partners, be it in London or India, you really don't bite your nails out of tension.  Kamal's world-class acting is what the film constantly offers as a consolation.  
Strangely there is no distinct mark in the background score.  Lalgudi N Ilayaraja's production design is authentic, especially in the jihad training camp sets, gadgetry and the underwater sequences.   Sound design and other technical aspects are OK.  
Verdict:
'Vishwaroopam-2' could have been a much better movie with mainstream writing.  Slow pace, jarring narration, and half-hearted mixture of masala and nuance are found.  If you are a Kamal Haasan fan, you will love his fabulous performance.  Even if you are not, it's time you become one.
Rating: 2.5 / 5.0
Showcase your talent to millions!!
Write about topics that interest you - anything from movies to cricket, gadgets to startups.
SUBMIT ARTICLE
More
Telugu Movie Reviews
Sarpatta
Narappa
Jagame Tantram
Ardha Shathabdham
Anukoni Athidhi
Ek Mini Katha