Vivekh gets a precious wish
Wednesday, July 1, 2015 • Tamil Comments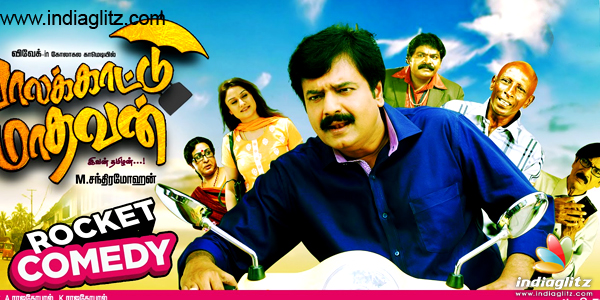 Actor Vivekh who has completed three decades in the film industry as a comedian and a character artist has started taking up hero roles lately. His last film Naan Thaan Bala` in which he played a peace seeking priest received critical acclaim but failed to make the magic at box office. In that film he tried a role which is completely devoid of humor.
Now the veteran actor is back to what he is best at. Palakattu Madhavan` which is going to release this Friday has him as the lead hero but the film is filled with loads of humor. The trailer promises some trademark Vivekh punches and comedy laced with social message.
Vivekh`s colleagues in the industry are wishing the actor the best for Palakattu Madhavan` directed by M.Chandramohan.
This morning Vivekh got a surprising wish from a senior personality in the film industry. It is none other than veteran lyricist Vairamuthu who took wished Vivekh and his upcoming film in the Twitter space.
Vairamuthu`s tweet addresses Vivekh as a person close to his heart. Vairamuthu has also appreciated the comedy actors as the psychiatric consultants of the society and said that if humorous films like Palakattu Madhavan` succeed that will increase the life span of the people. He has wished a long life for Palakattu` Madhavan and also the people.
என் நெஞ்சுக்கு நெருக்கமான சின்னக் கலைவாணர் விவேக்(@Actor_Vivek) நடிக்கும் பாலக்காட்டு மாதவன் வெற்றி பெற வாழ்த்துகிறேன். நகைச்சுவை நடிகர்கள் சமூகத்தின் உளவியல் மருத்துவர்கள். ஒரு நகைச்சுவைப்படம் வெற்றிபெற்றால் மனிதர்களின் ஆயுள்கொஞ்சம் அதிகமாகும். ஆயுள் கூடட்டும் - மாதவனுக்கும் மக்களுக்கும்.
Actress Photos
Poonam Bajwa
Hebha Patel
Shriya Pilgaonkar
Amala Paul