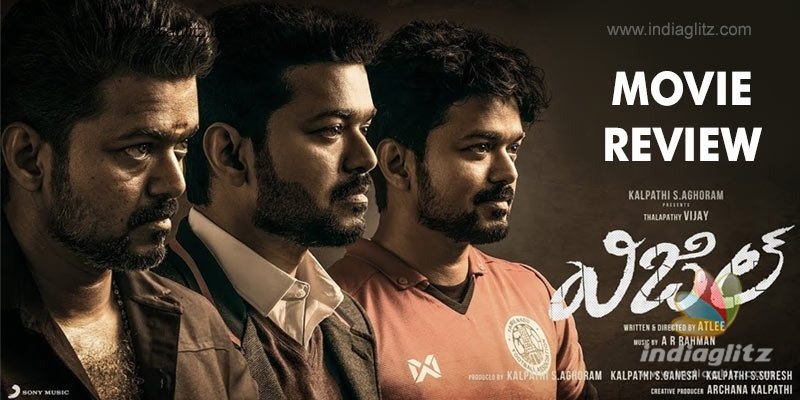 'Whistle', starring Vijay in the lead, hit the screens this Friday.  The film has been dubbed from Tamil.  Here we present the mass entertainer's review.
Story:
Andhra Pradesh state women's football team coach Kiran (Kathir) arrives to meet Michael (Vijay), and unfortunate events lead to Kiran getting injured.   
Michael takes over as the coach, as he has a past associated with the sport.
There is place for a Godfather-kinda man in the story.  He is Rayappa (Vijay again).  What lead to Michael leaving the sport, and was he able to fulfill the dreams of Rayappa and Kiran by leading the women's team to success is what the film is all about.
Analysis:
'Whistle' has been described by its makers as a sports drama with loads of action thrown in.  In reality, the film shows football matches like how Sankranthi cockfights used to be shown in second-rate village dramas of the 1990s.  Those films in which rivals would resort to cheap tricks, deceptions and machinations to win the game by hook or crook.  Those films in which it's not about the game but about egos.  In 'Whistle', the coach, manager or whoever from the other side, speak like the dons of an underworld gang.  Jackie Shroff gatecrashed into this film straight from the tomb where he was buried in 'Saaho'.  
For a semi-sports movie that has been dedicated to all women, 'Whistle' is neither about the sport nor the woman.  If anything, it's an insult to sportswomen.  The girls in the team come from socio-economically backward strata, they have made it to the the top with determination.  Yet, once they are in the presence of the hero, they behave like kids who have no sense of team spirit and competence.  Since Ravindra Jadeja unleashed his potential in that Semi-Final match because Sanjay Manjrekar had called him a 'bits and pieces player', our director Atlee seems to believe that you can unleash the national champion within you if you are body-shamed.  There is no word to describe this kind of juvenile writing.  
The hero is a coach but he is never seen talking about the techniques of the sport.  He may be the team's de jure entertainer-in-chief.  There came a point when I earnestly prayed that Vijay's character is shown to be thinking about football instead of spending a lifetime joking around with Nayanthara and beating up a dozen baddies every often!
Our filmmakers confuse coaching for speechifying.  So, they think that the purpose of a hero is to give 'pravachanalu' at the drop of a hat.  It's next to impossible for the ultra-depressed victim of a horrible crime to come out of her self-imposed loneliness just because a stranger (the hero in this case) gave her a two-minute emotional lecture.  The day our writers understand the human mind, they will think of shedding their laziness.
Vijay enters the football stadium as if he just stepped into the audio function of his movie.  He is the most smile-prone sportsman in the world.  When his team has to win a cup, he simply breaks into a dance, helped by AR Rahman's 'Verithanam'.  Nowhere does his body language, gait suggest that he is/was an athlete.  
Kathir's character enters the screen, suffers a fatal injury and the women in his team are seen melodramatically crying in unison.  Till then, we know nothing about this character, nothing about why the women see a fatherly figure in him. And we are expected to connect with the scene?   
Nayanthara plays a physiotherapist who needs psychiatric help for sure.  She bumps into a stranger at a railway station.  She bumps into him again the next day and blissfully falls in love with him because he gatecrashed into her classroom on a bike.  
The elderly Vijay gets some interesting scenes.  His role is not a full-fledged one but you know that when an elder dies in our movies, it is only to make way for more entertainment in the life of the hero.  
The action sequences are too many (the film itself is too lengthy at 179 minutes).  The generic fights don't add value to the genre.  When you are forcing so many fights down the audience's throat, at least have a strong villain, not the shadow of a villain from one of those zillion forgettable potboilers.
The songs don't make the cut.  Background score by AR Rahman works in parts. Cinematography by GK Vishnu has captured the grand visuals very well and presents the film as a visual treat, while editing by Ruben could have been better, chopping several dragging episodes.
Verdict:
'Whistle' treats football like a child's play.  Some emotional moments in the second half might work for a section of audience.  This one is 'Chak De India' dumbed down to the level of a cockfight between rival gangs in a village.  The rom-com track is sketchy.
Rating: 2.5 / 5.0
Showcase your talent to millions!!
Write about topics that interest you - anything from movies to cricket, gadgets to startups.
SUBMIT ARTICLE
More
Telugu Movie Reviews
Rangamarthanda
Das Ka Dhamki
Kabzaa
Phalana Abbayi Phalana Ammayi
CSI Sanatan
Anger Tales