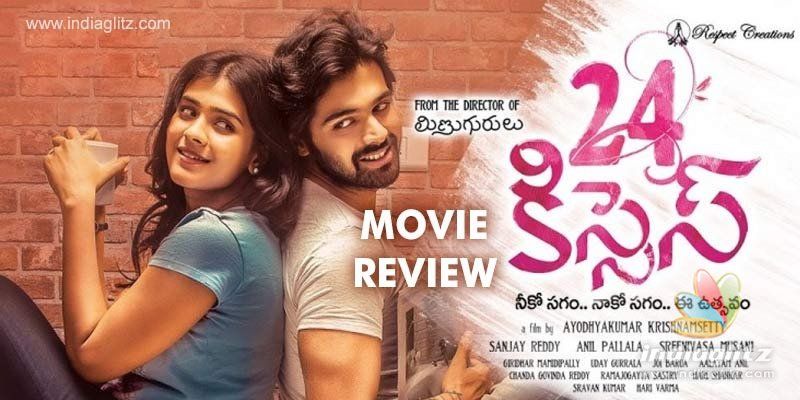 '24 Kisses', starring Adith Arun and Hebah Patel in the lead, hit the screens this Friday.  Here is our review of the romantic drama.
Story:
Anand (Adith Arun) is a children's filmmaker and Srilakshmi (Hebah Patel) is a Mass Comm graduate who aspires to be a filmmaker.  Anand connects with her instantly and so does the woman, who finds him unique.
Since Anand is a man with a difference (that's what we are supposed to think of him), he starts planting one kiss after another kiss on her.  Love blossoms within Srilakshmi but it's not a smooth ride once she confesses to him.  
Anand comes with a troubled past and he sees the world on his own terms.  Will Srilakshmi learn to see things from his perspective?  Or will it all end with just 24 kisses and no marriage?  
Analysis:
"Robert McKee is a father of storytelling".  "I had bodily excitement when he first kissed me...  I had bodily excitement...  I had bodily excitement" (Yes, Srilakshmi says it thrice in a lengthy monologue).  "This is multi-dimensional".   By littering the scenes with random phrases/sentences like these, writer-director Ayodhya Kumar thinks he is making an intellectual film.  No, dammit!  '24 Kisses' is a  pretentious reel actually.  
They kiss.  They kiss again.  They kiss again and again.  A montage song.  A montage song again.  A montage song again and again.  He seeks to raise funds for poor children.  He seeks to raise funds for poor children again.  He seeks to raise funds for poor children again and again.  This is how the film is narrated in a series of repetitive ideas.  
First, he doesn't believe in a conventional relationship with any girl.  But very soon he does.  Second, he doesn't believe in love.  But very soon he starts loving her.  Third, he doesn't believe in marriage.  But we know he will start seeing value in the institution of marriage after a montage song or a fund-raiser seminar.  Fourth, he says no to fathering children.  But, we can see at least three scenes in advance that even this issue between him and Srilakshmi will be resolved in some or the other way.  
'24 Kisses' was made to tell the goddam biography of a guy whose apathy towards Srilakshmi is projected as the story of a non-conformist child rights activist.  
The lead pair itch to be over-cute. So much so that they don't realize they are being clinically unemotional.  Growing a long beard and a new-age hairdo after a break-up is not a sign of someone going through tragic times.  You have to show agony on your face, for God's sake.  Showing Srilakshmi as directing an intimate Tango dance doesn't convey her state of mind; if anything, it only proves director Ayodhya Kumar is obsessed with intimacy.
Rao Ramesh is a psychiatrist apparently giving counselling sessions to our hero.  The conversations between want to be hippy but they end up offering banalities like this one: It's possible to master Advaitha philosophy but it's impossible to know the woman's mind.   Aditi Myakal as the hero's fling partner serves no much purpose either.
As for the performances, the lead actors put a very ordinary show.  Naresh, Aditi, and others are OK.  
Joi Barua's songs may well work for music lovers, who might prefer to listen to the audio than go through the pain of watching them in the movie.  The cinematography and art direction are mediocre.
Verdict:
A pretentious, over-dramatized movie with loads of predictability.  The lead pair itch to be over-cute and we can't take their romance after a point.  Repetitive scenes and utterly lifeless narration.
Rating: 1.5 / 5.0
Showcase your talent to millions!!
Write about topics that interest you - anything from movies to cricket, gadgets to startups.
SUBMIT ARTICLE
More
Telugu Movie Reviews
Thiru
Highway
Karthikeya 2
Laal Singh Chaddha
Macherla Niyojakavargam
Sita Ramam