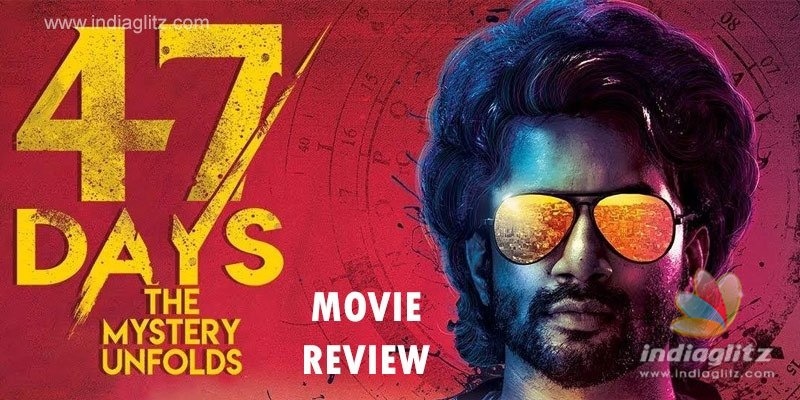 '47 Days', starring Sathyadev in the lead, is currently streaming on Zee5.  Here is our review of the crime-thriller.
Story:
The film begins with the suicide of Srinivas (Irfan), a pharma tycoon, by the side of the Vizag beach.  ACP Sathya (Sathyadev), who has been under suspension, was recently widowed following the death of his wife Paddu (Roshini Prakash).  Thanks to an accidental discovery, he stumbles upon a clue about Srinivas' death, prompting him to link it to his wife's death and a mystery woman (Pooja Jhaveri).  Thrown into the mix are Rajaram (Srikanth Iyengar) and Ravi (Ravi Varma), the male lead's fellow cops.  
What is the link? Can Sathya chase the real culprit and unravel the mystery?  
Analysis:
The entire story unfolds in a span of 47 days, justifying the title.  Writer-director Pradeep Maddali tries to keep it crisp, limiting the length of the film to 1 hr 44 mins.  After 'Brochevarevarura' and 'Gods of Dharmapuri' (web series), Sathyadev once again gets an opportunity to showcase his talent. As a widowed cop who has to race against time, he shows mettle.  With no leisurely rom-com track at service, he takes the burden of carrying the film on his shoulders.  
Raghu Kunche's background score works to an extent, while GK's cinematography is so-so.
As an investigative crime-thriller with a romantic element thrown in, '47 Days' scratches the surface when it comes to the heart of the matter.  The lead man's unofficial probe is both personal and professional.  It's personal because he suspects that his wife's death is involved.  It's also professional because there may be a crime syndicate at work.  
The personal angle required him to show the pain of his irreparable loss in the second half.  Emotional gravitas goes missing after a point, with his dead wife not triggering catharsis any more.  
As for the professional link, it's so very shoddily written.  From his boss (played by Mukhtar Khan) to his colleague (Ravi Varma), they are caricatures, repeating the same lines (like 'This case is closed', 'This is the last warning', 'I said stop your investigation', 'That's a suicide, stop being foolish') again and again.  
The wife-husband moments are stuck in a time warp, while the one love track involving a businessman and his female fan is unintentionally funny.  The businessman, who wants to be India's No. 1 in five years, walks into a cafe just to find out who has been messaging him ever since she read his newspaper interview.  Damn!
Allegedly to create humour, comedian Kireeti Damaraju sells olive oil to all and sundry.  He also woos Hari Teja, who plays a Zumba trainer who can't remember what happened yesterday.  In total contrast, Sai Sudha plays a nun who remembers what happened fifteen years ago as if it happened just yesterday.  
From coincidences to chance happenings, nothing is convincing in the script.  The male lead seems to crack some clues with ease, probably because the title is '47 Days' and the case can't be prolonged till even the 48th day.  
Verdict:
This is an underdeveloped thriller with a fragile investigation track.  The action moments in the climax are a cop-out.  There are twists but they hardly excite even if your bar for thrillers is low.  Sathyadev's performance is perhaps its only merit.
Rating: 2.25 / 5.0
Showcase your talent to millions!!
Write about topics that interest you - anything from movies to cricket, gadgets to startups.
SUBMIT ARTICLE
More
Telugu Movie Reviews
Shekar
College Don
Sarkaru Vaari Paata
Ashoka Vanamlo Arjuna Kalyanam
Acharya
Oh My Dog