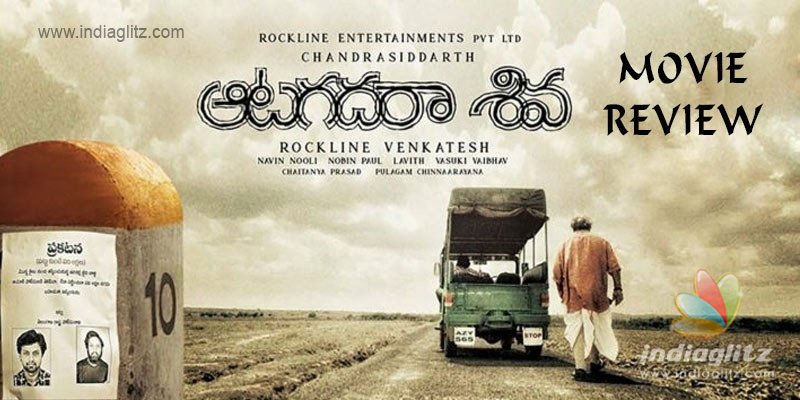 'Aatagadaraa Siva', directed by Chandra Siddarth of 'Aa Naluguru' fame, hit the screens this Friday.  Here is our review of the drama.  
Story:
Jangayya (Doddanna) is a hangman who has a value system of his own.  He leads a simple life and philosophically believes that everything happens because of Lord Siva's Will.  He is asked by the police department to come to the town to execute a convicted criminal, Babji (Uday).  But Babji escapes from the jail just a few days before his execution.  
Call it by whatever name you will, Jangayya happens to bump into Babji on his way to the town and gives him a lift in his four-wheeler.  He comes to know that Babji is a criminal on the run and that there is a cash prize of Rs. 10 lakhs on him.  
But before Jangayya can inform the police about his fellow traveller, God wills that the duo have to help two lovers, Aadi (Hyper Aadi) and Paru (Deepti), on the run.  
How a series of coincidences and incidents that bring out the humanity in one or more characters is the crux of the second half.
Analysis:
'Aatagadaraa Siva' unfolds like a road film.  It had to be one because its philosophical subtext necessitated that there are enough numbers of players out there playing an apparently random but actually meaningful game.   So, here is the list of God's instruments: a hangman, a criminal, a couple, a soldier who is an expectant father, two caste-obsessed jokers who are united by alcohol, a bunch of musclemen out to nab the two lovers on the run, and a funny truck driver.  
With a good mix of characters, the screenplay writer and director Chandra Siddarth sets out to tell a coming-of-age drama whose concept is profound but the execution is simplistic and contrived.  
Why simplistic?  
1.  Babji turns out to be unfleshed.  The narration of his ennoblement is hardly a revelation.  A pregnant lady here, a preachy old woman there.  A sentimental 'Anna'-calling woman here, a maudlin 'Babu'-calling granny there.  It's as if he is waiting to be reformed through stock scenes.  In any case, he is not a hardened criminal, as it turns out.  
2.  The way the bond between Babji and Jangayya is developed lacks substance.
3.  Jangayya attaches meaning to seemingly chance happenings as would a Lord Siva's devotee.  Fair enough.  But his wisdom never touches the audience, probably because he seems to repeat what the title of the film already conveys.  
Why contrived?
1.  Since it's a road film, so many (weird) things have to keep on happening.  But everything in this film seems to happen in a 1-km or 2-km stretch.  Everything seems to be happening just so that Jangayya can once again get emotional and look up to Lord Siva and thank him for all the Game.
2.  Leave out the Jangayya-Babji duo and what you get is a bunch of jokers (Hyper Aadi, Chammak Chandra, Chalaki Chanti, Bhadram, the musclemen, etc) for the most part.  It's difficult to take Siva's Game in the movie seriously when most of them are Jabardasth-type characters (it's as if Hyper Aadi ghost-directed so many scenes).  
3.  The episode involving the birth of a child and a thankful family, is unbelievably preachy.  An old woman delivers a 'Pravachanam' over dinner and the characters keep massively indistinct expressions on their faces.  The message should have been driven naturally rather than through such preachy dialogues.  
Drama or comedy?  Chandra Siddarth gives primacy to the latter and the former is kept at its minimum.  Even when profound lines like 'Vedantam cheppevadiki balam undadu, balam unnavadiki Vedantam cheppe avasaram undadu' (dialogues by Muni Suresh Pillai), there is no sense of wow.  
Doddanna and Uday as the leading actors are overshadowed by the space that Hyper Aadi gets.  Immediately after the interval, one actually questions this at least once: whose story is the director narrating?  
Vasuki Vaibhav's music is soothing and the lyrics are meaning-laden.  Lavith's cinematography is fairly good for the budget.  The background score is apt.  Navin Nooli's editing is efficient.  
Bottomline:
'Aatagadaraa Siva', the remake of a Kannada film, should have had better scenes to convince the audience that it's not just any other road film.  But Chandra Siddarth is content with some lame comedy, staged incidents, and preachiness.
Rating: 2.25 / 5.0
Showcase your talent to millions!!
Write about topics that interest you - anything from movies to cricket, gadgets to startups.
SUBMIT ARTICLE
More
Telugu Movie Reviews
Ponniyin Selvan 1
Nene Vasthunna
Babli Bouncer
Dongalunnaru Jaagratha
Krishna Vrinda Vihari
Alluri