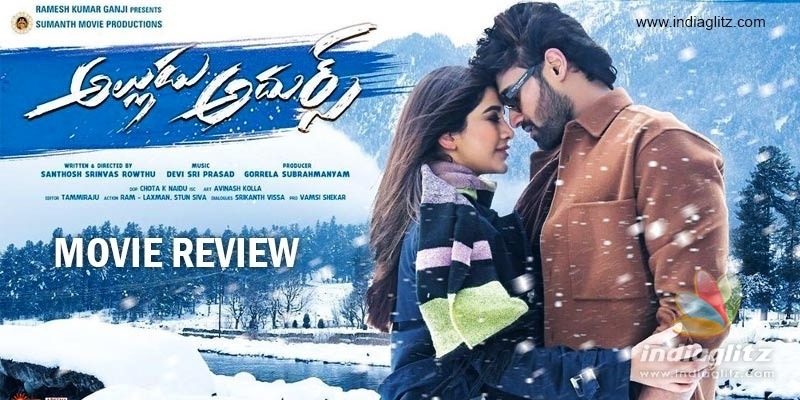 'Alludu Adhurs' is out in theatres. Here is our review of the comedy entertainer starring a range of actors.
Story:
As per a peculiar agreement with Jaipal Reddy (Prakash Raj), a notorious figure in Nizamabad, Seenu (Bellamkonda Sreenivas) has to successfully keep the former's daughter Kaumudhi (Nabha Natesh) from falling in love with him. If he succeeds to shun her away for ten days, Jaipal Reddy will not trouble him for the rest of his life. But the hero is clever and has got other plans. What are they? How is he going to use Kaumudhi and Gaja (Sonu Sood) to help Vasundhara (Anu Emmanuel)? This is the crux of the story.
Analysis:
Director Santosh Srinivas conjures up one too many characters to create a screenplay that is replete with loud characters, crass comedy, elaborate sequences, and pointless songs.
Every other actor in the movie believes that they have to go overboard if they are to make a mark. The hero allegedly runs a super successful start-up but the only time he is seen working is when he solves an engineering problem as if it were child's play. Mirchi Hemanth, Get-Up Sreenu and Mahesh Vitta play jokers who fall for Nabha's bait. When she is drunken, our hero calls her a 'Rowdy Baby' after the blockbuster Dhanush-Sai Pallavi song. This is not a one-off pop culture reference. This is a film full of such references and you will listen to randomly-thrown names likes Shah Rukh Khan, Chiranjeevi, Bigg Boss and many more in the Kandireega Film City that is 'Alludu Adhurs'.
Srikanth Vissa's dialogues have got so much information in them, to paraphrase Venkatesh's reaction to Prakash Raj's 'kapithvam' in 'Nuvvu Naku Nacchav'. Talking of Prakash Raj, he has been seen less often these days, and this is the last character he should have agreed to play. The powerful man is made to believe that he is suffering from a mental disorder because of which he is hallucinating things. There is barely any comedy here, and whatever laughs are there, they are extracted by Satya. And, in other scenes, it is Vennela Kishore who is the only saving grace.
'Neeku evaraina padipotharu', a character tells the hero. Sorry, but the audience can never share the sentiment. On the other hand, the hero asks the heroine to get updated, as if he is not outdated. 'Amrutham' fame actor Harshavardhan is seen as a psychiatrist named Dr Amaram, so named as a thankless homage to Dr. Samaram.
Bellamkonda, when he is not mouthing primary school quotes like 'Environment is more important than development', behaves like a clown on steroids. His allegedly routine mom and routine dad bore him. His passion lies in behaving like a female ghost over and over. To cater to his action-hero image, a bunch of goons keeps popping out of nowhere and get badly mauled by him over and over. There are outdated elements like a character growing up to become a don-like figure to avenge a childhood wound.
Characters get fooled just like that in the film. The idea of creating a ghost to change someone's heart is potentially good. But the potential remains just that in the film.
Verdict:
'Alludu Adhurs' fails to have a coherent narrative. When it gets sentimental, it is sudden and artificial. When it flaunts comedy, it is too unfunny.
Rating: 1.75 / 5.0
Showcase your talent to millions!!
Write about topics that interest you - anything from movies to cricket, gadgets to startups.
SUBMIT ARTICLE
More
Telugu Movie Reviews
Thank You Brother
Shukra
99 Songs
Dheyyam
11th Hour
Vakeel Saab