'Angry Indian Goddesses' reveal censored scenes in funny way!
Wednesday, December 9, 2015 • Hindi Comments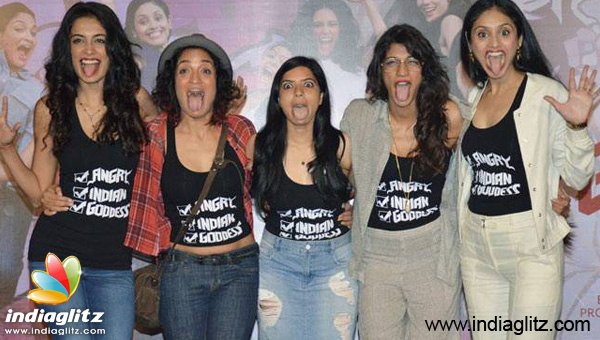 After all the hustle bustle that took place, over the censor's cut on several scenes, dialogues and images from recently released Pan Nalin's directorial, 'Angry Indian Goddesses', the Goddesses seem to have something to say or rather show to the audiences.
With absolute fun intentions the Goddesses have released a video showcasing all the censored dialogues and images of Goddesses which raised objection on the film and were apparently taken down from the film.
Its left to the audiences to judge now! The scenes will certainly tickle the funny bones of the audiences by a sarcastic take on the hypocrisy of our society. More Power to the Goddesses! Go watch for yourself, you definitely cannot miss this one!
Angry Indian Goddesses — Censored!

Exclusive Facebook Release — Bringing to you on popular demand and as promised, an Exclusive Video of "ALL THE XXXXXX'S which the Censors don't want you to watch or hear." Tune in! Now that you've seen this, catch the rest in theatres. BOOK HERE: http://bit.ly/AIGBookNow #AIGCensored #AIGtheFilm #AngryIndianGoddesses (P.S~Apologies for the delay!)

Posted by Angry Indian Goddesses on Monday, December 7, 2015
Related News