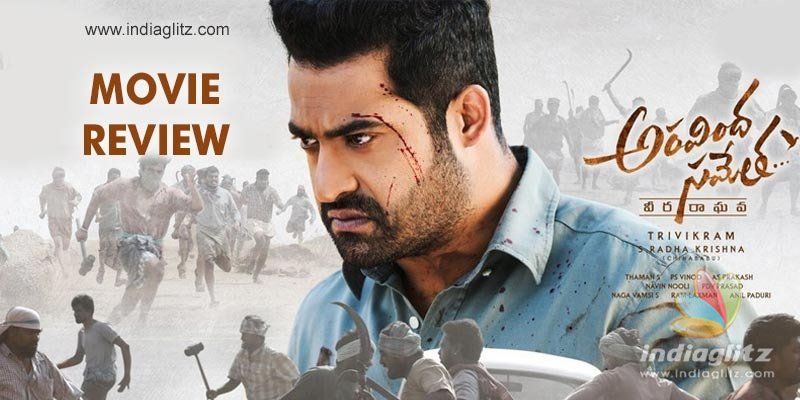 'Aravindha Sametha', starring NTR in the lead role, hit the screens this Thursday.  Here is our review of the action-drama.
Story:
Veera Raghava Reddy (NTR) becomes a raging tiger when his father Narrapa Reddy (Naga Babu) is killed by a faction gang led by Basi Reddy (Jagapathi Babu).  The rivalry between Narrapa and Basi goes back to decades.
Egged on by his family's women to put an end to endless bloodshed, Raghava Reddy decides to give peace a chance.  Friendship with an anthropology student named Aravindha (Pooja Hegde) in Hyderabad makes him even a bigger believer in pacifism.
The rest of the film is about how Raghava Reddy tries different tricks to broker peace with the bloodcurdling Basi and his son Bal Reddy (Naveen Chandra) in Rayalaseema.  In this, he faces unlikely situations and realizes that some humans are beyond redemption.  Does he think out of the box?  Will he script a new story?  Who are his allies and who are his enemies for posterity?  That's the climax for you.
Analysis:
The film's dominant theme of 'Give peace a chance' was pretty much made clear before its release.  Where 'Aravindha Sametha' unleashes doses of novelty is in the way NTR's character fights the good fight (for peace, that is).  Unlike in a few movies with similar themes, this one is not way too simplistic.  So, Raghava Reddy uses a bait here, a threat there to convince the other side.  Bringing down bloody feuds that have festered for decades is not a joke.  And so, Trivikram's hero makes some sacrifices and tantalizes the rivals with power and pelf.
The climax is layered and this shouldn't go unsung.  Faced with a tricky situation. Raghava Reddy wears the thinking cap instead of mouthing banalities.
Trivikram understands the world of Basi Reddy well.  Curiously, the film's best moment is not where the hero is seen giving those typical transformative sermons.  It's where the chief antagonist turns into a bigger beast and does the thinkable just before the climax.  His wife (Eeswari Rao), minutes after showing that she is too small to take her husband's name in front of a guest, now screams his name, overcome as she is by unbearable grief and impotent rage.
With his knack, Trivikram turns even cliches into okayish cliches.  For example, the villain disillusioning his own people with his madness is a much-exploited idea in our films.  Either because of the sheer intensity of the scene or the performances delivered by Jagapathi Babu and Naveen Chandra or both, the moment gives a bang for the buck.
Even the cliche of women rooting for compromise and men seething with rage is turned into a revelation when Raghava Reddy brilliantly sums up the large-heartedness of the women in the two warring families.
The 'Yeda Poyinado' song ends with NTR's house closing its doors on the village even as a balladeer says 'Subhodayam'.  Enough is enough.  This house can't house the vengeance of the village any longer, the women seem to scream through this symbolism after the funeral, welcoming a new dawn.
Through and through, NTR delivers a studied performance, with the 'Peniviti' track and the climax portions standing out.  He tries authentic Seema slang (courtesy, the training from Penchal Das), pulls off subtleties, and speaks mature lines with practised ease.  He is both a 'Veera' out of whose hands grows the axe and a "torchbearer" who changes the fate of a people.
Where the film seems to go berserk is in overstating the 'Give peace a chance' theme.  Alos, the audience is somewhat left in confusion at the subconscious level about who has a greater influence on Raghava Reddy. Is it the women in his family or Aravindha?  After the mother, grandmother and a pregnant lady have done their mite in changing his mind, what is the exact contribution of the heroine?
You find Raghava Reddy lost in deep thinking in Scene No. 4, 5, 6, 7, 8, 9, so on and so forth (not exactly but you get the drift), with his gaze down.  You can only take so much of such a demeanour and mood.  In one supposedly funny scene with the heroine, he says he doesn't get angry while precisely losing his temper.  Where is the need for such a scene?  Does he have any anger management issues?
The film shuns the standard template of narrating as a flashback the death of the hero's father in an action scene.  Trivikram may or may not have done it consciously but this could prove to be a flaw.  Notice the action scene that comes a few minutes into the film.  It presents a zenith that the film struggles to repeat till the climax.   It presents the highest point of guts, of brawn (NTR flashes his abs after his shift goes off by design), of emotions (the hero loses his father), of anger, of pain, of humiliation (of Basi Reddy).  It shows Raghava Reddy as having a sway on the administration when he is shown to intimidate the cops into silence with a mere gesture.  After showing this much in a space of 5 minutes, there is only so much that you can have in the reserve.  What's even more problematic, this fight already shows the peak of confrontation between the hero and the chief antagonist.
It would have been great had the rom-com track been at least half-decent.  What was Eesha Rebba doing?  Pooja (who puts up a decent performance and dubs well) should have asked for entire "space" and whole galaxies from her and be done with her.  As it is, whenever our heroines pursue social sciences, they are shown to be almost illiterates.
If Jagapathi is menacing and makes a mark, Naveen Chandra, Naresh, Sunil, Rao Ramesh, Supriya Pathak, Shatru, Naga Babu, Srinivas Reddy, Subhalekha Sudhakar, Devayani, Brahmaji, Sithara, Ravi Prakash, and others are fine.
Thaman's background score satisfies.  The songs 'Yeda Poyinado' and 'Peniviti' work but 'Anaganaganaga' and 'Reddy Ikkada Soodu' could have been better, barring NTR's dances.  PS Vinod's cinematography is a plus and Naveen Nooli's editing is OK.
Verdict:
Coming with a decent enough story, 'Aravindha Sametha' has a monolithic subtext that makes the proceedings look sluggish.  The last 30 minutes are a treat.  NTR delivers one of his top five best performances ever. Technically superior, the film has some thought-provoking dialogues, Trivikram-style.
Rating: 3 / 5.0
Showcase your talent to millions!!
Write about topics that interest you - anything from movies to cricket, gadgets to startups.
SUBMIT ARTICLE
More
Telugu Movie Reviews
Ahimsa
Nenu Student Sir
Pareshan
Boo
Mem Famous
Malli Pelli