A situational album
Thursday, September 20, 2018 • Telugu Comments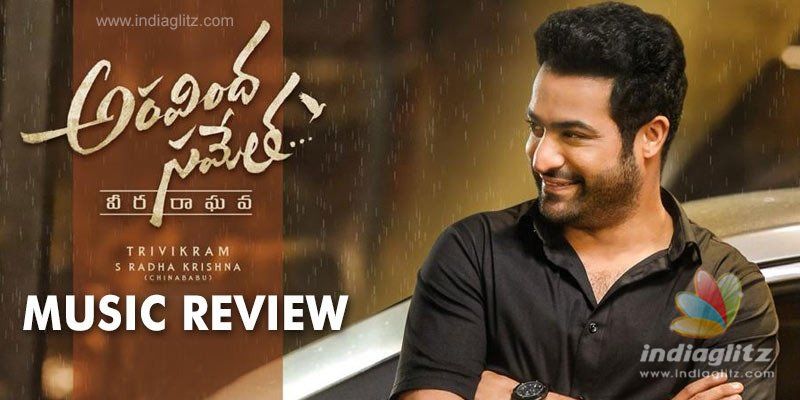 'Aravindha Sametha' comes from Thaman.  Nikhita Srivalli, Armaan Malik Kailash Kher, Daler Mehendi, Kaala Bhairava, Anjana Soumya and Penchal Das are the singers.   Sirivennela Seetharama Sastry and Ramajogayya Sastry are joined by Penchal Das for lyrics.
YEDA POINADO
Singers: Nikhita Srivalli, Kailash Kher, Penchal Das
Lyrics: Sirivennela Seetharama Sastry, Penchal Das
Much like 'Peniviti', this one too is a mood-based number.  There is a 'Baahubalian' sense of anguish written all over 'Yeda Poinado'.  The high-pitched Kailash Kher, the medium-pitched Penchal Das and the intense Nikhita Srivalli, between them, induce a sense of grief.  Sirivennela's lyrics call for change in the factionalism-riven land.  Somewhere in the middle, Thaman smuggles in the 'Manase Thadisela' tune from 'Kick'.
ANAGANAGANAGA
Singer: Armaan Malik
Lyrics: Sirivennela Seetharama Sastry
Lyricist Sirivennela goes for cheerful lines that are the stuff of tender, breezy love stories.  So, for a hero of NTR's stature, 'Anaganaganaga' is a sort of welcome change.  The likening of the lover to a magnet and all are appealing.  The song is a mix of familiar ideas deployed creatively.  Thaman adapts minimalism, junking the kind of beats he is known for.  The interplay of live drums, guitars, flute and electric violins, among others, is full of life.  Armaan Malik's lively vocals complement the song's exciting vibes.
PENIVITI
Singer: Kaala Bhairava
Lyrics: Ramajogayya Sastry
On the back of the inherent strength of its concept, both despair and hope can be felt strongly throughout the song.  The lyrics are stuffed with strong meaning.  'Naa talaraatalo kalatalu raayku' takes the cake.  The alliterative 'Taalibottu talusukoni tarali tarali raara penimitee' is a superb line.
Thaman's sound is deliberately mellowed.  Yet, it's intense.  This one is a mood-based song and is difficult to be appreciated in its entirety outside the context of the movie.  Kaala Bhairava's voice has the earnestness of a Kailash Kher when it comes to evoking pity as well as inspiring faith.
REDDY IKKADA SOODU
Singers: Daler Mehndi, Anjana Soumya
Lyrics: Ramajogayya Sastry
After feting us to pure localized Telugu or Sanskritic language with the first three songs, the album introduces us to Tollywood masala language, Ramajogayya Sastry-style.  So, English words happen, usages like 'Chanti Reddy' happen, so on and so forth in this "item" number.  Sivami's live percussion is electric.  Thaman deploys electric guitars and bass guitar to a throbbing effect.  Daler Mehendi and Anjana Soumya don't leave much of an impact.
Verdict:
With just four songs, the album features two mood-based and two generic numbers.  The two lyricists throw up wise words.  The singers are a treat.
Rating: 3/5