Throwback Thursday - Ranjan the first swashbuckling hero of Kollywood
Thursday, October 26, 2017 • Tamil Comments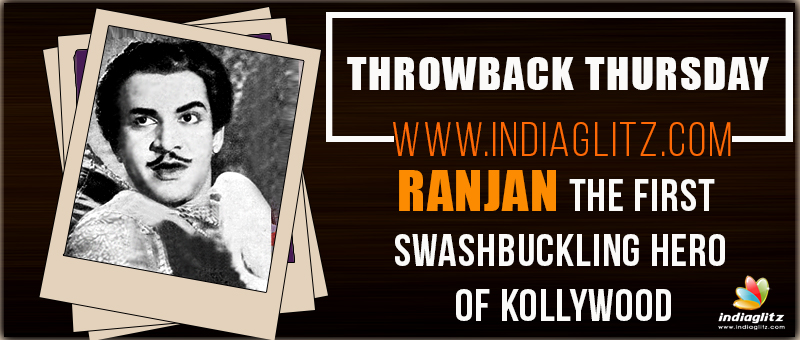 Tamil cinema in the past decades has been ruled by the swashbuckler be it MGR, Rajinikanth or Ajith and Vijay in different eras.  However the first action hero of Tamil cinema was Ranjan who gained instant stardom after appearing as a ruthless villain in 'Chandralekha' the film that remains unparalelled after 70 years since its release.
Ranjan born in Srirangam and raised in Chennai was a totally prepared screen hero as he was skilled in sword fighting, horse riding, dancing and did all his stunts without a double.  He was the first pilot from the Indian film industry who clocked many hours flying time.  At a time when South Indians could not make a breakthrough in Hindi it was Ranjan who had a succesful stint in Bollywood starring in many hits like 'Bahut Din Hue', 'Suvarn Sundari', 'Nishan', 'Magic Carpet', 'Chor Chor' and  Chor Ho To Aisa'.
One of the most memorable films of Ranjan was also one of his last titled 'Mangamma Sabadham' in which he played dual roles as a ruthless father and his straightforward son.  Though in the late 50s he faded from the limelight and never appeared on screen till his death in 1983, Ranjan will always be hailed as the first swashbuckling star of Tamil cinema.  
Actress Photos
Kriti Karabanda
Amyra Dastur
Raiza Wilson
Rashi Khanna