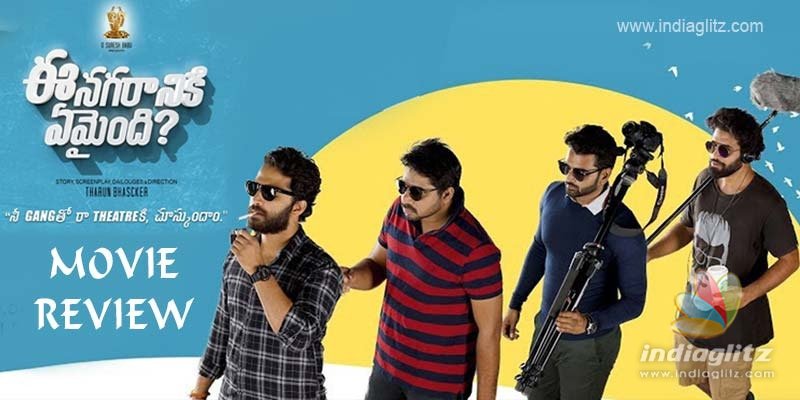 'Ee Nagaraniki Emaindi', directed by Tharun Bhascker, is a buddy comedy.  The film hit the screens this Friday.  Here is our review.
Story:
Vivek (Vishwak Sen) and Karthik (Sushanth Reddy) are childhood buddies.  The former is an aspiring filmmaker, and the latter has a fascination for shooting with cameras.  
Vivek falls in love with a girl (Simran Chowdhary) but his mercurial attitude leads to a break-up.  The girl moves on but Vivek, even years later, cuts a sorry figure.  He is a mini Arjun Reddy - wallowing in a sense of perennial loss, lazing around, doing nothing.  
Compelled by his father's weak financial position, Karthik moves on to pursue a career in managing a pub.  His sincerity and honesty win him the admiration of his boss, who offers him his daughter in marriage.  
Days before Karthik's engagement, it's reunion time for the buddies, joined also by Kaushik (Abhinav Gomatam) and Uppi (Venkatesh Kakumanu).  A Truth & Dare game with a stranger (Anisha Ambrose) leads them to Goa, where Vivek and Karthik rediscover themselves over the making of a short-film with a regressive climax.  
Analysis:
Once again after 'Pelli Choopulu', writer-director Tharun Bhascker tells a layered story, by and large.  If Vivek has a big brother at home, Karthik's father tries to rub his ideas in.  Vivek has a drinking problem, and Karthik is drunk with the desire for a rich lifestyle.  Both the friends are initially driven by circumstances to dump their dreams.  And they both go about consciously self-destroying themselves in different ways.  Vivek does it like a loser, and Karthik ironically loses his soul while being a winner on the material front.
When the girlfriend has to call it quits, she does it by revealing a hitherto unknown aspect of Vivek's personality: he is not arrogant, he is insecure actually.  Such scenes convey a lot.  Tharun Bhascker's forte lies in portraying how characters express themselves.  The terrace conversation between Vivek and his Hindi-speaking girlfriend unfolds like a real-life conversation that has been given a cinematic touch.  
Remember the scene in 'Arjun Reddy' where Rahul Ramakrishna narrates to his father the hero's lifestyle.  This lifestyle is depraved and yet the film subtly glorifies it.  In 'Ee Nagaraniki Emaindi', Abhinav as Kaushik becomes an extension of this character with respect to Vivek.  His character conveys with loads of fun, irreverence and nonchalance the director's own subconscious attitude towards Vivek's flawed state of mind that the story subtly presents as an acceptable one if he can eventually snatch victory from the jaws of defeat (eventually is the operational word here).
As Kaushik, Abhinav is enjoyable to the core.  He acts effortlessly, tickles the funny bone without resorting to self-deprecation, and steers clear of making repetitious expressions.  His performance in the scene where he expects appreciation from his friends for enacting a scene in Vivek's short-film is outstanding.  
Whoever tells you Tharun Bhascker has written a true-to-life story is telling you only a half-truth. Becuase 'Ee Nagaraniki Emaindi' is a true-to-a-lucky-life story.  Vivek messes up everything every single time and yet life has 'Angel Akka' (comedian Abhinav's term for Anisha Ambrose) for him.  He is cracked up, snatching defeat from the jaws of victory.  But in the end, he has the last laugh together with his best buddies.  This film, for all its relatable conversations, is an exercise in escapism, too.
While the scenes work in bits and pieces, the story is wafer-thin.  After a point, the comedy style alone becomes the sole highlight of the film, especially in the second half.  The police station scene where Karthik comes of age is packaged so well, but such scenes may only have a limited appeal.  There is a hangover of 'Pelli Choopulu' in the sense that Vishwak Sen's character messes up time and again, much like Vijay Deverakonda's character in Tharun's first movie.  This element may be found unappealing.  
The way the love stories and friendship stories are narrated in the film, many may find it too undramatic.  
Among the actors, Abhinav and Sushanth come first, followed by Vishwak.  Vivek Sagar's music sounds soothing as part of the film.  The BGM is a treat, borrowing from its influences.  Niketh Bommireddy's cinematography is top-notch and there are no two ways about it.  And kudos for using the Sync Sound technique.  Vijay Deverakonda and Gautham Menon are seen in guest roles.  
Verdict:
'Ee Nagaraniki Emaindi' catches the attention of the younger audiences with ease.  But comedy becomes its sole strength after a point.  It's not a universal story.  Good performances are a plus.
Rating: 2.75 / 5.0
Showcase your talent to millions!!
Write about topics that interest you - anything from movies to cricket, gadgets to startups.
SUBMIT ARTICLE
More
Telugu Movie Reviews
Colour Photo
Nishabdham
Orey Bujjiga
Maguvalu Matrame
V
Johaar