FEFSI strike withdrawn! Vishal and RK Selvamani enter into an agreement
Wednesday, September 13, 2017 • Tamil Comments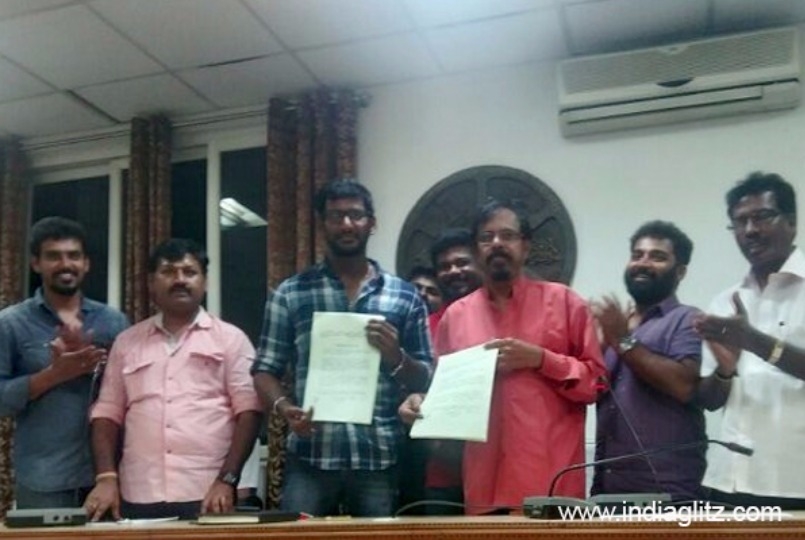 In what may be called as a big relief for Tamil film producers and a good news for the entire Tamil film fraternity. An amicable solution has been reached between the Tamil Film Producers Council and the FEFSI, thereby putting an end to the FEFSI strike. So employees associated with the FEFSI will start going to work from today (September 13) which means the shooting of Tamil films that were stalled for over one week will commence from today.
It is not clear about the contents or terms of agreement signed by TFPC President Vishal and FEFSI President R.K.Selvamani. But in effect the strike has been withdrawn and the shooting of films, including Rajinikanth's 'Kaala' and Vijay's 'Mersal' that were stalled due to FEFSI strike can resume from today. 
FEFSI went on an indefinite strike from September 1st as the Producers Council gave advertisement to hire non-FEFSI workers in films. This is one of the bone of contention between TFPC and FEFSI the other one being terms of wages which necessitated a strike. 
Even last month FEFSI conducted a strike but that was withdrawn after Superstar Rajinikanth intervened and called for amicable solution by conducting talks. . 
Related News