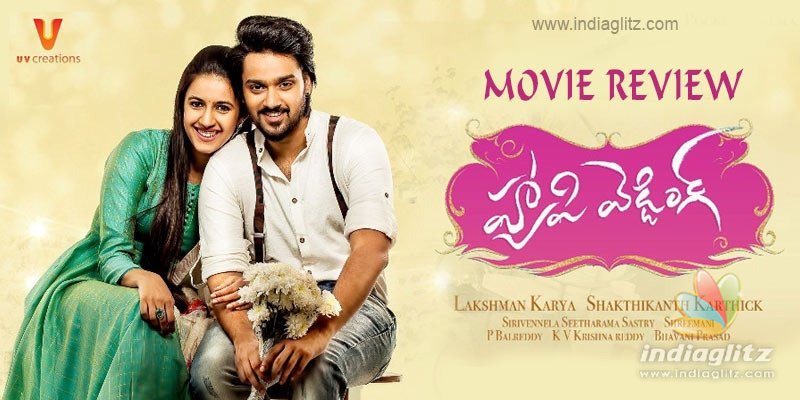 'Happy Wedding', starring Sumanth Ashwin and Niharika Konidela in the leading roles, hit the screens this Saturday.  Here is our review of the movie.
Story:
Anand (Sumanth Ashwin) and Akshara (Niharika) have been known to each other for six months now.  Love and engagement happen pretty much fast for them.
Their elders (Murali Sharma and Tulasi play the heroine's parents, & Naresh and Pavithra Lokesh play the hero's) are gung-ho about the impending marriage.  
But then Akshara being Akshara, she is unable to make up her mind about marrying Anand, who she thinks has started taking her for granted.  She also comes with a not-so-happy experience with a guy named Vijay.  
At a time when Akshara's past remains unresolved and she is insecure about what might happen post-marriage, a patient and decisive Anand continues to woo her and convince her that he is the best for her.  Will he have the last laugh?
Analysis:
'Happy Wedding' is one of the most conversational love stories (and family entertainers) to have been made in Tollywood.  Writer-director Lakshman Karya comes with well-etched characters and he is helped by Bhavani Prasad's penetrating (although not always) dialogues.
Akshara is always on the fence.  She thinks in two minds and if you asked her to choose an item from a restaurant menu, you might as well end up spending half the day twiddling your thumbs even as she continues to be indefinite about what to eat.  
Anand is a total contrast.  He whitewashes her indecisiveness; he believes he is magical (as Akshara says in a crucial scene, he thinks of himself as a hero).  If she always wants the other one to cede space, her fiance is ever ready to give her the freedom to walk out on him.
'Happy Wedding' tells the story of Akshara's fears and insecurities.  It also tells the story of the joys of two sets of parents.  In between, it introduces to us the sensibilities of a rare modern-day father (the talented Murali Sharma as the heroine's dad) who has the courage to stand by his daughter's fickle-mindedness, society be damned.  In between, it introduces us to an unmarried psychologist (yesteryear actress Indraja as Neeraja) who becomes an indulgent observer of Akshara's selfish thinking.
'Women do drink and fear post-marriage restrictions.  So what?' the film says loud and clear.  And it's welcome.  
If the pre-interval scene is nuanced, the anti-climax moment involving the lead pair and the heroine's elders is unconventional.  
Everything said, 'Happy Wedding' suffers from a sense of more-of-the-same.  Akshara's character is colourless in the second half.  And Sumanth Ashwin lacks the comptency to conjure up any fascinating moments, much as his character claims to be magical.  The second half is also when monotony sets in.  
For whatever reason, the film never sheds its short-filmish tone.  Despite the likes of able actors like Naresh, Murali Sharma and Annapurnamma (whose naughtiness is somewhat over-the-top), somehow the proceedings lack zing in the second half. 
It would have helped had there been one or two comedians dishing out mature comedy.  It would also have been appropriate to have more of Vijay's character in the second half to relieve the audience of the ennui.
Sashikanth's montage songs are good.  SS Thaman's background music is able.  Bal Reddy's cinematography is fairly impressive.
Verdict:
'Happy Wedding' is a mixture of some atypical moments, spells of monotony and well-carved characters.  If you enjoy character-driven story-telling and mindset-based dialogues, this film is for you. Otherwise, you may find the film quite boring.
Rating: 2.5 / 5.0
Showcase your talent to millions!!
Write about topics that interest you - anything from movies to cricket, gadgets to startups.
SUBMIT ARTICLE
More
Telugu Movie Reviews
Chup
Love Today
Itlu Maredumilli Prajaneekam
Masooda
Iravatham
Yashoda