Heavy rains in state, nine dead
Saturday, September 9, 2017 • Kannada Comments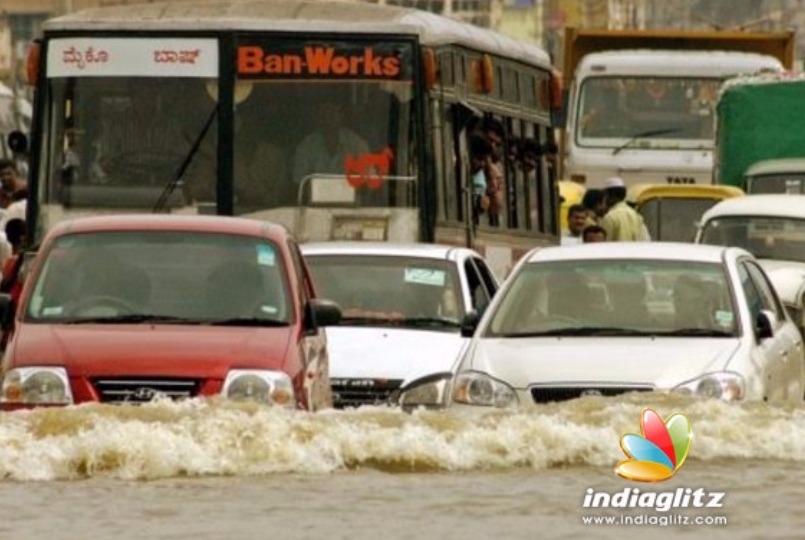 The heavy rains in the last one week in Karnataka not only jeopardized the life but also taken nine tolls. On Friday the rain lashing in heavy speed a huge tree fell on a car took the life of three, a person died in water flood, in Vijayapura a wall collapses resulted in four deaths and in Bagalkote the lighting took a life.
At Minerva circle on Dispensary road a car parked received the huge uproot of Nilagiri Plant. In the car Sunkadakatte Ramesh, wife Bharathi and relative Jagadish succumbed to death and Master Lohith inside the car escaped from death.
In Indi taluk of Vijayapura a wall collapse took the life of Ganapathi Suthara, Siddavana Rachappa Sutahar, Karabasappa Pirappa and Indrabai Karabasappa, in Nimbalagundi lighting took the life of Bhimappa Sunkada.
The highest of 19 centimeter rainfall was recorded at Kalaburgi district. At Hattikuni Hobli 30 houses collapses, the highway traffic had to be abandoned for a few hours. The Thursday and Friday rain is highest in the last 10 years. In Ballari Kuragodu, Madire village, Hirehalla, Shivamogga city, Thirthahalli, Hosanagara, Sagara, Chitradurga city, Chkkajaajooru, Davanagere district, Harappanahalli surroundings the rain on Friday was very nasty.

In Bengaluru rain lashing from afternoon on Friday was continuous till night. Two trees at JP Nagar fell down, the water in Shivanand circle disturbed the traffic, the traffic at Majestic, Nrupatunga Road, Tumkuru Road, Sampangiramanagara, Anekal, Rajajinagara received heavy rains ranging from 3 MM to 19 MM.
Related News