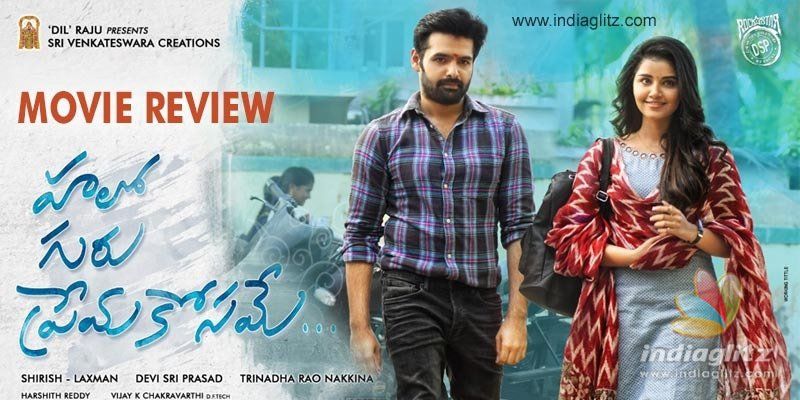 'Hello Guru Prema Kosame', starring Ram Pothineni in the lead, hit the screens this Thursday.  Here is our review of the entertainer.
Story:
Sanju (Ram) is a guest at the house of Viswanath (Prakash Raj) in Hyderabad.  He gets close to Anu (Anupama Parameswaran), who is Viswanath's beloved and likeable daughter.
Meanwhile at the office where he works, Sanju gets closer to Ritu (Pranitha Subash), only to realize that he is actually in love with Anu.
But there is a catch.  Viswanath, the man who keeps a promise come what may, decides to give his daughter in marriage to a colleague's friend.
True to his style, Sanju now uses his grey cells to trick Viswanath.  What is his game plan?  Will the hero succeed in his wish to marry Anu, who may or may not be in love with him?  That's the rest of the film.
Analysis:
Director Trinadha Rao Nakkina, together with writer Prasanna Kumar, comes equipped with a story that pits a savvy lover boy against the sweetness of a father (of the heroine).  The script organically tells the story of a father-daughter bonding in the process.  To the extent that there is no artificiality in the way Anu expresses love for her father, the film comes with a semblance of freshness.
Ram's comic timing engages the audience wherever there are meaty dialogues and peculiar situations.  As it is, the story inherently presents some quintessentially vibrant situations here and there.  If a few of the scenes with Prakash Raj are both quirky and funny, Ram's first day at the software company is a laugh riot.  However, some of the scenes are a drag, especially the restaurant episode.
Prakash Raj's character is the center of attraction with its charming goodness.  Apparently, he is a child at heart and a manipulater would have made a killing.  But then, our Telugu cinema heroes may stalk and do worse, but they will never cheat the Uttama Purushas.  It would have helped had the heroine behaved with marked maturity when most needed.
The film relies on done-to-death tropes to dish out a hackneyed trajectory.  The hero is utterly satisfied and thinks those who live out of native place don't get to taste love and affection.  His parents (Sitara and Jayaprakash) pamper him and they exude bliss all the time.
It would be great if our writers start seeing eccentricity in how our heroes manage to win people with mirthful ease.  Anu falls for the hero in two shakes of a lamb's tail, that too after facing a creepy situation (in the train).
The dialogue writer was clearly given a voluble mandate and a bulky book.  So, he writes lengthy conversations at times.  Besides being dialogue-heavy, the film is also dance-heavy.  The last song is clearly an intrusion.
There is only so much man-childness that you can take.  So, Prakash Raj's character could bore you after a point.
As performances go, Ram is cool for the most part.  Anupama is monotonous. Prakash Raj delivers a nuanced performance.  Pranitha, Praveen, Amani, Noel Seen and Saptagiri (in a cameo), and others fit the bill.
Devi Sri Prasad's background music works and two songs are apt.  The cinematography and editing are strong points.
Verdict:
The film tries to reach out to the family audience.  But for some trace of freshness, it lacks a gripping narration.  Comedy and sentiment work to an extent.
Rating: 2.5 / 5.0
Showcase your talent to millions!!
Write about topics that interest you - anything from movies to cricket, gadgets to startups.
SUBMIT ARTICLE
More
Telugu Movie Reviews
Ponniyin Selvan 1
Nene Vasthunna
Babli Bouncer
Dongalunnaru Jaagratha
Krishna Vrinda Vihari
Alluri