Foot-tapping to an extent
Monday, October 8, 2018 • Telugu Comments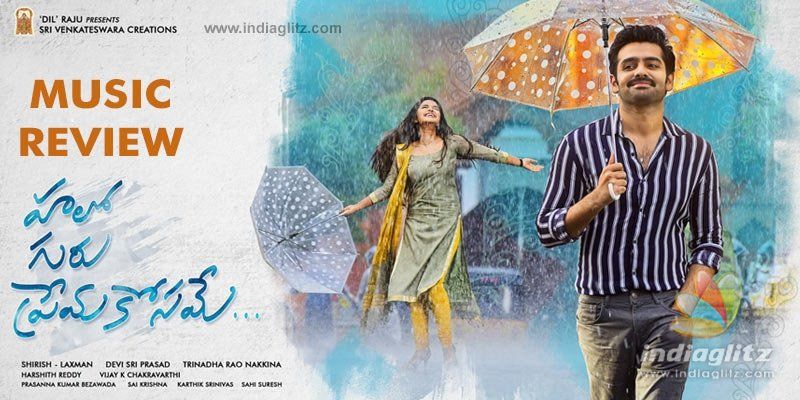 The soundtrack of 'Hello Guru Prema Kosame', with music by Devi Sri Prasad, is out on Aditya Music.  Rendered by Alphons Joseph, Narendra, Sagar, Ranina Reddy, Yazin Nizar, Prakash Raj and Ram Pothineni, it has lyrics by Srimani and Chandrabose.
My World is Flying
Singer: Alphons Joseph
Lyricist: Srimani
My World is Flying is delivered a DSP song that comes with the typical liveliness associated with the music director.  For a change, it's not a Sagar who is the singer but Alphons Joseph.  The stanzas could have been better and the voice takes its time to seem settling.  Srimani's lyrics are fashionable and, by and by, the listener starts to feel that it's a song that has been tailor-made for Ram Pothineni.
Native Place
Singer: Narendra
Lyricist: Srimani
'Native Place' is conceived to play to the gallery.  Srimani pens the lyrics that readily defame life away from your native place.  The merits of a materially not-so-good but emotionally great life in the native place receives banal glorification in the song.  Narendra's vocals remind one of the tempo we heard in the song 'Next Enti', once again a Devi Sri Prasad product.  As for the music director, he deploys the keyboard, the electric guitar, the sitar, the harmony, among others, to a typical effect.
Idea Cheppu Friendu
Singers: Prakash Raj, Ram Pothineni
Lyricist: Chandrabose
Trust Devi Sri Prasad to create magic with just conversations.  The rhythm and the keyboards are peppy and instantly you fall in love with the music.  Chandrabose's lyrics pack in the routine ideas of an old-fashioned man, narrated with large dashes of humour.  With their voices, Ram and Prakash Raj make it a natural.
Peddha Peddha Kallathoti
Singer: Yazin Nizar
Lyricist: Srimani
This is vintage Devi Sri Prasad, complete with those familiar sounds with the Guitars and the Sax.  Yazin Nizar's voice is lively and he tries a subdued touch for this otherwise peppy number.  Srimani's lyrics describe the magic of loving a wide-eyed beauty; they talk about Veturi's 'chilipithanam' at once place!
Hello Guru Prema Kosame
Singers: Sagar, Ranina Reddy
Lyricist: Srimani
This is that item song where the hero boasts about himself and the heroine challenges him, only to throw hints that he will she will fall for him eventually.  Srimani's lyrics are imaginative, bringing in even heroine's parents for a brief while.  Sagar and Ranina Reddy do a fine job in making the song all the more DSP-ian.
Verdict:
The album sustains interest throughout.  Although this is not DSP's rocking best, it still manages to have us rooting for its sincerity.
Rating: 2.75/5