As dark as it is soulful
Saturday, March 3, 2018 • Tamil Comments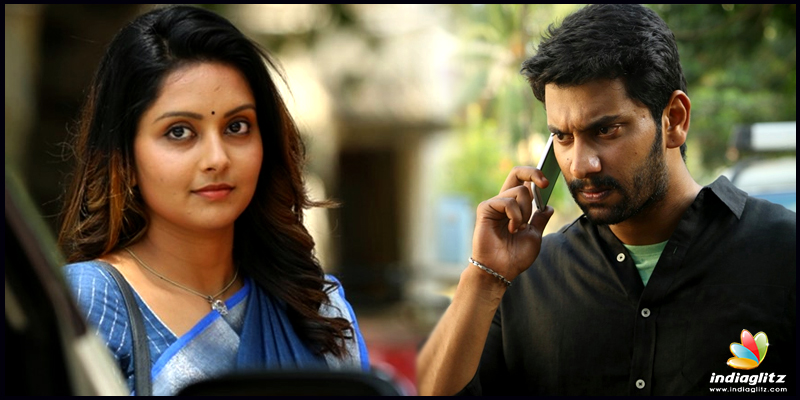 Album: Iravukku Aayiram Kangal
Composer: Sam.C.S
No.of.Tracks: 5
Release date: February 9, 2018
As dark as it is soulful
Sam.C.S has composed the music track for this much awaited movie in which Arulnithi stars as the male lead. Mahima Nambiar essays the female lead. Director Mu.Maran has called the shots for 'Iravukku Aayiram Kangal' which is being bankrolled by Dilli Babu. The entire album comprises a total of five tracks with two of them instrumental scores. And going by the name behind the album, that comes off only as a good news (think Sam's background score work in 'Vikram Vedha')
Uyir Uruvaatha
Voices: Sathya Prakash, Chinmayee
Lyricist: Sam.C.S
Sam takes a familiar flavour in trying to dish out a melody hat suffices to earn a justifiable spot in the album. Guitar strums help give punctuations to Sathya Prakash and Chinmayee's flowing vocals. The composer has also given enough space for a successive violin and guitar portion. The song is ably crafted, pleasant to hear and not too hard on your ears.
Yea Pa Yeppappa
Voices: Sam.C.S
Lyricist: Sam.C.S
Sam once again proves why strings portions are the highlight of his compositions. There is life and soul in it, though they may be reverberating only on deadening low initially, like the double bass portions in this track. Midway, the increasing dark flavour of the track is efficient so much as the rock styled shout outs don't jar the song as whole. It is of course broken and unreliable, but Sam has found harmony in it. We can see it too.
Yaen Penne Neeyum
Voices: Haricharan
Lyricist: Sam.C.S
Yaen Penne Neeyum is resplendent with soul parts given harmony by guitar strumming and intermittent violin magic. Haricharan lays just on level,not submerged into the accompaniments. It is difficult to understand Sam as the tracks don't majorly vary but each sort of stamped with its own individuality. This along with the Uyir Uruvaatha are what could be considered the yin of the album. They give the much needed balance and symmetry to an album that might have otherwise gone rogue.
Nights of Neverland
Instrumental
The track defines the 'nights' in the title. It is dark, with cello portions falling heavy and smooth on you until it becomes maddeningly rave with fast string zaps and a motif that ably builds up and down the potential breakdown of the track. Nights of Neverland cannot be called eerie, but it is peculiar, and its treatment is peculiar enough. The pace of the song juggles between fast and slow, high and low- a definite hook to keep you engrossed till the last note.
Winds of the Darkest Hour
Instrumental
The very start sticks out like a sore thumb. After that the track picks itself like a jazz performance following which it treads into Sam's manipulative violin portions. There is dynamism towards the end with melodious whistle giving the 'cold' edge. The track feels a bit incomplete or for the lack of a smooth end,maybe that was the composer's idea too: to leave you wanting more.
Pick of the Album: Yea Pa Yeppappa
Verdict: Sam's album is almost as balanced as the yin-yang with equal attention to soft and hard music. Highly listenable.
Rating: 2.75