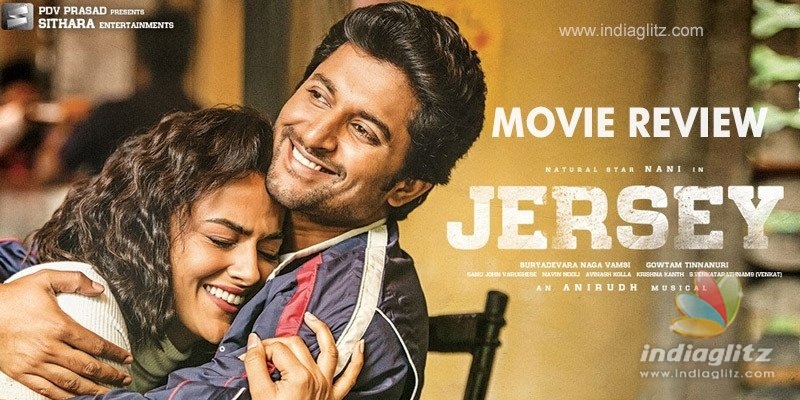 'Jersey', starring Nani in the lead, hit the screens this Friday.  Here is our review of the cricket based family drama.
Story:
Arjun (Nani) is a married man leading a life of melancholy.  His wife Sara (Shraddha Srinath) and his son Nani are his world.  If Sara is unhappy with his detached behaviour and disinterest in reviving his job at a food corporation, his son loves him unconditionally.  This is set in 1996.
Just ten years ago, Arjun was a rising cricketing champ.  His career ended abruptly and he had to give up cricket altogether.
In the present (1996), Arjun gets an opportunity to give a shot at international cricket.  Can he achieve the near impossible dream at the age of 36?  Can he win back the respect of his soulmate Sara?  What of his son, who sees a hero in him?  Answers to these questions are found in the second half.
Analysis:
Writer-director Gowtam Tinnanuri truly pushes the envelope once again after the beautiful 'Malli Raava'.  He is not afraid of melancholy.  His heroes can be gloomy yet profound.  His characters think like ordinary mortals, but one of them is extraordinary in a distinct way.
'Jersey' is the film Telugu cinema definitely deserved.  From middle class 'kashtalu' (financial, especially) to the anxieties of a father, the film is layered to the core.
The dialogues bring out the thinking of characters who have journeyed together for 10 years.  They love each other , but not everything is okay between them.  There are semi-broken dreams, but it's their circumstances that make us sympathize with them, it's their attitudes that make us root for them.
Just picture this.  The child asks his father for a jersey that costs Rs 500.  Quite unexpectedly, it becomes a Herculean task for the father.  Eventually, he is pulled toward an unlikely scenario. Perhaps, this plot makes 'Jersey' an attempt worth a zillion kudos.
In scene after scene, Nani keeps a measured, restrained expression.  The actor takes a backseat and pushes the non actor in him to the pitch (pun intended).  Did she slap him?  Did the heroine slap him?  Did the wife slap him?  Yes, but we were busy watching Arjun and Sara, not knowing who we should empathise with more .
He is that husband who applies ointment on the finger of his wife.  She is reminded of the olden days when the intensity of their love took the form of love-making.
Their child behaves as if he is 20-something here and there.  But it hardly looks artificial.  It's as if Arjun's son has to be like that.  Talk of genes. Talk of upbringing.
The cricket match scenes come with reasonable detailing.  At times, the film takes the form of a true blue sports drama.  Not only are the matches prolonged but also there are conversations between officials, etc.  Sathyaraj plays that well-wisher who sees a rare, unsung talent in Arjun, prodding him to take control of his life.
The family scenes are tender and effective.  Watch the role reversal of sorts.  It's the dad who takes care of everything pertaining to his son.  That makes him all the more lovable.  Sara swallows her pain and puts up a brave front.  "At home, we never shout at each other.  It's only I who shouts.  It's only I who weeps," she tells her Taj Banjara colleague.
The brilliant background music makes Anirudh a special talent.  There is stylization everywhere.  The songs don't I interrupt.  The cinematography is another top performer, on a par with the music.
Besides Nani's remarkable, earnest, heart rending performance, the other performances are a treat.  Shraddha and Sathyaraj are able.  The child artist is a pleasant surprise.  Rao Ramesh, Praveen and others fit the bill.
Verdict:
'Jersey' is a stunning narration with touching scenes, honest rendition of dialogue, apt performances, and sound technical values.  A must watch film for daring to be different.  Cricket lovers as well as family audiences will enjoy the ingredients.
Rating: 3.5 / 5.0
Showcase your talent to millions!!
Write about topics that interest you - anything from movies to cricket, gadgets to startups.
SUBMIT ARTICLE
More
Telugu Movie Reviews
HIT 2 (The Second Case)
Repeat
Chup
Love Today
Itlu Maredumilli Prajaneekam
Masooda