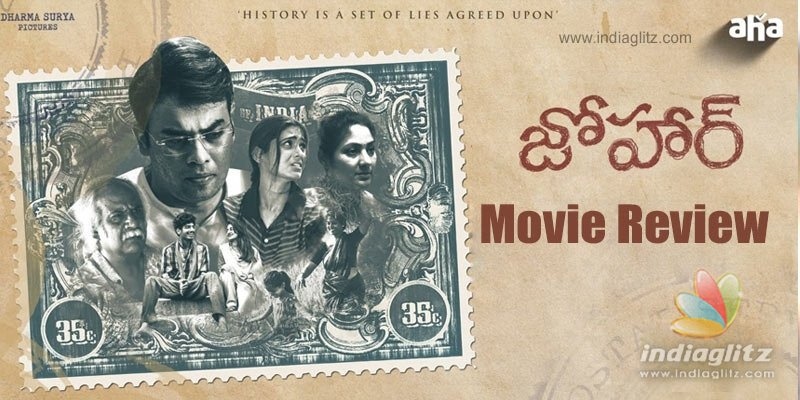 'Johar', the web-film is currently streaming on Aha.  Directed by Teja Marni, here is our review of the latest release.
Story:
Five different stories are narrated non-linearly in the film.  After the demise of Chief Minister Achyutha Ramayya, his young son Vijay Varma (Krishna Chaitanya) occupies the highest position and seeks to make his father's legacy permanent by building the world's tallest statue.
In Vizag, a passionate wannabe (Naina Ganguly) aims to become a national athlete by beating poverty and all odds.  Somewhere in Srikakulam, a poor man's widow (played by Eeswari Rao) struggles to make the ends meet and save her little daughter from being victimized by a kidney-related illness caused by polluted water.
In Varanasi, the daughter of a pimp (Esther) falls in love with a tea-seller and begins a new life full of challenges.  Somewhere in Rayalaseema, an idealistic old man (Subhalekha Sudhakar) has to seek funds for the better future of the children at his orphanage.
How these lives are affected in different ways by a common cause is what is the crux of the film.
Analysis:
Writer-director Teja Marni takes up a human interest story and weaves it around a grand political project.  Although the film was touted to be a political drama on one level, it is mainly a human tragedy.
The very idea of 'Johar' may have been inspired by a handful of newspaper stories.  All it takes to ideate a story like this is some political awareness and a social sense.  Since the story had a scintillating potential to be turned into a superb script, one feels the writing and direction departments have grossly underperformed.
The scenes involving the young Chief Minister are not only simplistic but also one-note.  Scene after scene, he keeps engaging himself with just one character.  Moreover, he seems to utter more or less the same things over and over again.  The scene where an intrepid journalist (Rohini) confronts the cynical leader could have been explosive.  It should have been a terrific face-off.  All you get is a caricature, a WhatsApp forward.
The love story between Jyothi and Siddhu in Varanasi starts off well.  Even the montage songs, although many, are cool.  The actress Esther Anil's expressions make us sympathize with her plight.  However, by and by, this story too acquires the pattern of Kollywoodian tragedies.  A series of terrible things happen all of a sudden after a series of fortunate things happening, well, all of a sudden.
The story set in the orphanage does move your heart a bit.  Even here, there was so much potential.  But the dialogues, Sudhakar's character, the freedom movement reference - they all merely scratch the surface.  If you happen to remember the film 'Minugurulu', you would feel that this segment is a mere shadow.
The track involving Naina Ganguly is ridden with cliches.  The youngster's will power has been elevated properly, but her skill has been portrayed lazily.  
Priyadarshan's music is decent, while Jagadeesh Cheekati's cinematography is an asset.  Vamsi's dialogues are skin-deep for the most part.  Chaitanya Prasad's lyrics are able.
The performances are adequate with minor exceptions.  Ankith Koyya can go a long way, Eeswari Rao does it with ease, Krishna Chaitanya is understated despite the script prodding him to be a caricature.  
Verdict:
As an idea, 'Johar' is quite engaging. However, the narration is inadequate and barely engaging.  The climax should have been explosive. But it's quite undramatic, much like most of the second half.
Rating: 2.5 / 5.0
Showcase your talent to millions!!
Write about topics that interest you - anything from movies to cricket, gadgets to startups.
SUBMIT ARTICLE
More
Telugu Movie Reviews
Thiru
Highway
Karthikeya 2
Laal Singh Chaddha
Macherla Niyojakavargam
Sita Ramam