Effortlessly impressive
Wednesday, May 9, 2018 • Tamil Comments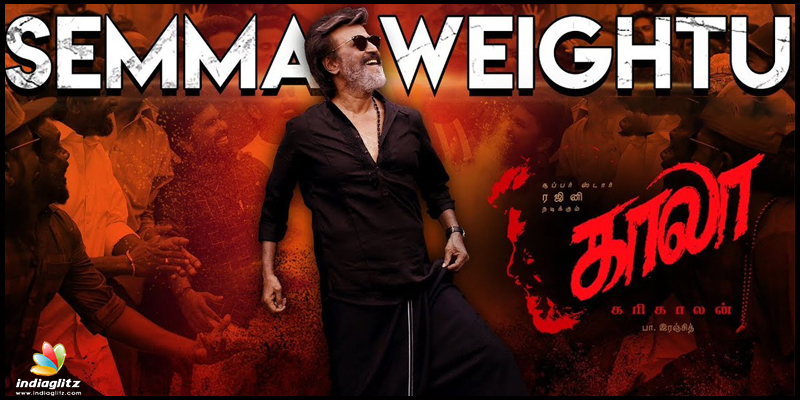 Album: Kaala
Composer: Santhosh Narayanan
Release: 9 May, 2018
No of Tracks: 10
Effortlessly impressive
Santhosh Narayanan is a functional composer. What do we mean by this? Sometimes you see a composer's work taking attention from the nature of the film and lyrics, usually so with big names. However Santhosh strikes balance. He lends what the nature of the film needs without succumbing too much to experimental compulsion. You still see a little experimentation that the composer is predictable for. With most of the tracks leaning towards rap, hiphop the album is a fresh breathe of life into a sluggish music scenario in Tamil film space.
Teaser theme
Voices: Yogi B
Lyrics: Kabilan
A theme that fits Rajini's swag. Well,this might seem a bit redundant after the teaser release, but we couldn't stop ourselves from getting amped up listening to the 'Kaala' teaser theme. And as simple as that, we love it. Though Santhosh has given us something similar like his earlier outing in 'Kabali' with electric guitar reams and zaps, Yogi B adds his zest in the second half. Those vocal grunts, drum rhythms, that beat pattern, and the rise in verve as Rajini ends his singular dialogue adds up to an electronic mass.
Semma Weightu
Voices: Hariharasudhan, Santhosh Narayanan, Arunraja Kamaraj, Dope Daddy, Stony Psyko, MC Mawali, Dopeadilicz
Lyrics: Arunraja Kamaraj, Dopeadilicz
Well,  the wait for 'Kaala'  music seems to be over.  Not entirely,  but Semma Weightu is a tease that is worth the wait. Just look at the ensemble voices behind the song, the title seems a justified ode to Rajini.  What has Santhosh achieved in this energy pulsing track is giving mass and class to a jazz/pop flavored number.  We hear a little of beatbox as well(?) Really, Santhosh as a composer has never been shy to add variety, and Semma Weightu seems to just have that albeit an initial lingering of jumbled confusion over the song's structure.
From the start the song casually builds mass,  no hurries here. And it works. We've seen this type of score in 'Kabali' Neruppu Da,  but here Santhosh is not relying on spewing mass blindly. It's controlled and possesses a natural rhythm to it as well.  From guitar zaps,  percussion,  to rap portions everything deserves its portions. Arunraja's lines seems to work well with the tone of the song and we understand the effort behind the composition. The track ends with a gunshot,  like a point made.  Truly,  it's 'Semma Weightu' only. 

Thanga Sela
Voices:  Shankar Mahadevan, Anandhu, Pradeep Kumar
Lyrics: Arunraja Kamaraj
Thanga Sela seems like a easy going less than serious song in the album. Guitar accompaniment, folk percussion and harmonium sweeps add texture to the song as much as Arunraja Kamaraj's lines touting affection for a wife. However the 'Tilla Taangu Taangu' portion and sudden force thereof in the track seems like a bit over the board at several junctions and jarring the smooth flow that a listener might ache for.
Katravai Patravai
Voices: Yogi B, Arunraja Kamaraj, Roshan Jamrock
Lyrics: Arunraj Kamaraj, Kabilan, Roshan Jamrock
You got a taste of it in the teaser theme. Now get ready to be swagged full scale. Grunty vocals, hardcore electric guitar zaps are the unique selling points of the track. English rap portions add a 'class' value to the outgoing song surprisingly. Oh and wait for the buildup to end for the Unnaiyum Mannaiyum Vendru Vaa stretch and you'll get an inkling how just imagining Rajini while listening to the track adds power to the number. Appearing disjointed at a whole, maybe that's the pattern Katravai Patravai aims to project. Disjointed, but appealing all the more.
Kanamma
Voices: Pradeep Kumar, Ananthu, Dhee
Lyrics: Uma Devi
Santhosh has proven himself amazingly skilful when producing soulful numbers. Though these type of songs are a repetitive motif in his portfolio we cannot ever reject them. We want more of it. With soulful guitar, piano play, scintillating flute portions this song just wins. Dhee's voice adds a peculiar, melancholic taste to the song. 'Aagayam saayama thoovanamethu Aaraatha Kaayangal ethu'- Uma Devi's lines are medicine for the broken soul. This song moves. Standout track. Repeat hearings.
Kannamma- Acapella
Voices: Ananthu
Lyricist: Uma Devi
This is definitely not a skeletal version of the original. Instrumental work is not just ripped off, the essence of acapella is here. Explains why, and how just human voices in their versatility add much life to the soul of the song. Kanamma might seem a bit trying too much at points, bear through and it will reward you on a soul level.
Urimayai Meetpom
Voices: Vijay Prakash,Ananthu
Lyricist: Arivu
Director Pa Ranjith called this his favourite track. And you have to listen to it to understand his sentiments. A laboriously stretched out intro puts you in a deliberate daze. But just wait a few more seconds as the track picks up on speed, progression and seriousness. A gaana flavoured percussion, you hear guitar plucks too, and a controlled energy in the track is what doesn't make the track a failure. 'Yaar Vachathu Yaar Vachathu Un sattamada inga vaalzhvenbathum saavenbathum nelam mattumadaa'. This single line should explain the motive of the track. It necessarily need not impress you on a musical level, but it might sure impact you on an ideological and moral scale.
Poraaduvom
Voices: Dopeadilicz
Lyricist: Dopeadilicz, Logan
Sinister and macho at the start, the track suddenly bursts with riveting raps. This might be Dopeadliciz's best track in the album albeit lines that may seem slightly bland . Lines that call out on societal issues and demand a revolution needs power in composition. And Sathosh has attempted to lend exactly that without being too much in your face. You cannot but wonder about the humble origins of rap as an anti-establishment genre among the blacks, and how an Indian composer reimagines it at a local scale for Indian listeners. This is adaptability and a mark of functional creativity. Kudos to the composer.
Theruvilakku
Voices: Dopeadilicz, Muthamil
Lyricist:  Dopeadilicz, Logan
Theruvilakku spews vigour. More than the music and the beat pattern (though difficult to notice), it is the simple, lucid, straightword lyrics that will impress you. The motif of 'Kaala' as a politically charged up album is unabashedly strong in the track. If you heard this song sans music, as a standalone vocal, you will still like it.
Nikkal Nikkal
Voices: Dopeadilicz, Vivek, Arun Kamaraj
Lyricist: Dopeadlicz, Logan
Did someone call out for a 'dappankoothu'? Charged with a suave EDM sort of background, this is a blatant call to dismiss those abuse power. 'Nikkal' translated to Tamil as 'Leave (the place)' is a strikingly fitting word that the lyricists have exploited. The rhyming meters are spot on for the track which gives its strength. 'Vidinjirichu' kelambu da- a three worded phrase might mean people have awakened to the atrocities (vidinjirichu) and more such analogies, some direct and many indirect decorate this track to a splendid hearing that's worthy of a dance floor and a political stage.
Pick of the Album: Kannamma, Nikkal Nikkal
Verdict: Santhosh as a mindful composer understanding the politically charged nature of the tracks, balances composition to match the lyrics and not vice versa. 'Kaala' album has most songs that might fit as easy on a political protest as it does on a dance floor.
Rating: 3