Kamal Haasan meets friends and turns nostalgic!
Saturday, February 1, 2020 • Tamil Comments
Actor and Makkal Needhi Maiam party president Kamal Haasan had yesterday made a visit to M.Ct. Muthiah chettiar boys higher secondary school where he had studied, and had a reunion with his batch friends, and photos from the actors visit have turned viral.
After the meet and happy moments with friends, Kamal Haasan shared a heartfelt note on Twitter, where he said 31 January as Lovers day, as his batch included lovers of knowledge, friendship, different gods, women and education. He had mentioned the nicknames of teachers, friends also in the note.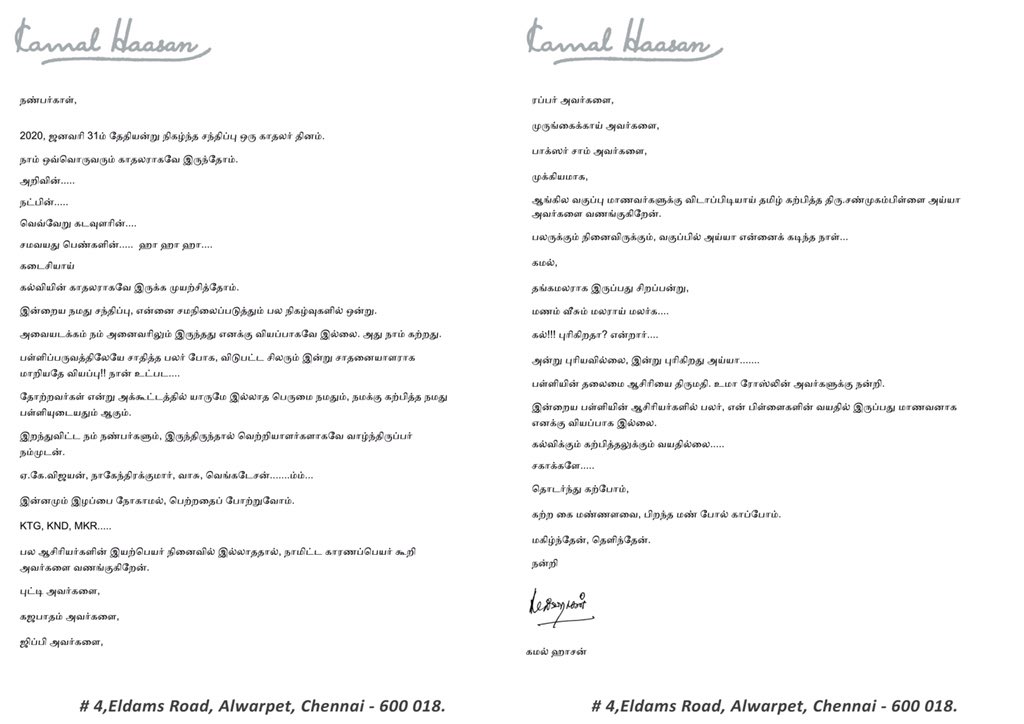 Kamal Haasan also thanked his Tamil teacher Shanmugam Pillai Ayya for his words to Kamal that there's nothing special in being a golden flower and that he must blossom as a flower with fragrance. Kamal Haasan finally concluded his note saying that there's no limit to learning and that we'll keep learning.
நண்பர்காள்!!

இன்றைய நமது சந்திப்பு, என்னை சமநிலைப்படுத்தும் பல நிகழ்வுகளில் ஒன்று.

தொடர்ந்து கற்போம்,

கற்ற கை மண்ணளவை, பிறந்த மண் போல் காப்போம்.

மகிழ்ந்தேன், தெளிந்தேன்.

நன்றி

கமல் ஹாசன் pic.twitter.com/4Wd4jOat19

— Kamal Haasan (@ikamalhaasan) January 31, 2020
Actress Photos
Tridha Choudhury
Siddhi Idnani
Komali
Ruhani Sharma