Bharjari Movie Preview
Thursday, September 14, 2017 • Kannada Comments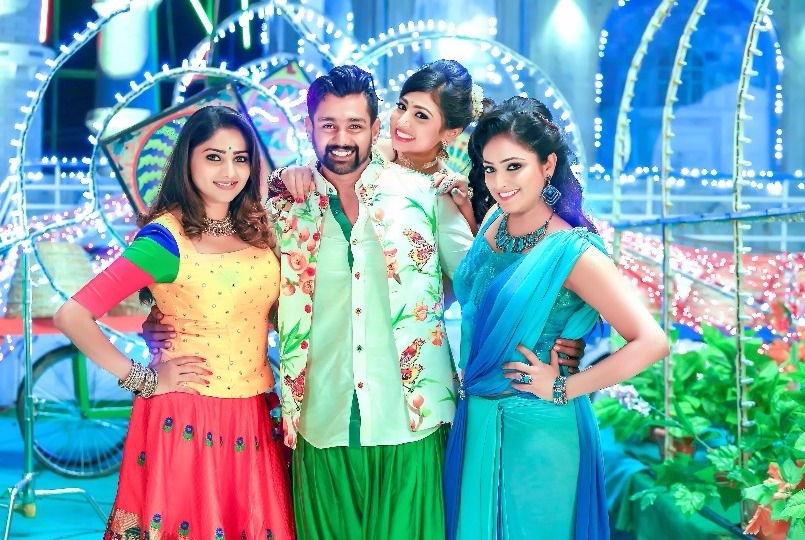 Bharjari - This is the third film of Dhruva Sarja – previous two Addhuri and Bahaddur were magnificent in box office. He is waiting for 'Hat Trick' crown. However three years time for third film 'Bharajari' is hitting in over 300 screens on this Friday.
What is all about 'Bharjari'? He is a strong man with conviction and power in his arms. Whatever he does is lavish whether it is mistake or doing Good to the society. The 'Bharjari' has a strong boxing in the climax and that eventually the hero Dhruva Sarja turns victorious.
The film of 'Bahaddur' director Chetan Kumar second in a row with hero Dhruva Sarja and producer Kanakapura Srinivas has worked a different story line and he has met the needs of fans of Dhruva Sarja from lengthy and punching dialogues says the industry sources. This is the 18th production of producer R Srinivas. Kiran Gowda is joint producer of this film.
It is this film producer Kanakapura Srinivas has made a business of Rs.19 crores even before release. The additional challenging factors that are winning for box office are the double dimple heroine Rachita Ram.
It is on the dimple of this lovely looking and successful actress director Chetan Kumar made the script. There are two more heroines ravishing Haripriya and beautiful Vaishali Deepak in the film.
Veteran actor Srinivasamurthy appears in three stages in this film. When Srinivasamurthy is there means there is good emotional backdrop for the film.
The title song for Dhruva Sarja introduction song 'Bharjari Soundu…is making massive sound in the You Tube! In 65 hours the 13 lakhs plus hits the song has already got is a record compared to all the heroes today.
The title song is sung by Shashank Seshagiri in V Harikrishna music has director Chetan Kumar lyrics. 
Thara Anuraadha, Suchindra Prasad, Sadhu Kokila, Avinash and others are in the supporting cast. 
 
Music director V Harikrishna magic in the songs has earned good accolades for the film. Srisha Kuduvalli is cameraman, Deepu S Kumar editing, Shivakumar art, A Harsha dance, Vijay and Ganesh stunts, Screenplay, story, dialogue and direction by Chetan Kumar, lyrics by AP Arjun and Chetan Kumar.
Related News