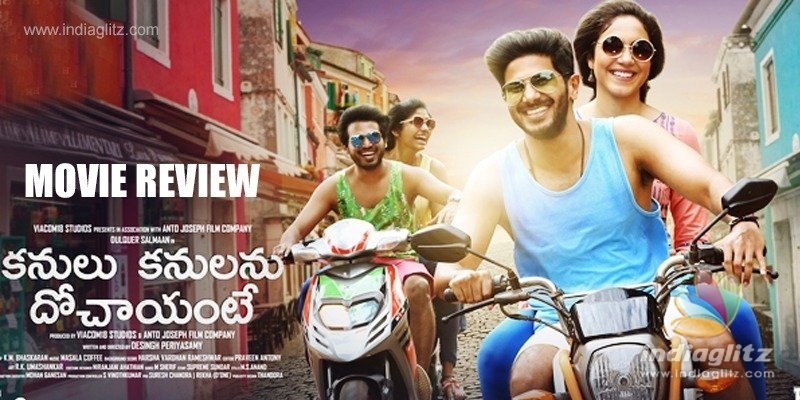 'Kanulu Kanulanu Dochayante' hit the screens today.  Starring Dulquer Salmaan in an unlikely role, this romantic thriller is playing the theatres.  Here is our review.  
Story:
Siddharth (Dulquer Salmaan) is an App developer who falls in love with Meera (Ritu Varma).  His all-weather friend Kallis (Rakshan) incidentally falls in love with Meera's friend (played by Niranjani).  
Introduced as good guys, the Siddharth-Kallis duo are actually smart criminals making the quick buck by fleecing electronic companies through e-commerce websites.  Their modus operandi is cracked by DCP Prathap Simha (Gautham Menon), who is personally affected by their criminality. 
What the audience, as well as the DCP, don't know is that Sid and Kallis are smarter than they want us to believe.  They plan to escape the system by keeping their girlfriends in the dark (the girls think they are good).  At the interval, a twist arrives.  From then on, it's a roller-coaster ride.  What is that twist?  How does the graph of the story change from this?  Can the DCP tame the criminals?  Find out in the movie.
Analysis:
True to its description, 'KKD' is a kosher romantic thriller.  If you leave out the first 20 minutes or so, it essentially stays true to its genre and doesn't lose its focus.  Right after the true colours of Siddharth and Kallis are revealed, the film offers thrills in a consistent manner.
It's interesting how Gautham Menon's character wades into the lives of the lead men.  It's organic and doesn't look out of place.  The investigation track is told in a gripping way, by and large.  The very introduction scene of the proactive and smart cop establishes his character thoroughly.  He is with his family, driving back to his home after an outing.  A group of baddies is chasing him in a four-wheeler.  They catch the cop's attention and he comes out of the vehicle, calmly warns them to dare touch him and his family members, and walks away matter-of-factly.  Director Gautham Menon proves to be the right casting choice.
As the film progresses, Dulquer becomes more and more nuanced in his performance.  He sheds the image he has in Telugu, thanks to 'Mahanati', and delivers a layered act, especially after the interval.  His friend is not a mere sidekick but has a substantial role to play. 
Talking of substantial roles, the two women turn out to be equally important to the story.  Since this is a romantic thriller, giving away more would be a gross injustice.  Suffice it to say that the film doesn't cease to surprise the audience with its twists and turns, which are sometimes delivered suddenly and at other times, in a dramatic way.
Anish Kuruvilla plays a rich businessman whose scenes in the second half are significant.  How this thread is weaved into the main story is another highpoint.  
'KKD' is one more film that explains to the audience how hi-tech criminals think and seamlessly execute their difficult plans.  For a change, the victims are not just commoners but also corporate companies, which may have to deny that they have been gamed for want of not losing their reputation.
Harshavardhan Rameshwar's focused background score adds zing to the proceedings.  Since the film glamourizes the two bad lead man and his friend, the stylization through the BGM had to be both quirky and glamorous.  Masala Coffee's songs are interspersed with the narration and don't act as a hindrance (barring the first song).  KM Bhaskaran's cinematography is able.  
More detailing should have gone into showing how the Dulquer-Rakshan duo executes the hi-tech scams.  The hero seems to dupe a big shot just like that.  This is not a major flaw, though.  It would have helped a great deal had Dulquer's character been shown as a high IQ guy who taught himself like a mini prodigy.  
In crime dramas and thrillers like this, some creative liberties are a given.  This film does take liberties.  To its credit, it doesn't take the audience's intelligence for granted too often.  It respects the audience and manages to dish out a largely engaging thriller.  
Verdict:
As romantic thrillers go, 'Kanulu Kanulanu Dochayante' grabs your attention and sustains it for the most part.  Some minor complaints aside, this film has got entertainment value.  Go for it!
Rating: 3.25 / 5.0
Showcase your talent to millions!!
Write about topics that interest you - anything from movies to cricket, gadgets to startups.
SUBMIT ARTICLE