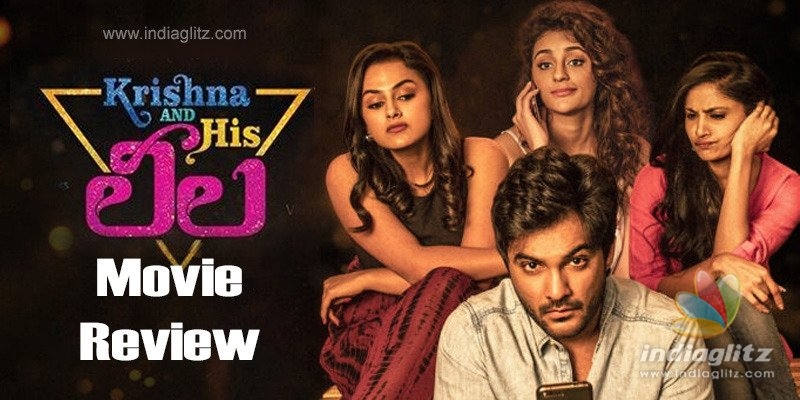 Krishna and his Leela movie suddenly got released on Netflix, without any intimation. The movie trailers were released recently and promotions of the film were happening at a leisurely pace. Suddenly, people found out that the movie released and is it a disposal or a proper release, you estimate for yourself.
Story:
Going into the details of the film, the movie starts off with a good opening sequence. We see an young passionate Lover, may be just crossed his teens, Krishna (Siddhu Jonnalagadda) getting his heart crushed ruthlessly by Satya (Shraddha Srinath). Later, we get a scene where she with similar passion declares that she doesn't want to share him with anyone. She claims him to be only HERS'!
So what happened between them? What really changed? Radha (Shalini) comes into the picture. She is the junior of Krishna who was once junior of Satya. Radha doesn't accept his love instantly but they seem to have the sparks flying as a couple. As soon as Satya re-enters into Krishna's life, Radha gets jealous, tries to mark her territory and then exits. Well, after Satya claims that she wants Krishna only for her, Radha re-enters into his life, claiming that she once got pregnant because of him but "took care of it". Now, what does Krishna do? Watch the movie to know about it.
Analysis:
To be honest, the movie did not excite much prior to the release until Shraddha Srinath's teaser showed up. She seemed to have given the movie life, it needs. She did. But the writing pulled the plug even on her. While, it is good to use Zindagi Naa Milegi Dobara style "new sensitive coming of age theme", the writing needs to be at the same level too.
In ZNMD, the issues aren't brushed under the carpet. If the characters try to do so, we get to understand what frightens. Even om of a cameo, when Naseeruddin Shah's character says that he is still not ready for fatherhood, you can understand him and the heartbreak of his 30 year old son, who is talking to him for the first time too. Such emotional gut punch makes us take a side or try to understand both the perspectives.
But here, the Dad (Sampath) brushes his absence as something that could have been avoided. While the sister is insistent on him being a family with them if not living by the side of their mother at least for them, you don't really see the issues coming out in front and making it difficult for characters to make you understand their point of view. The casual treatment of such a scene is not the problem but the characters who exhibit extremity don't really turn out to be casual just like that. You can't convince yourself that the person whom you don't even like to face, is "YOU". Such is the depth in the scene there but writing doesn't let it reflect at all.
There are many such misses in this film than hits. Cinematography is cool, editing is pacy, BGM is apt but direction and writing fail drastically at the key points. We don't find it as pleasing or as "cool" as it wants to be.
Verdict:
 It almost feels like your watching a fan-fiction for "Badri" with no emotional intensity. Siddhu and Shraddha have chemistry but film fails in dealing with the novel point. Feel free to skip it.
Rating: 2.25 / 5.0
Showcase your talent to millions!!
Write about topics that interest you - anything from movies to cricket, gadgets to startups.
SUBMIT ARTICLE
More
Telugu Movie Reviews
Vimanam
Ahimsa
Nenu Student Sir
Pareshan
Boo
Mem Famous