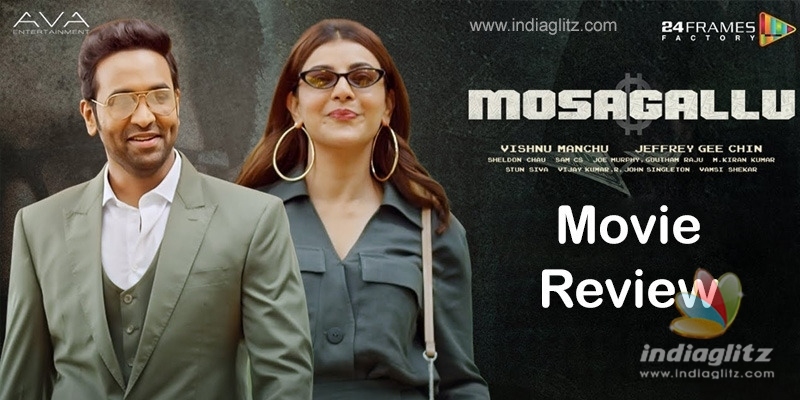 'Mosagallu', starring Manchu Vishnu as the lead man, hit the screens today (March 19). Here is our review of the thriller.
Story:
Arjun (Manchu Vishnu) and Anu (Kajal Aggarwal) are siblings who have faced poverty and exploitation as children. When they grow up, they don't mind doing unscrupulous things to make a quick buck. They join hands with a greedy IT company owner (played by Navdeep) and a criminal-minded youngster (Naveen Chandra) to scam American citizens by posing as tax officials' agents. But they could be in for an assault by ACP Kumar (Suniel Shetty), an upright cop.
Analysis:
Written by Manchu Vishnu (story) and others, the film is directed by American filmmaker Jeffrey Gee Chin. Presumably, 'Mosagallu' is about the world's biggest IT scam. At the end of the day, it is staged like an amateurish film about Hyderabad's biggest inconsequential scam. If American investigators didn't make frantic calls to Suniel Shetty's character in the film, there is no way you would believe that 'Mosagallu' is about two Indian siblings defrauding American citizens.
To be sure, the storyline is pretty interesting. How a resourceful brother-sister duo scams the citizens of the world's most powerful nation is an exciting premise in itself. And the film assembles an ensemble cast. For once, Kajal Aggarwal plays a distinct character who is not constrained by cliches. She is a villain, a heartless one for the most part. Vishnu plays a shady character for the first time since 'Game'. Suniel Shetty, the Bollywood actor, looks convincing as a tough cop. Navdeep and Naveen Chandra, too, are talented.
Where the film falters heavily is in the story elaboration and execution. Writers such as Diamond Ratnababu leave the scam asking for nerve-wracking talent and the investigation track crying for commonsense.
The scenes lack the punch, especially in the second half, which should have been gripping. Considering that the IT scam involves a range of character types and a flurry of machinations, the screenplay should have been edgy. What we get is a badly-edited second half instead.
The last 25 minutes should have been edge-of-the-seat. This is where a series of asinine ideas are slapped together. Even when presented with a file full of proofs that can finish the scammers, a top cop (played by Nagineedu) sees no merit in ACP Kumar taking up the case. Phew!
Ruhi Singh, as Vishnu's calculated love interest, is a mere prop in the scheme of things. After a point, even an able actor like Naveen Chandra is reduced to become a party creature in a perpetually volatile state of mind.
The story-telling smacks of old-fashioned ideas. The pre-title sequence tells the childhood story of the siblings, the future scammers, in a spoon-feeding sort of manner. This foreshadows the nature of things to come in an underwhelming manner.
It would have been forgivable had the investigation track been tight. We never understand what is so complicated and tricky about the income-tax scam that the American investigators are mighty flummoxed.
Sam CS's music is inconsistent. The cinematography, by Sheldon Chau, is another letdown.
Verdict:
'Mosagallu' doesn't pack a punch while telling the story of a scam worth 300 million dollars. For all we know, it could be a local scam with hyper-local implications!
Rating: 2.25 / 5.0
Showcase your talent to millions!!
Write about topics that interest you - anything from movies to cricket, gadgets to startups.
SUBMIT ARTICLE
More
Telugu Movie Reviews
Rangamarthanda
Das Ka Dhamki
Kabzaa
Phalana Abbayi Phalana Ammayi
CSI Sanatan
Anger Tales