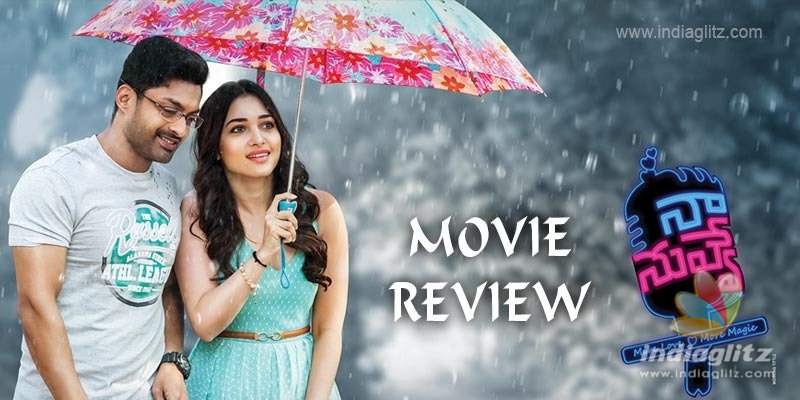 'Naa Nuvve', starring Kalyan Ram and Tamannaah in the lead, hit the screens this Thursday.  Here is our review of the rom-com.
Story:
Meera (Tamannaah Bhatia) goes about her life until she starts believing that Varun (Nandamuri Kalyan Ram) is her lucky charm.  When she discovers his photograph in a novel titled 'Love Signs', she comes to believe that the book chased her for a reason.  
When she meets Varun by a lucky coincidence, Meera finds out that he doesn't give a damn for abstract concepts like destiny.  
But like every Telugu cinema hero, he doesn't want to take any chances.  He gives both "destiny" and Meera the benefit of the doubt.  He subjects "destiny" and Meera to a test.  If they meet again due to a series of lucky happenstances, he is all hers.  But will it happen post-interval?
Analysis:
Whatever 'Naa Nuvve' does or doesn't do, one thing is clear.  It makes sure the hero's character is penned in such a way that the audience subconsciously feels he doesn't deserve the love of the pure-hearted, damn good girl played by Tamannnaah.  Varun (Kalyan Ram) decides to test the power of destiny.  The foolhardy test is so full of idiocies that even a quack will tell you such tests are akin to playing with fire. It would be unfair if "destiny" were to favour such an individual in real life.  Watch the film for all you can, but don't ever try such tests with those who love you for the world.  
Somewhere in the second half, Varun says this line to comedian Praveen's lover: 'Prema, pelli, madhyalo parents.  Routine problems!'  Is that why he invented a new problem by challenging "destiny"?  
The scenes in the first half are written in such a way that you start wondering if there is anything that Meera and Varun are capable of doing, and incapable of not having (courtesy "destiny").  So many good things happen to Meera whenever she sees the photo of Mr. Lucky Charm Varun.  (This reviewer wondered if Varun's mysterious luck-bringing powers can bring back Vijay Mallya to India).  
Meera makes no sensible effort to find out Varun's whereabouts.  Even otherwise, if "destiny" introduces him to her, it takes a joker of a traffic constable (Bittiri Satti) to put a spanner in the wheel.  
If the heroine lives in a Quixotic world of her own, the hero lives in a quirky world of his own.  He also behaves like a kiddo when comedian Priyadarshi says he believes in "destiny".  Forget disbelieving this or that, what he does to Priyadarshi is plain immoral.  
Varun might be as busy as a Mukesh Ambani, for he has no time to listen to what the sincere Meera has to tell him about how much he means to her.  'I will give you just 10 minutes', he tells her thanklessly as if he has to rush to the US to discover a solution to nuclearization in company with Donald Trump.  He is so unpredictable that, in one of Meera's short but romantic dreams, he actually thanks her umbrella for protecting him from rain.  Earlier, Meera, deep in love with him, shows no special feeling when she holds his hands.  
Tanikella Bharani as Meera's father is there to find Mr. Lucky Charm in Varun after "destiny" makes sure he has something in store in the climax.  Posani Krishna Murali, Praveen, Surekha Vani, and others are condemned to be irrelevant sidekicks/jokers.  
There is so much of emphasis on "destiny" this reviewer believes that 'Naa Nuvve-2' (if and when it's made, thanks to "destiny") will be about fatalism and its hero will be Vennela Kishore, who is seen as a superstitious, astrology-obsessed comedian here in 'Naa Nuvve'.  Only someone who believes in predestined existence as thoroughly as Kishore's character can do full justice to director Jayendra's destined-to-be-damned vision.
The one aspect we loved is the way the songs (Sharreth's music and Brinda's choreography are so good) are interspersed with the scenes.  PC Sreeram's cinematography passes muster and it's not being unfair.  Not at all.  What happened to the visuals?  Blame it on the locations?  Blame it on the art direction?
The lead pair does a nice job.  Tamannaah is as cute and intense as she was in 'Endukante Premanta'.  Her dance moves are immensely lovable as ever.  Kalyan Ram's subdued act will have many takers.  He should challenge himself for all he can, but let him do so in a sensible milieu.  
Verdict:
'Naa Nuvve' is a trivial idea stretched beyond a permissible point.  The hero's character leaves much to be desired and robs the film of feel with his insouciance and/or idiocy.  After a point, the emotions go for a toss as run-of-the-mill ideas come to blight the second half.  Good music and performances of the lead pair deserve a pat.
Rating: 2.25 / 5.0
Showcase your talent to millions!!
Write about topics that interest you - anything from movies to cricket, gadgets to startups.
SUBMIT ARTICLE
More
Telugu Movie Reviews
Shekar
College Don
Sarkaru Vaari Paata
Ashoka Vanamlo Arjuna Kalyanam
Acharya
Oh My Dog