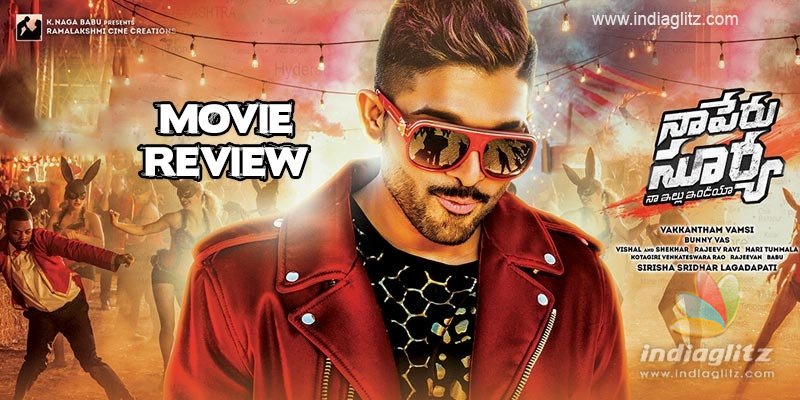 'Naa Peru Surya', starring Allu Arjun in the role of a soldier, hit the screens this Friday.  Here is our review of the big-ticket release.
Story:
Surya (Allu Arjun) is a mercurial soldier who routinely defies the code of conduct in the Indian Army because he believes in punishing the bad instantaneously.  As if he were a true-blue filmi hero, Surya pumps bullets into the head of a Pakistani terrorist although he is not supposed to touch him.  
Surya's dream of serving at the border is permanently threatened when his superior (Boman Irani) seeks to dismiss him for going rogue.  Upon Rao Ramesh's request, Irani decides to give the hero one more chance.  If he has to be reinstated into the Army, Surya must now get certification from Ramakrishna Raju (Arjun Sarja), a world-renowned psychologist.
But certification is next to impossible for two reasons: Surya has anger management issues, and Raju is Surya's biological father who banished him 12 years ago!
Above all, a ruthless muscleman named Challa (Sarathkumar) and his son (Thakur Anup Singh) rule the roost in the town where Surya is in.  It's now up to the hero to control his anger against all odds.
Analysis:
Writer-director Vakkantham Vamsi defies cliches in his own style.  When the characters of Challa and his son are introduced, we are tempted to think (fear) that 'NPS' will be formulaic.  Surya is not supposed to lose his cool.  But two bloody villains are in front of his eyes.  How can a patriotic, ever-so-incensed soldier keep quiet?  So, won't the film follow a routine trajectory?  No, it doesn't.  
There comes a point minutes before the anti-climax phase when Surya is asked to see the ACP at the police station.  We are tempted to think (fear), once again, that 'NPS' will be formulaic from this point.  But, no.  The scene in the police station is an absolute treat to watch.  The ACP is not a man of the villains.  He is a fan of Surya, the inspirational soldier he had met two years ago.  
After Surya's moment of truth in the auditorium, there arrives a high-voltage action episode.  We are tempted to think (fear), once again, that 'NPS' will dish out a formulaic climax.  But, no.  Surya goes to Challa, frightens him by having lunch with him, takes a nap, only to be stirred into telling him, 'India kavali.  Icchey'.  The 'India' that he wants is figurative.  It's one Anwar, the son of a wronged ex-soldier named Mustafa (Sai Kumar in an effective cameo).  This is how 'NPS' avoids the trap of 'mass masala' every single time.  
Vamsi's narration style refuses to be run-of-the-mill.  For example, his semi-failed love story (Anu Emmanuel as Varsha) is narrated to his unfriendly father as a flashback.  The scene where Varsha calms down the temperamental Surya reminds one of the pre-interval 'Arjun Reddy' scene.  It's nuanced, although the entry of Posani Krishna Murali (as Varsha's funny babai) robs it of its purity.  
The scene where Surya questions his father, venting out his frustration, is impeccable.  Complete with lines like 'You derive satisfaction by pointing at my failure' and 'I am your greatest failure', the scene is laced with depth.  
Vamsi's dialogues pack a punch.  Sample this: 'When Lance Naik Hanumanthappa died at the border, others cried out of pain. But I cried because I was not in his place'.  Another one: 'Naaku kopam undhi ante oppukunta, kani adhi thappu ante oppukonu'.  
It's not like 'NPS' doesn't leave us with mixed feelings.  It does.  It's difficult to say whether Bunny's characterization is a hit or a miss.  In so far as those 'Bunny Overloaded' scenes in the first 30 minutes are cinematic, it's a plus.  In so far as the early Surya gets subdued in the second half, it's a minus.  The character graph could have been better maintained even while retaining the film's core ethical message that means are as important as goals.  
The family drama segment being understated could be seen as a minus.  Sarathkumar's character should have got greater heft.  The land grabbing trope should have been replaced with a better idea.  The "comedy" scene where the word border is used as a double entendre should have been avoided for honesty's sake.  
Bunny's performance is both energetic and subtle.  He shows anger, he shows guilt, he laughs at himself, he cries - and he excels in them all!  His dance moves are enjoyable in 'Lover Also Fighter Also'.  His dialogue-delivery makes a much better impact than in 'DJ'.  Anu Emmanuel gets to show her acting talent in a scene and she doesn't disappoint at all.  Arjun Sarja is understated, Sarathkumar is OK, Vennela Kishore and Posani are passable.  Vikram Lagadapati, whose expressions are apt, performs with confidence.  
Vishal-Shekhar's BGM makes for a worthy technical aspect.  There is no trace of loudness in it.  Rajeev Ravi uses not-so-bright shades and the visuals are apt for the genre.  The art departments, etc do a fine job.
Verdict:
Overcoming the temptation of cliches, the film is a worthy attempt.  Vamsi's narration may not be perfect but its niceties are commendable.  Excellent on the technical front, the film boasts of very good performances.  On the flip side, the second half might be seen as too story-driven by the audience.
Rating: 3 / 5.0
Showcase your talent to millions!!
Write about topics that interest you - anything from movies to cricket, gadgets to startups.
SUBMIT ARTICLE
More
Telugu Movie Reviews
Ponniyin Selvan 1
Nene Vasthunna
Babli Bouncer
Dongalunnaru Jaagratha
Krishna Vrinda Vihari
Alluri