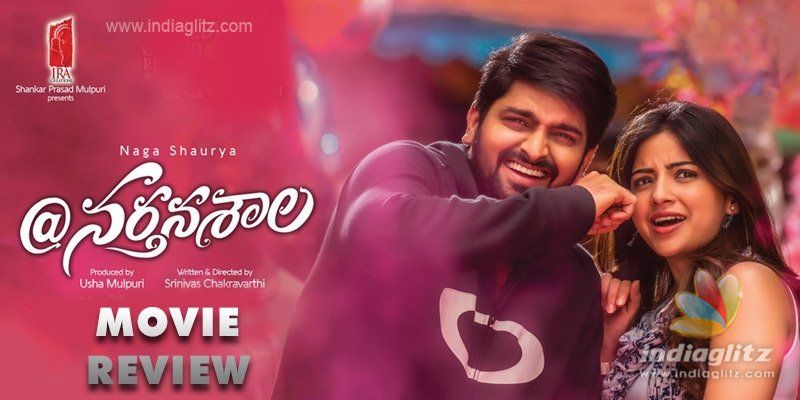 'Narthanasala', starring Naga Shaurya in the lead role, hit the screens this Thursday.  Here is our review of this self-described comic caper.
Story:
Naga Shaurya was brought up by his father Kalamandir Kalyan (Shivaji Raja) as a girl for a sentimental reason.  However, he grows up to be a manly guy who trains women in self-defence techniques.
He bumps into a spirited, gutsy woman (Yamini Bhaskar).  While she falls in love with him, he has no feelings for her.  Thanks to a gaffe committed by his comical father, the hero ends up being at the receiving end of Yamini Bhaskar's comically violent father (played by Jayaprakash Reddy).  
To extricate himself out of a sticky situation, the hero pretends to be a gay.  But his problems are only compounded when his joke comes back to haunt him.  Throw in a damsel in distress (Kashmira Pardeshi), the director somehow thinks he has the material to make a feature film.  
Analysis:
Writer-director Srinivas Chakravarthi keeps the fathers in the movie perpetually frustrated.  So, everything goes into ensuring that the hero's father (Shivaji Raja) and Yamini Bhaskar's father (JP) constantly bitch about something or the other.  The hero says he doesn't feel like marrying a woman but instantly falls in love days later.  Meanwhile, his dad gripes that his son might be 'theda'.  Someone else has some problem and his father keeps grumbling and whining for the rest of the film. This father's existential problem will take just 2 minutes of lecturing by the hero to fade away.  Only that this 2 minutes of oration comes after about 125 minutes.  
Everyone from the supposedly pro-women hero to the two heroines and their relatives come across as preposterous characters in this farcical drama.  Yamini is seen bashing up eve-teasers in her intro scene, only to start mooning over the hero seconds later.  She swoons over him religiously only so that there is scope for a second-rate beach song where our hero keeps adjusting his glasses even as the lady makes monstrous efforts to offer suggestive poses.   
The hero runs a women's empowerment institute (from Balakrishna's 'Legend' line about women to Swami Vivekananda's portrait are seen in its premises!) where he teaches them karate, yoga and everything in between, but for the most part of the film, he is seen insulting gays.  Ironically, he pontificates in the climax that gays shouldn't be shamed!
Whenever Kashmira Pardeshi is around, you are scared of at least two things.  Either a song will come or she will sob with the maximum amount of make-up on.  She has been facing a major, terrible, emotionally catastrophic issue for the past 20 years.  The hero, a legendary counseller like all Telugu cinema heroes, solves her headache in 2 minutes.  
The director permanently forgets two things: 1. To do something that can make Naga Shaurya do comedy.  2.  To have the music director not to stop the BGM every now and then.  
It's only Jayaprakash Reddy who delivers some laughs with his comical exasperation, Seema slang, and expressions.  Everyone from the hero's sidekick and Sathyam Rajesh, the Pujari to the drunkard, Ajay and Shivaji Raja only contribute to our distress.  
After 'Chalo', Shaurya has done a role that reduces him to an unreal commodity.  His comic timing is thin and one doesn't understand what's with the Teaser that suggested that his character has an identity crisis.  The heroines are thoroughly and thanklessly wasted.  JP is a saviour at least here and there.  
Swara Sagar Mahathi's songs are fairly good but not so as part of the film.  The cinematography is sub-par, the editing is a bane, the BGM is a complete mess.
Verdict:
From misleading character intros to low-end dialogues, half-hearted messaging and lousy technical output, 'Nartanasala' is everything and more.
Rating: 2 / 5.0
Showcase your talent to millions!!
Write about topics that interest you - anything from movies to cricket, gadgets to startups.
SUBMIT ARTICLE
More
Telugu Movie Reviews
Michael
Writer Padmabhushan
Hunt
Driver Jamuna
ATM
Vaarasudu