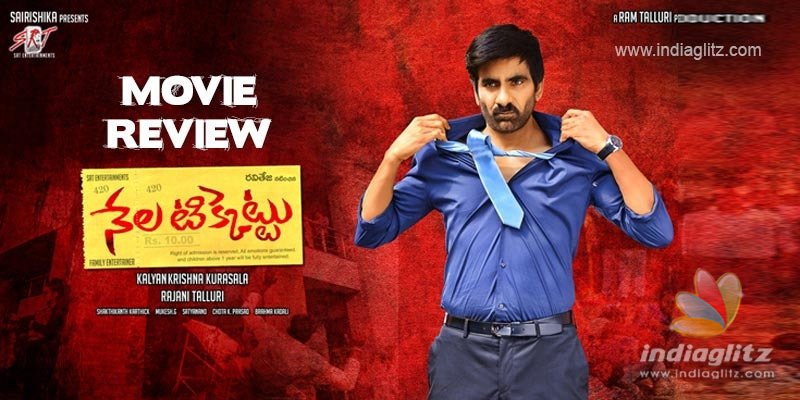 'Nela Ticket', starring Ravi Teja in the lead, hit the screens on Friday.  Here is our review of the Mass Maharaja's Summer release.
Story:
This guy played by Ravi Teja has no name but for 'Nela ticket gadu'.  He is an orphan who lives by the creed of 'Chuttoo janam, madhyalo manam'.  He can go to any extent to make any number of people happy.
Aditya Bhupathi (Jagpaathi Babu) is Home Minister and he is remorseless after assassinating his philanthropist-father (Sharath Babu in a cameo).  He is destined to be challenged by the hero.
There comes a day when Aditya's shenanigans come to haunt him.  No matter what, he is helpless in the face of Nelat Ticket gadu's (laughable) game plans.  But then, the two characters were once placed in similar situations as children.
Analysis:
When a commoner with no resources goes against someone as big as Home Minister, you expect at least machinations and fireworks, if not mind-blowing action episodes.  In 'Nela Ticket', however, the ruthless villain (Jagapathi), who for all we know behaves like a Humour Minister, behaves like a perennial loser vis-a-vis the hero.  He finds it easier to warn the Chief Minister (Tanikella Bharani) than deploy two thinking men to shadow the hero!
The villain has only jokers (played by Posani Krishna Murali, Raghu Babu, and others) at his service.  And these trusted soldiers switch sides after having a dose of alcohol, thanks to our enormously unchallenged 'Nela ticket gadu'.
It seems to take aeons for this Home Minister to find out which doctor is treating the journalist (Kaumudi Nemana) who is out to finish his career.  But the hero, who is a commoner, easily threatens to fell the government through horse-trading.  Comedian Priyadarshi literally stands at the gate, offering each MLAs Rs. 30 crores in exchange for their support.  And not a single cell in the villain's brain knows how to smoothly handle this situation!
While the hero is always ahead of the buffoons, even the Commissioner of Police (Jayaprakash Reddy in a mediocre role) is clueless about what is happening with his daughter.
All that it takes for our 'Nela ticket gadu' to topple the 'kurchi' of the Home Minister is a bloody file.  Just show him a worthless file and the HM, who is also on the verge of becoming the Chief Minister, starts trembling.  The hero does every single thing with aplomb. The only thing which takes time for him is to impress the heroine, who otherwise is a dumbo doctor to boot!
Director Kalyan Krishna, taking inspiration from any number of simple-minded films, comes up with his own version of lengthy comedy episodes popularized by Srinu Vaitla.  Comedian Prudhvi narrates how star directors first offered him classics like 'Ninne Pelladatha' and 'Khushi', only to move to lesser mortals like Pawan Kalyan and Mahesh Babu because he suggested the wrong kind of changes to scripts!  This idea is effectively spoiled by Ravi Teja's over-the-top comedy, which also blights much of the film.  (Where is that vintage RT, whose comedy in 'Venky', etc we fell in love with in the 2000s?).
It's difficult to say what works in the film.  Dialogues that touch the right chords are not enough.  They are bland in an incredulous environment.
A crucial flaw is that Ravi Teja's over-activeness becomes too much to take after a point.  He delivers one more mediocre output after 'Touch Chesi Choodu'.  Jagapathi Babu's character fails him and he fails it justifiably.  Malvika Sharma would have made a decent debut in any other film and opposite any other hero.  Subbu Raju, Sampath Raj and others are OK.  Brahmanandam has no dialogues. Shakthikanth Karthick's music is forgettable.   Mukesh G's cinematography is underwhelming.  
Verdict:
'Nela Ticket' suffers from a villain who doesn't seem to know what to do next, and a hero who can do anything (wish he could complete the film just like that).
Rating: 2.25 / 5.0
Showcase your talent to millions!!
Write about topics that interest you - anything from movies to cricket, gadgets to startups.
SUBMIT ARTICLE
More
Telugu Movie Reviews
Karthikeya 2
Laal Singh Chaddha
Macherla Niyojakavargam
Sita Ramam
Bimbisara
The Legend