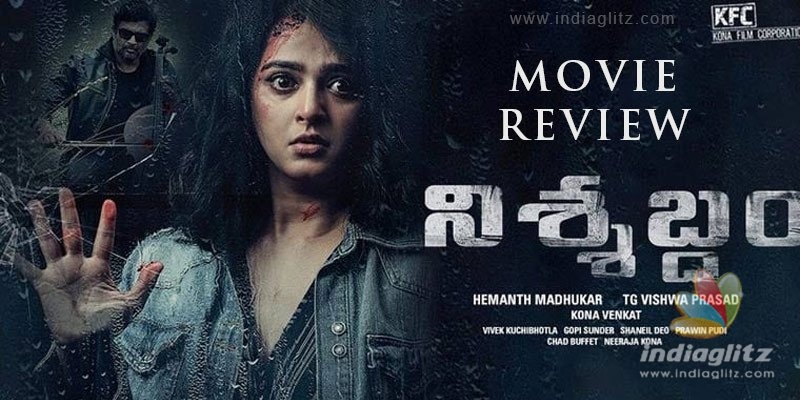 'Nishabdham', starring an ensemble cast, is currently streaming on Amazon Prime. Here is our review of the latest OTT release.
Story:
The story is set in Seattle, US. Sakshi (Anushka Shetty), a mute-and-deaf artist, falls in love with cello player Anthony (R Madhavan). Anthony is a millionaire who is also celebrated for his musical exploits. They decide to visit a haunted villa in order to retrieve an old painting. This is where tragedy strikes them.
Seattle's top cop Richard Dickens (Michael Madsen) and Maha Lakshmi (Anjali) enter the scene and launch an investigation by questioning Sakshi about Anthony's fate. What follows is a crime story involving Sakshi's old-time friend Sonali (Shalini Pandey) and Vikas (Subbaraj), too.
Analysis:
Director Hemant Madhukar, who is also the film's story writer, tells a tiresome 122-minute tale that feels not only bulky but also eerily reminiscent of a Tamil-language film released in the mid-2000s. Some thrillers throw early hints and this film does that unintentionally. Listen to the dubbing voices carefully and you will know who the villain is much before the interval. Just that you need to have been a regular Telugu cine viewer.
Anushka aces the role of a speech-impaired painter with conviction. American actor Michael Madsen, too, delivers an earnest performance, perhaps more sincere than what the film warrants. Next comes Madhavan, who is engaging. The list of good acts ends here. Every other performer is sub-par.  
The visuals are lavish, helped by some really impressive VFX. Shaneil Deo's cinematography is nimble. Girrish Gopalakrishnan's background music is influenced by Hollywood movies. Gopi Sunder's songs are a plus, especially the one in the initial scenes.
Kona Venkat's screenplay takes the audience for granted. There is little respect for detailing or chemistry. Shalini Pandey, who plays Anushka's possessive friend, shows her obsessive love for the latter through non-verbal cues. But Anushka doesn't seem to reciprocate. When chemistry is this weak, how can the audience connect emotionally to their story?
Most of the scenes lack the depth to keep the audience involved. There is too much of verbalization of the narrative. Characters rush in and out of cesspools of darkness without suffering much emotionally. And things seem to just fall in place for Anjali's character, who fortuitously stumbles upon a major clue here or a major insight there (in one scene, a family member randomly becomes a Maggi noodles psychologist to unwittingly help her get a breakthrough).
When you have a consummate professional at the centre of the plot, at least have that character behave like a sophisticated person with a thinking brain. Don't make him or her behave like a nincompoop who doesn't know that there are things called CCTV cameras.
We know one shouldn't expect humour in a thriller but 'Nishabdham' has got negative 'humour'. The kind of 'humour' that will deprive you of laughter when you listen to a genuine joke after watching the movie. The jokes are so bland that you thank the stars when a character, without a trace of irony, says, 'She grew up in an orphanage run by her dad'.
When you watched the trailer, you must have thought A is the villain while your friend thought it is B. Suffice it to say that you both are right.
Verdict:
With no emotional heft, 'Nishabdham' becomes unpalatable by the time the big reveal arrives. The screenplay is bland, with the scenes being riddled with lazy acting at times.
Rating: 2.25 / 5.0
Showcase your talent to millions!!
Write about topics that interest you - anything from movies to cricket, gadgets to startups.
SUBMIT ARTICLE
More
Telugu Movie Reviews
Sita Ramam
Bimbisara
The Legend
Ramarao On Duty
Vikrant Rona
The Gray Man