Justin finds harmony in commotion
Saturday, January 6, 2018 • Tamil Comments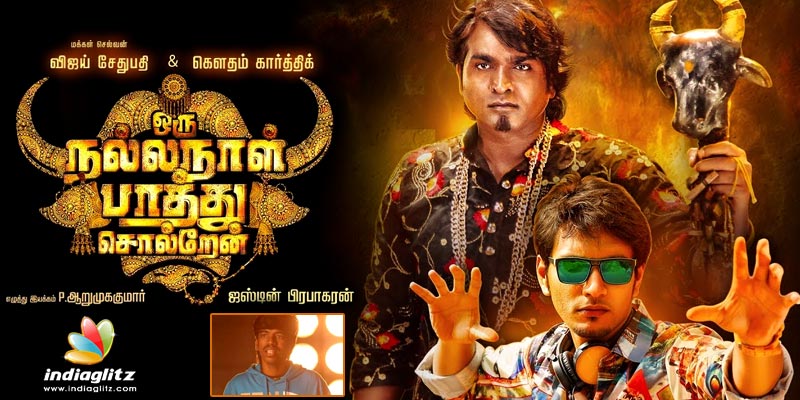 Album: 'Oru Nalla Naal Paathu Solren'
Composer: Justin Prabhakaran
No.of.Tracks: 4
Release date: 6.1.2018
Justin finds harmony in commotion
A few composers are ready to do what Justin has attempted in this album. An outlandish and tribal album that hopefully gets survived by the story. But isn't that the purpose of an album: to cater and give meaning to the film's soul. Or else the composer has the option of releasing it as an independent work of art. Bordering on leftfield, this is commendable but also poses a question if it is as impressive as it is 'out of the box'.
Lamba Lamba
Composer: Justin Prabhakaran
Voices: Christopher Stanley, Femcee Nicki Zee G (Rap portions)
Lyricist: Karthick Netha
Lamba Lamba is a functional EDM number that doesn't care to keep its eccentricity low key. Rhythmic reverberations hold the song together to form a tightly stitched song. Justin seems to have a fetish for vocal grunts as it reappears as a motif in Yae Elumba Enni Enni as well. Not complaining, as this track is dynamic enough to allow such song elements. Femcee's rap portions are not out of the world nor Christopher's power spewing vocal box, however the combo seems to work out peculiarly. You begin understand that Justin wants us to open up ourselves to a different musical experience.
Yae Elumba Enni Enni
Composer: Justin Prabhakaran
Voices : ACS Ravichandran, Sharanya Gopinath, Dr.Narayanan, MC Vickey
Lyricist: Karthick Netha
This first released single from the film's album is 'violent' yet comes off disturbingly likeable as its rudeness is justified only by its clever lyrical jabs at contemporary issues. While the lead singer's vocals is coarse and sets into rhythm right off the bat, chorus joins the rumble to showcase a attention grabbing song, if not leaning towards a pleasing impression. Sharanya Gopinath has rendered a versatile quotient that includes deliberate and monstrous grunts. You only need a little time to attune yourself to the beat pattern of this eccentric song. The Organic Thieves track will also have you smiling at certain junctures thanks to super clever wordplay.
Hey Reengara
Composer: Justin Prabhakaran
Voices: Nikhita Gandhi, Sai Saran, Mark Thomas
Lyricist: Karthick Netha
The initially soulful number begins with the strumming of acoustic guitar accompaniment. Nikhita Gandhi's flowing vocals is deeply moving, despite some junctures with out of flavour anglicised tone. There is also a mild harmonica music sweeps the track comfortably into the surprising transition. The change in pace and the sudden surge in dynamism may come off as awkward. The voice grunts and growls towards the end comes off as too 'beauty and beast' rather than the expected soothing finish that the track hinted at the beginning.
Raakkozhi Kootalinga
Composer: Justin Prabhakaran
Voices: Arivarasu
Lyricist: Muthamil
Do not be fooled by the beginning tribal immersion, in a way that helps get comfortable with what the composer bombards us with in the follow up. Arivarasu is extraordinary in this coarse rendition gelling with the rhythmic drum patterns,'trombonish' staccato bursts. There is harmony in all the commotion that the track spills out quite carelessly. Needless to say the electronic guitar zaps only add texture. And oh boy, we love that sleek single note female voice in the midst of a contrasting blitzkrieg set up.
Pick of the album: Raakkozhi Kootalinga
Verdict: You will either hate it or love it. But do give it a chance, and be startled.
Rating: 3/5