Pyaar Prema Kaadhal
Tuesday, June 12, 2018 • Tamil Comments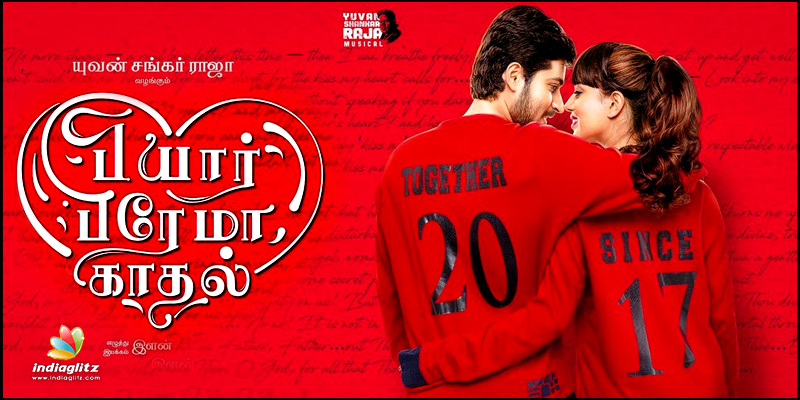 Album : Pyaar Prema Kaadhal
Composer : Yuvan Shankar Raja
Release date : 13, February 2018
'Pyaar Prema Kaadhal' has gained wide attention from fans not only primarily due to its interesting title, but the film stars Bigg Boss fame lead actors namely Harish Kalyan and Raiza Wilson. Directed by Elan, Yuvan has composed the music score and as well bankrolled this exciting project.
High On Love- Prelude
Type : Instrumental
Yuvan Shankar Raja's Prelude to High On Love is high on musical harmony and sweeps you off your feet. The intricate violin melody is at once sad, imploring and piercing. The Prelude is timed at a little less than 50 seconds, full worth and not a single note wasted in mindless decoration. Music fans just got another reason to look forward to the remainder as this signals an interesting kind of Yuvan, as a composer with soul and dexterity.
High On Love
Singers: Sid Sriram
Lyricist: Niranjan Bharathi
A grand piano accompaniment airlifts Sid Sriram's adequately rendered vocal. You hear a short string tease phase as Yuvan jumps between his usual eccentrically stylised flavour and some mesmerising intimations in the number. The pauses are punctuated with lucid transitions. The composer has exploited strings and beat patterns to a good use retaining his usual zing as well in this quite an efficient, alluring number.
Dope Track 
Voices: Yuvan Shankar Raja
Lyricist: Mohanrajan
A breezy beginning in Yuvan's style accompanied by a narration of sorts, a little poetic beginning, if you will. When the track shifts into second gear, you are like 'Oh, I'm listening to a Yuvan song'. Yuvan as a composer is in his elements. The way he creates pace through claps and fuses it with electronic power somehow his peculiar gift. And one needn't speak about his vocal strains that add substance to an otherwise normal romance number. Yuvan has nailed it in this song. This song is just too dope for a romantic melody. But that's what you get from Yuvan.
Rating :3/5