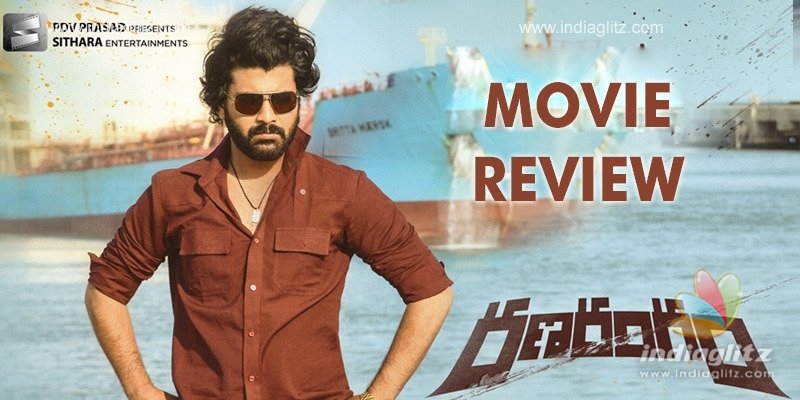 'Ranarangam', starring Sharwanand in the lead, hit the screens this Thursday.  Produced prestigiously by Sithara Entertainments, the film has been directed by Sudheer Varma.  Here we present its review.
Story:
Back in 1990s, Deva (Sharwanand) was a small-time offender who used to sell black tickets together with his friends (played by Adarsh Balakrishna, Raja, & Sudarshan) in Vizag.  When the NTR government implements Prohibition in the State, Deva turns into a smuggler of liquor and makes the quick buck.  He falls in love with Geetha (Kalyani Priyadarshan), a soft-spoken girl.  
Meanwhile, his rise rattles Simhachalam (Murli Sharma), an MLA who can get his opponents eliminated with ease.  
Cut to the present (year 2015), Deva is a dreaded don in Spain.  He develops serious differences with a political heavyweight who wants to build a port in Vizag by grabbing land.
How these stories are interlaced and culminate in a bloody climax is what the second half is about.
Analysis:
There is something unintentionally funny about 'Ranarangam'.  Sharwanand is introduced as a feared, classy gangster who speaks very little.  He can make even a Union Minister shiver with dread.  But when he starts narrating his flashback, he says a line that can switch off your mood right away.  "If websites' ratings tell you how good a film is, back then, the rates of black tickets were the indicator."  Seriously?  In which planet do dons talk like this?  Another day, another scene.  "Those were the days when KA Paul used to tour the world to promote world peace."  Lord!  If your intention is to make the audience laugh, why not have him say, "Those were the days when I used to be a fan of Shakeela"?  At least, many more would be able to relate to such a line.  
The negative characters in this movie exist just for one purpose: To be shot down by the trigger-happy Deva.  One after another.  With practised ease.  If Sampoornesh Babu were to make a spoof of 'Ranarangam', the director would make the villains call him up, give him their addresses and request him to come and shoot them down.  The end.
Take the climax, for example.  Everyone just gets eliminated readily and smoothly, conveniently and blandly. A political heavyweight gets burnt down as if he is some fly.  No questions asked about how.
Murli Sharma plays a ruthless MLA who is shown to bay for the blood of a journalist in his first scene.  Never does he bring out this malevolence ever again in the film.  He just watches on, wallowing in cluelessness.  
Kajal Aggarwal walks in, accidentally bumps into Sharwa, she smiles, he smiles back, a bond develops between them out of nowhere.  In the entire second half, she is made to smile beautifully and give some patient reaction shots.  After a gruesome climax, she dances to 'Pilla Picture Perfect' as if the climax happened in some other planet.
Kalyani Priyadarshan walks in, accidentally bumps into Sharwa, she smiles grudgingly, he smiles back indulgently, a bond develops between them because she seems to love smugglers instinctively.  Her father knows that the hero is an illegal businessman but he is not that worried.  The entire family has an infatuation for smugglers.  As they get married, 'Seetha Kalyanam' song plays in the background.  Every time he sees his lover/wife, a classical 'raga' plays in the background as if they are the holiest couple since Rama and Sita.  
There is virtually none to challenge the hero.  A character is heard saying that even a Chief Minister cannot.  
Some raw moments might be liked by a section of the audience.  The influence of 'Godfather-II' is writ large.  If you are a stickler for style over substance, 'Ranarangam' could work for you, especially the first half.  
Sharwanand is the one big bright spot.  He gives a restrained performance and overall, shows a contrast between the two time periods.  Murli Sharma is fine as ever, while Adarsh, Sudarshan, Raja, Raja Ravindra, Brahmaji, Praveen and others are passable.  
Divakar Mani's cinematography is efficient.  Prashanth Pillai's music works to an extent.  The production values are meaty.
Verdict:
'Ranarangam' is blighted by a wafer-thin story. With believable scenes, the film would have been better off.  Sharwanand's performance is smart.  The genre should have its takers.  Given the timing of the release, this one could strike it at the box-office.
Rating: 3 / 5.0
Showcase your talent to millions!!
Write about topics that interest you - anything from movies to cricket, gadgets to startups.
SUBMIT ARTICLE
More
Telugu Movie Reviews
Rangamarthanda
Das Ka Dhamki
Kabzaa
Phalana Abbayi Phalana Ammayi
CSI Sanatan
Anger Tales