Right Right song features Baahubali Prabhakar, Ashwin
Monday, April 25, 2016 • Telugu Comments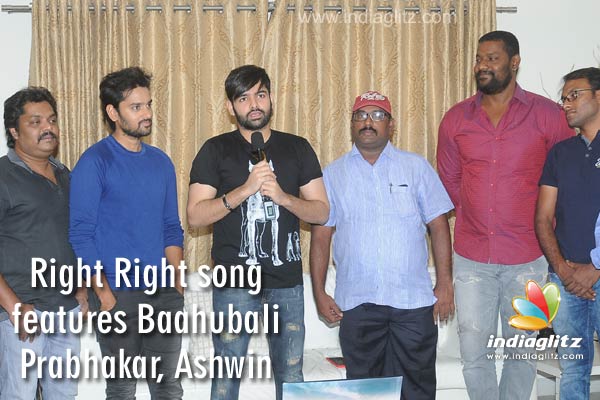 'Right Right' Song Launch On Ram's Hands Gallery
It's known that Sumanth Ashwin's next is Right Right, which is a remake of the Malayalam film Ordinary. Directed by Manu, this film is produced by Sri Sathya Entertainments. Pooja Zaveri is the heroine. Kalakeya Prabhakar is playing a crucial role here. Music-directed by JB, this film is done with the shoot.
A song from the film's album was released in Hyderabad by Energetic Star Ram. The lyrics are written by Sri Mani. Hymath has sung the number Alli billi chekkili gilli.
Speaking on the occasion, Ram said, "Sumanth Ashwin has been showing his versatility right from the first film. I hope this film will be a turning point in his career. JB's music is very good. Sumanth and Kalakeya Prabhakar's steps are very funny."
Sumanth Ashwin said, "I have sported a lungi for the first time in this film. Nanna garu dances wearing lungi at home. I always wonder how it's done. i now understand what it takes to dance wearing lungi. JB's music is great. The film was shot mostly in Araku Valley. After Nuvvosthanante Nenoddantana, this is the first film in which so many characters are seen. Sekhar V Joseph's cinematography is a highlight."
Director Manu said, "We have made changes to suit the Telugu nativity. Baahubali Prabhakar is playing a driver and Sumanth Ashwin is playing a conductor. After Lovers and Kerintha, this will be his another success. Nassar has played an excellent role here. The second half is suspenseful."
Baahubali Prabhakar said, "This film is entirely different from my previous films. My role is very good."
Dhanraj, Shakalaka Shankar, Tagubothu Ramesh, Jeeva, Raja Ravindra, Bharat Reddy, Vinod, Pavani and others are part of the cast. Dialogues are by Darling Swamy.
Related News
Actress Photos
Deepu Naidu
Nitya Naresh
Shipraa Gaur Kavya
Harshitha Panwar