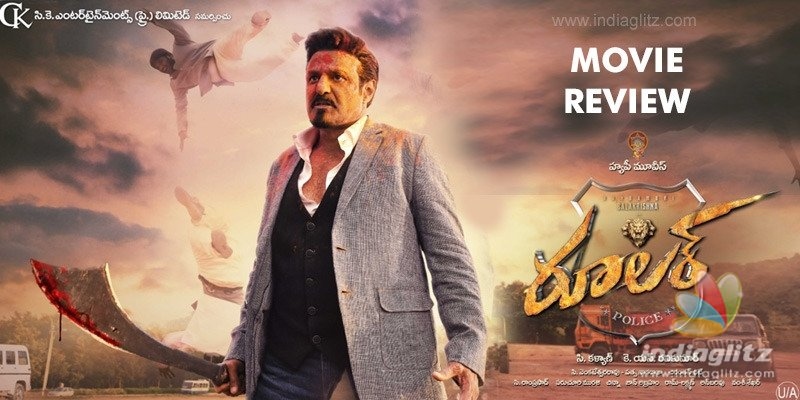 'Ruler', starring Nandamuri Balakrishna in the lead, hit the screens this Friday.  Here is our review of the mass entertainer.
Story:
Arjun Prasad (Nandamuri Balakrishna) is a corporate honcho who has a terrible past, which he has forgotten because of a head injury.  His guardian mother (Jayasudha as Sarojini Devi) prevents him from going to Uttar Pradesh, where he had led his life as a cop many years ago.
What happened to Arjun Prasad alias Dharma in UP?  How did the villains there screw up his life, leaving thousands of Telugu immigrants in a pitiable condition?  What of the past of a woman (Bhumika Chawla) who married out of her caste, only to suffer atrocities?  Who is Vedhika?  Answers to these questions are found in the second half.
Analysis:
For how long will Balakrishna believe that abusing the villain as 'Donga naa kodaka', 'Yerri naa kodaka', 'Bhosdike' and all is to be a Nata Simha?  How many more of his films are going to have heroines who flaunt their figures just so that he can behave as though he is above such things?  From predictably taking the baton for oppressed Telugus in imaginary lands, to dancing in Bangkok to lyrics like 'Play with my red lips' in a pub, how many more such dumb movies from Balakrishna before he starts respecting the intelligence of the audience?
Vedhika's character has suffered unspeakable horrors at the hands of a villain.  After showing her as an insufferable damsel in distress in the first half, can you guess what kind of a character she turns out to be in the second half?  She pines for Balakrishna like a comedienne, goes to the hero, blissfully exhibits her figure, and asks him, "Naa structure lo ye part baledo chepthe, aa part surgery cheyinchukunta!".
Once in Bangkok, most characters in this film behave as though they have to be steadfastly horny or deliberately cheap.  Raghu Babu, Raghu Karamanchi, Srinivas Reddy and Dhanraj are deployed to joke about Sonal Chauhan's "kasak-ness".  When in Bangkok, can the hero and heroine stay in separate hotel rooms?  Na! So, they end up in the same room, giving room for the comedians to marvel at the imagined horniness of the heroine and alleged 'chilipi-ness' of the hero.
The film forces us to watch a lazily-written track against caste-based fanaticism.  Curiously, these casteists are all from Uttar Pradesh.  None of them is a Telugu, which is projected as an emancipated land which is somehow saving the world every day.  UPites don't know how to do farming and the Agriculture Minister there ropes in farmers from the Telugu land to bring agriculture to the State.  
In one of those ghoulish scenes, a doctor tells Jayasudha's character that Balakrishna's character has forgotten his past.  "Manchi pani jarigindhile," she says 10 seconds later.  We get the context but have some sense of story-telling.  
In a scene, the hero speaks about the "pogaru and power" of the farmer.  However, when they are being attacked by goons, none of the hundreds of farmers who are there move an inch and give it back to their oppressors.  Why?  Because, in our goddamn movies, only the hero can do all the fighting single-handedly, blasting the heads of the most powerful persons in the State.  
Being the kind of film where Jhansi does more over-acting than what she does as the host of audio functions, 'Ruler' becomes unbearable by the minute.  Balakrishna chances upon a file accidentally, dusts if off, reads its contents in 2 minutes, arranges a board meeting in 5 minutes, and declares that the long-forgotten project in Uttar Pradesh must be completed on a war footing.  This is what will happen when a cop who has forgotten his past becomes the most intelligent living corporate leader overnight in our movies.  In another scene, he tells Sonal that they are friends for life from now.  A duet starts immediately after this moment.  No, not between Balayya and Sonal.  It's between Balayya and Vedhika, whom we saw crying melodramatically ages ago in the film and know nothing about her.  This is not sloppy editing.  This is criminal editing.  
By and large, Balakrishna's only effort for this film was to try the Van Dyke look while trying to be the NTR of 'Justice Chowdhary'.  God knows what kind of mixture it is.  Prakash Raj is more clueless than he is with his tweets in real-life.  Chirantan Bhatt delivers the loudest BGM, while the songs are mediocre.  Ram Prasad's cinematography is okayish.
Verdict:
'Ruler' is a deadly combination of dated elements meeting a pedestrian universe.  With a predictable story and a set of embarrassing scenes/characters, this one is an unforgiving nightmare.
Rating: 1.75 / 5.0
Showcase your talent to millions!!
Write about topics that interest you - anything from movies to cricket, gadgets to startups.
SUBMIT ARTICLE
More
Telugu Movie Reviews
Dasara
Rangamarthanda
Das Ka Dhamki
Kabzaa
Phalana Abbayi Phalana Ammayi
CSI Sanatan