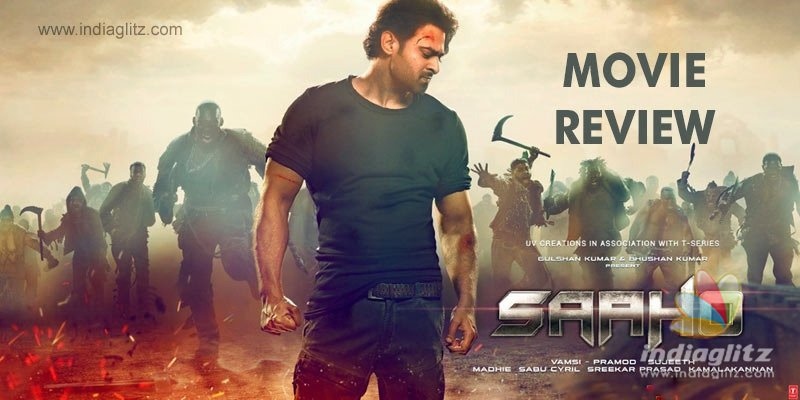 'Saaho', starring Prabhas in the lead, hit the screens this Friday amid sky-high expectations.  Produced on an astronomical budget, the actioner has got a humongous release across India.  Here we present its review.
Story:
Roy (Jackie Shroff) is a dreaded don who dies in a road crash in Mumbai while on a visit to India.  His son Vishwak (Arun Vijay) stakes the claim to be his successor, which is not to the liking of some vested interests in the gangster world.  Devraj (Chunkey Pandey) is one of the chief rivals.  They are hunting for Rs 2 lakh crore, which Roy knew about.  This story unfolds in Waaji City, which could be a colony in Abu Dhabi.
Somewhere in Mumbai, Ashok Chakravarthy (Prabhas) is commissioned as an undercover cop to unravel the mystery behind a mega heist suspected to be led by a suave villain (played by Neil Nitin Mukesh), who himself is in search of a mysterious black box that holds the key to a fortune.  Amritha Nair (Shraddha Kapoor) assists Ashok in his mission.
How are the two stories linked?  Can Ashok solve the case and also rattle the Waaji City's fearsome dons?  Answers to these and other questions are found in the second half.
Analysis:
Make no mistakes.  Prabhas trying to be irreverent and unserious for the most part is the biggest undoing of this movie that is replete with inexcusable flaws and chaotic situations.  His complex role, which also comes packed with a twist or two, is rendered listless mainly because of the way he interprets it.  This must have been director Sujeeth's calling and he should have avoided it for good.  
It's inconceivable how monstrously high-budgeted movies end up creating phony scenes.  Take the traffic jam sequence involving the lead pair, Mandira Bedi (as Kalki) and others, for example.  When so many vehicles are stuck in the traffic jam and not one of them has a semblance of movement, how can anyone be convinced that it is not shoddily staged?  This episode actually is a metaphor for 'Saaho', a spectacle lacking in dynamism and, dare we say, life.  
After a point, Prabhas stops talking (well, almost).  And the gaudily-dressed villains keep blathering too much - most of the time into their mobile phones or the poor cigars.  This reviewer spent half the time dreading the prospect of watching the undifferentiated and boringly-bearded dons mouth lame dialogues in jaded conversations. The other half was spent on watching them do exactly this!  
The much-vaunted Abu Dhabi chase sequence, which allegedly was made at a cost of Rs 80 Cr, could have been way better in terms of narration.  It comes punctuated with a vaguely-told war room proceeding where the actors behave as if they are from a second-rate action movie.  Much of the second half is narrated this way, leaving little room for clear-cut conversations and tempo-building.  
The desert fight, which was billed by some reports as the ultimate visual experience, makes an impact but the lack of any memorable punchlines in the episode (as in the rest of the movie) is a dampener.  You make Prabhas talk too much loose stuff in the first half and make him go silent in the second half.  Can this be excused by an audience whose love for punchlines is still alive and kicking?  
If you are watching the movie, be prepared to watch bullets raining their way into a drought scene after lazily-written scene.  Let's be blunt.  Prabhas and his trusted lieutenant (played by the talented Murali Sharma) know that it's a high-stakes game involving Rs 2 lakh crore.  But, guess what?  Their light behaviour, especially in the initial portions of the second half, would make you think what is at stake is just Rs 2 crore.  
The love story between Prabhas and Shraddha comes undone by two things: one-note conversations and two songs that should be purged out for good.  
The performances, by and large, are inconsistent.  Prabhas shows intensity in the climax and that deserves a thumbs-up.  Shraddha is confident.  Neil nails his part.  Murali Sharma and Prakash Belawadi are apt.  From Arun Vijay to Jackie, Evelyn Sharma, Tinu Anand, Chunky and others, they are reduced to caricatures.  
Madhie's cinematography is nimble.  He captures the grandeur of the urban locations remarkably.  Kamalkannan's VFX work is able, while Kenny Bates and other action choreographers do a splendid job.  Sabu Cyril's production design for the Waaji City is indistinct and this is quite shocking.  
Verdict:
'Saaho' unveils too many characters and two consequential twists.  It is helped by breathtaking visuals in bits and pieces.  However, at its core, it's a bloated film that fails to manifest its potential.  The storyline holds promise but the story-telling is topsy-turvy.  The screenplay should have done away with those smoking and drinking scenes in the least and presented imaginative villainism that values creative lines, not outdated deliveries.  You spend Rs 250 Cr and give us routine-talking baddies and a hero of too few words?  Not done.
Rating: 2 / 5.0
Showcase your talent to millions!!
Write about topics that interest you - anything from movies to cricket, gadgets to startups.
SUBMIT ARTICLE