STR's debut album dazzles with dynamism
Thursday, December 7, 2017 • Tamil Comments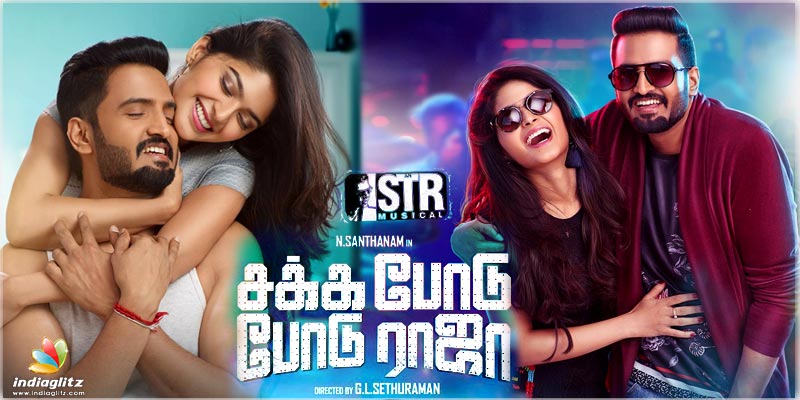 Honestly, let's admit it wasn't surprising when news hit that STR was to compose music for a feature film. Someday or the other he had to, we wanted him to. And he has rightfully delivered the goods. The multi-faceted STR has finally donned the hat of a music director for Santhanam's 'Sakka Podu Podu Raja'. Will his musical debut aptly justify the film's title?
Composer: Silambarasan
Album Release: 6.12.2017
Kalakku Machan
Voices: Anirudh Ravichander
Lyrics: Rokesh
Considering the film a mass entertainer, Kalakku Machan sounds like a welcome song not only to the film's hero but also to Simbu as a music composer. We don't mind the lengthy intro at all as Anirudh aces it with verve and excellent throw of voice with colloquial, catchy, simple and meaningful lines written by Rokesh. Anirudh takes a soft repose in the middle and smoothly transitions to the song's initial power once again. This is a laboriously powerful and energetic song, fitting for someone as dynamic as this song's composer.
Kadhal Devathai
Voices: Yuvan Shankar Raja
Lyrics:Vairamuthu
Whoever knew STR would make such a riveting combo with the lyrical Vairamuthu! With Yuvan Shankar Raja literally taking you to a musical trance with his stylistic strains, this song gets increasingly addictive. The portions from the interlude and thereafter boasts of a traditional/electronic fusion that displays a sense of versatility and experimentation in Simbu's very first album. The song's later parts are dominated by tap-worthy EDM and the veena portions just makes you want more of this Simbu/Yuvan/Vairamuthu combo in the future.
Unakkaga
Voices: Leon James, Dr.Burn, Andrea Jeremiah
Lyrics: Dr.Burn, Vignesh Shivn
Simbu has brought together the best talents for his debut album and it is glaringly evident in Unakkaga. Through the third song itself, we're getting attuned to the composer's stylistic strains that seems a bit repetitive in almost all of his songs. Vignesh Shivn's presence as a lyricist for this song is heavily felt with impressive and lucid lyrics. Andrea's swaying vocals fits like a glove in the song. STR also gives the song a little flavour of jazz and old style rock and roll in small strong doses. Wait for the rap portion towards the end and you're convinced STR is in it for the long haul.
Siru Siru
Voices: Keerthana Vaidyanathan, Vasudev Krishna
Lyrics: Karunakaran
Simbu's gift box is full of surprises. String violins reign supreme in Siru Siru with Keerthana Vaidyanathan's vocals proving to be a soulful and scintillating experience in itself. Intermittent portions of violins and duet weave a beautiful pattern, and you understand the composer's low laying sophistication throughout the track considering that it's a debut album. Karunakaran has come out with commendable lines that will hook you to this melody making the experience complete.
Vaa Munimma
Voices: T.Rajendar, Usha Rajendar
Lyrics: Madhan Karky
T.Rajendar means business when it comes to head banging numbers. However, we see the singer adjust a little to the number's electronic zaps so he doesn't override the song's energy which also doubles as a funky EDM. The composer also infuses local flavours in the song with some 'thara local' kuthu accompaniment, however the song feels a bit deliberate and trying too much at the end. Madhan Karky has given catchy lyrics true to his brand for Vaa Munimma which would be celebrated as a dance number for sure.
Pick of the album: Siru Siru
Verdict: Simbu appears a seasoned composer in his very first feature album. Especially, he aces it in creating riveting fusion music blending traditional and electronic elements. No second thoughts, just go for it!
Rating: 3.0