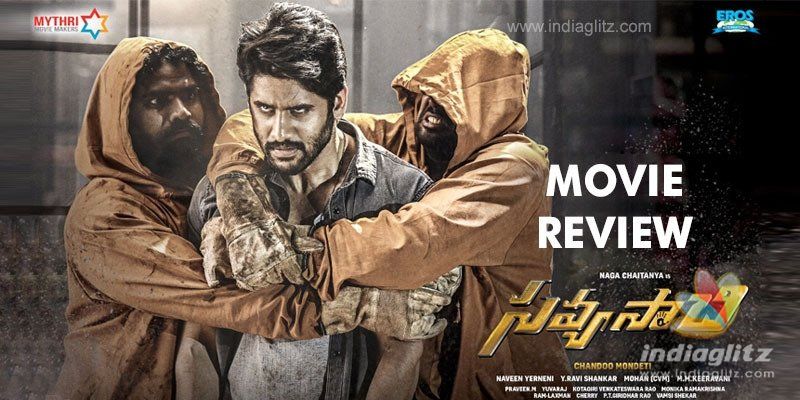 'Savyasachi', starring Naga Chaitanya in the lead, hit the screens this Friday.  Here is our review of the Chandoo Mondeti-directed movie.
Story:
Vikram Aditya (Naga Chaitanya) was diagnosed with Alien Hand Syndrome as a child.  His left-hand is hyperactive and at times goes out of control because the neurons of his dead twin are active in his brain and through the left hand.  
Vikram bumps into his college-time girlfriend Chitra (Niddhi Agerwal) and just as everything seems to be going well in his life, his sister's family (sis is played by Bhumika Chawla) are attacked in a deadly blast by Arun (Madhavan), an evil genius working from a hideout.
The rest of the story is about why Arun is targeting Vikram and his family, and how the hero smashes the deadly antagonist.
Analysis:
This film proves at least one suspicion correct.  Most Tollywood writers pen only 'Aavu katha' kind of stories.  The hero may be an environmental activist (as in 'Janatha Garage') or have some syndrome, but the story has nothing substantive to do with his environmentalism or medical condition.  Just as that child in the school who writes about the cow whatever may be the essay topic, our cine writers revel in same old family or revenge stories regardless of the hero's "novel" character.  
In 'Savyasachi', though, writer-director Chandoo Mondeti goes a step ahead.  He singlehandedly demolishes any decorum around the hero's character by making the extraordinary left-hand of Naga Chaitanya do naughty things.  The hero calls the twin within his head Aditya.  This Aditya guy has no consistency; seems to do irrelevant things because he has no job.  We never know what is this left-hand's value system, for God's sake.    
The film should have done this much: Make Vikram a timid guy so that his powerful left-hand has a purpose in the story.  But, no.  Vikram is capable, smart and has some of the welcome (and unwelcome) qualities of a Telugu cinema hero.  Where is Aditya's indispensability in this scheme of things, please?  
This powerful left-hand of the hero is launched and re-launched repeatedly in the film.  The hero perfunctorily introduces his left-hand, a doctor (Rao Ramesh in a cameo) emotionally introduces this hand, the sister nominally introduces this very hand.  And they all pretty much reiterate the same known thing about this allegedly great hand.  What's the point?
And then comes the climax where our hero fights the villain like any other Telugu cine hero without an extraordinary left-hand have been doing for ages.
Ideally, you should lose all hope in Madhavan's character once he is hurriedly introduced for 5 sickening seconds between a relaxed comedy scene and an elaborate romantic scene.  Tagubothu Ramesh as the villain's supposedly sober sidekick is a liability.  The film takes ages to reveal Madhavan's motives.  
The villain doesn't give two hoots for the hero's extraordinary left-hand, he comes to know of it only in the climax, and doesn't do anything special to contain his raging left-hand!  
After the 'Tik Tik Tik' song, the film should have taken a rushed plunge into the actual story, doing away with the 'Why Not' song altogether.  
While the villain calls himself a calamity, the real catastrophe is the romantic track.  Can you think of a hero who describes the heroine (Nidhhi Agerwal as Chaitanya's inappropriate girlfriend who remembers a 'Jabardasth'-type episode in her life after her boyfriend has a close shave with death!) as 'Katthi' when he finds her for the first time six years after he had fallen in love with her?  
Eighteen deaths happen and in the next scene you see a comedian from 'Amrutham' TV serial as a doctor talking about the occasionally naughty left-hand of the hero with a comical expression on his face!
As performances go, Naga Chaitanya is good enough. Nidhhi is OK.  Madhavan's dubbing should have been better and his acting looks decent enough.  Vennela Kishore and Shakalaka Shankar extract a few laughs.  Sathya, Sudarshan, Vidyullekha Raman and others are wasted.  Bhumika, Dr. Bharath Reddy and the child artist are OK.
MM Keeravani's RR is partly inspired and it makes the cut to an extent.  Yuvaraj's cinematography is inept and it comes with the wrong colour palette.  Ramakrishna's art direction is remarkably subpar.
Verdict:
'Savyasachi' is a routine drama involving a gutsy hero and an evil genius. It should have come with a fast pace.  Some emotions work here and there.
Rating: 2.75 / 5.0
Showcase your talent to millions!!
Write about topics that interest you - anything from movies to cricket, gadgets to startups.
SUBMIT ARTICLE
More
Telugu Movie Reviews
Vimanam
Ahimsa
Nenu Student Sir
Pareshan
Boo
Mem Famous