A complete sound
Saturday, October 27, 2018 • Telugu Comments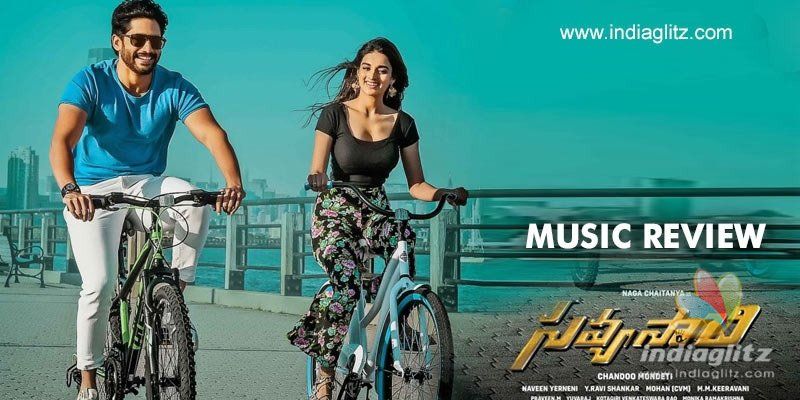 MM Keeravani's album comes with songs of different genres.   PVNS Rohit, Manisha Erabathini, Pridhvichandra, Mounima Chandrabhatla, Sreenidhi Tirumala, Hymath, Shreya Goparaju, Rahul Sipligunj, Sri Krishna, Sri Soumya, and Mohana Bhogaraju are the singers.  Lyrics are by Anantha Sriram, Ramajogaiah Sastry, and (Late) Veturi.
Why Not
Singers: PVNS Rohit, Manisha Erabathini
Lyricist: Anantha Sriram
MM Keeravani adopts a mix of influences for this number.  Neither does the song sound original nor is it a full-on Keeravani-type.  Some of the music director's recent numbers, especially for the forgettable films he has done in recent years, are jarring in the beginning.  So is 'Why Not'.  Rohit and Manisha Erabathini renders the duet with a glee.  Ananth Sriram comes up with some creative usages (read 'Praayani paalincheddama').
Ninnu Road Meedha
Singers: Pridhvichandra, Mounima Chandrabhatla
Lyricist: (Late) Veturi, Ramajogaiah Sastry
The remix is peppy, complete with the typical noises on the fringes.  Keeravani keeps it conventional, with Ramajogaiah Sastry chipping in with modern lines to complement Veturi's naughty lines.  The singers croon it religiously to let the song retain its original vibe.
Okkarantey Okkaru
Singer: Sreenidhi Tirumala
Lyricist: Ramajogaiah Sastry
MM Keeravani is Mega Melody man here.  Mother-child songs have always had a strong emotional appeal in Telugu cinema.  And the music director enlivens it with a catchy start.  The song does go about becoming old-fashioned, though.
And the lyrics of most of the mother-child songs in Telugu cinema come with familiar ideas.  But 'Okkarantey' is different, owing to the movie's concept of the Vanishing Twin Syndrome.  Lyricist Ramajogaiah Sastry does it again.  Singer Sreenidhi Tirumala has the maturity to make the song sound like a blend of the modern and the old.
Tick Tick Tick
Singer: Hymath, Shreya Goparaju
Lyricist: Anantha Sriram
Anantha Sriram's lyrics have a rhythmic flow about them.  The sing intersperses English phrases like 'Same to same' with earnest Telugu.  Hymath and Shreya bring a modish vocabulary to the song.  Keeravani, once again, blends the old and the new to make the song 'tick'.
1980
Singer: Rahul Sipligunj
Lyricist: Anantha Sriram
Rahul's electrifying voice booms subtly at times.  He is immensely enjoyable in this rocking number.  Anantha Sriram's lyrics are bathed in nostalgia and the references are not unsentimental.  With the right visualization, this song can immerse the family audience in unmixed entertainment.
Oopiri Ukkiribikkiri
Singers: Sri Krishna, Sri Soumya, Mohana Bhogaraju
Lyricist: Anantha Sriram
At one level, the spirit of 'Okkarantey Okkaru' spills over into 'Oopiri Ukkiribikkir'.  Sri Krishna's intense voice fills the number with heroism.  Anantha Sriram's lyrics are story-driven and original.  Keeravani gives a dekko for this running song.  There is a trace of the folk, too.
Song of Savyasachi
The majesty of MM Keeravani's music comes to the fore in the 'Song of Savyasachi'.  Written in poetic prose, the song is grandiose.  Rendered by a chorus of crooners, it is evocative of heroism; where the hero comes with an ambidextrous capability.  Presumably shot against the backdrop of a fight, this should be a climactic moment.
Verdict:
Keeravani continues to surprise and 'Savyasachi' is up-to-date.  The lyrics are a welcome attraction and the singers put an efficient output.
Rating: 3/5