Sri Vishwaradhya audio comes
Thursday, January 11, 2018 • Kannada Comments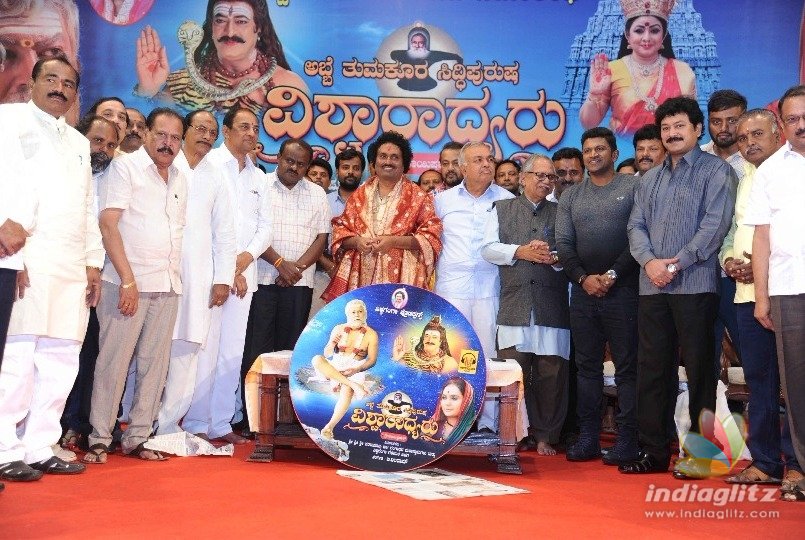 Sri Vishwaradhya Swamiji of Abbe Tumkur is known for miracles and for the good of people in Yadgir Taluk of Karnataka. The devotees of Sri Vishwaradhya are spread all over. The stage play on the significance of Swamiji is also well received.
Now the talented and reputed Ramkumar, son in law of Dr Rajakumar family taken up the title role and he is totally impressed with the role. A historical role Ramkumar consider it as a blessings in his life. This film was in fact started last year at the Sri Vishwaradhya festival and now releasing for this year festival where lakhs of people come from different places.
The audio release later in the evening on last Wednesday was attended by Karnataka Home Minister Ramalinga Reddy, former chief minister HD Kumaraswamy, Power star Puneeth Rajakumar, Navarasanayaka Jaggesh among other dignitaries.
This is the 99th film of Om Saiprakash for Vishwa Ganga Production, Dr Gangadhara Mahaswamiji of Mahasamsthana is producer of this film with support from devotees. At the well attended audio release at Dr Ambedkar Bhavan on Wednesday evening. Sri Gangadhara Mahaswamiji highlighted the significance of the religious place and how devotees are satisfied with the miracles. How the actors in the role of Sri Vishwaradhya were considered as divine was explained by Swamiji. He has given a few tips that have been incorporated by Saiprakash.
Om Saiprakash a devotee of Sri Saibaba since 1963 came to know the significance of Sri Vishwaradhya two years ago and made a study on what should be fed to the people on the significance. Firstly the language of Jawari is utilized with the professor of a college support. On 20th February where the festival is taking place the film will be released at this place.
I feel the artist Ramkumar is chosen by blessings of Sri Vishwaradhya. The miracle while shooting is that at rainy season the shooting was not disturbed explains the miracle of Sri Vishwaradhya Swamiji. There are 75 well known artists in this film says Sai Prakash. Director Saiprakash has taken note of the stage plays on Sri Vishwaradhya. He has incorporated 16 songs in this film. Balaram has composed music.
Back after a long exile Ramkumar the handsome actor feels blessed to act in this special film of his career. All artists have worked with admiration and done the work as our responsibility. I came to know about the admiration of the people on Sri Vishwaradhya and they used to consider me in that status and touch the feet. The moment was very emotional for me recalls Ramkumar.
It is a god sent role for me in my career. I was emotional doing the brother role of Sri Vishwaradhya says Harish Raj. The three stages of the pivotal role, Harish Raj stays.
Vijay Kiran and Jayanth have done child and adolescent characters of Sri Vishwaradhya in this film. Nayana hailing from northern Karnataka (of comedy kiladigalu) was waiting for a film of her region. In fact her friends were forcing her to take a film of Northern Karnataka. That is happening from this film.
Disha Poovaiah is impressed with simplicity and nature of Ramkumar a senior actor while performing in this film.
RELATED NEWS
Actress Photos
Kiara Advani
Shyamala
Amritha Aiyer
Neha Shetty