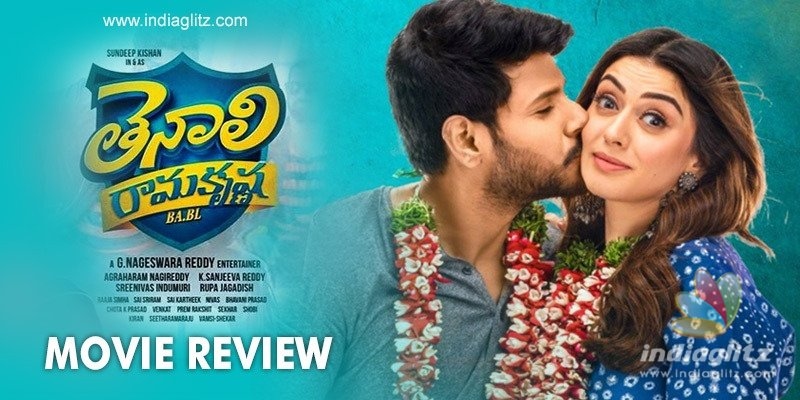 'Tenali Ramakrishna BA BL' hit the screens today.  Here we present the review of the alleged comedy entertainer.  
Story:
Lawyer Tenali Ramakrishna (Sundeep Kishan) seeks to make life easy for his clients by helping them with out-of-court settlements.  His father (Raghu Babu) doesn't like his son to remain a non-entity and forces him to take up a high-profile case someday.  
When Tenali falls in love with Rukmini (Hansika Motwani), least does he realize that he will have a rivalry with her father Chakravarthy (played by Murli Sharma), a feared criminal lawyer.  Varalaxmi Devi (Varalaxmi Sarathkumar), who is accused of the murder of a journalist, is Chakravarthy's client.
 
But, as days pass, Tenali stumbles upon some shocking facts.  What are they?  Can he become a saviour, fulfill his father's dream and marry Rukmini?  Answers to these questions are found in the second half.
Analysis:
They say that even a dead clock is right twice a day.  This film, too, gets it right twice.  When two characters vomit in two different scenes.  They capture the mood of the audience watching the film.
Sometimes, director G Nageswara Reddy's movies exist for just one purpose.  To recite the names of various brands.  The dialogues in this film have been written to pay lame tributes to big names.  I can recall at least 5-6 of them easily: Nagarjuna Cement, South India Shopping Mall, Sakshi newspaper, Pulla Reddy Sweets, 'Baahubali', and Kaun Banega Crorepati.  
The film is set in Kurnool, but there is hardly any vibe of the town anywhere in the film.  Even the one scene that plays out against the backdrop of Kondareddy Buruju looks quite artificial.  
The characters in this film are proud to be mindless.  When it's time for the climax, our lazy movies have the biggest of criminals chant this one mantra in front of a hidden camera: 'Yes, I did that murder/crime/fraud.  Do whatever you want to'.  From Chief Ministers to industrialists and officials, everyone is made to do this because the writing department can't think better.  
An attempt to create courtroom comedy not only falls flat but also exposes the laziness of the writing department.  The city's best criminal lawyer sets up a fake witness without even talking to her even once!  A big shot can think of only two lawyers who can defend: the best criminal lawyer, and the worst incompetent lawyer.  There is no other lawyer in the world who can do that.  
After 'Saaho', this has to be the silliest character played by Murli Sharma, who turns terribly angry when he is mistaken for a fruit-seller but behaves like a joker when his daughter is pushed around by the hero.  
Hansika plays an idiotic lawyer, who was never taught even basics by her brilliant lawyer-father.  Just a day after the hero tells her that she brings peace to him with her mere presence, her father tells her exactly the same thing!  For the first time since her birth.  
Prabhas Sreenu is wasted right from the word go.  Vennela Kishore, Saptagiri and Posani Krishna Murali try their best but are let down by the script.  Chammak Chandra is forgettable.  Comedienne Sathya is the one face who gets it right.  
In terms of performances, Sundeep Kishan slips into the role easily and manages a few laughs.  With a strong script, he would have pulled off the funny role aptly.  Varalaxmi Sarathkumar's performance would have been elevated to a different level with better dubbing.  Her act in the second half is meaty.  
Sai Kartheek's songs pass muster.  However, the BGM becomes too loud at times.  Sai Sriram's cinematography is a plus.  
Verdict:
But for Sundeep Kishan's performance, the film doesn't offer much.  A decent premise is squandered away right from the word go.
Rating: 2.5 / 5.0
Showcase your talent to millions!!
Write about topics that interest you - anything from movies to cricket, gadgets to startups.
SUBMIT ARTICLE